I can no longer call myself a 'foodie'. We've reached Peak Nigella
The two most significant, pervasive cultural influences in this digitally-enhanced world are food and pornography, and they have more in common than you might think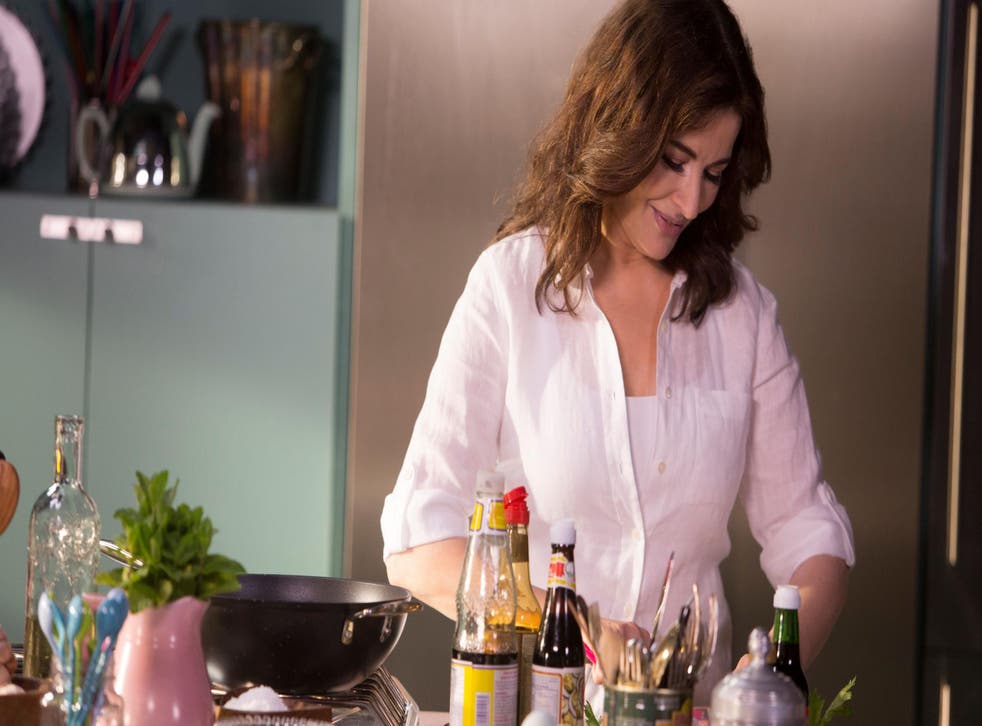 I turned off Nigella Lawson's new BBC series at the first mention of flax seeds and goji berries. It's not that I have anything against Nigella: quite the opposite, in fact. It's just that I've never knowingly had a flax seed, and I know that goji berries are good for you, but really… If I want a "breakfast bar" (perish the thought!), I'll go to a shop and buy one.
I like food (and I have the waistline to prove it), I enjoy cooking and I eat at restaurants more often than is good for me. But would I consider myself a foodie? I'm not so sure. That seems cult-like these days. I've only rarely taken a picture of something I'm eating and posted it on Instagram, and my palate is well and truly jaded when it comes to cookery shows on television.
Come Dine With Me? I'd rather eat alone, thank you. Kitchen Nightmares? You're telling me, mate. Have we, I wonder, reached Peak Nigella?
I find Nigella's presence as comforting as her food, and I will not gainsay the fact that she has defined the modern cookery programme, what with her cocoa nibs and all. I've had the pleasure of dining with her a few times, and she's every bit as alluring in real life. But also compellingly direct.
We were once at a Jewish restaurant in north London, and, without ceremony or invitation, she stuck her fork into my latke (a fried potato pancake, beloved of Jews). Never mind, I thought. "Nigella Stole My Latke" might be a good title for my autobiography.
But she, and most of her fellow TV chefs, represent a strand of life – comfortable, bourgeois, self-satisfied – that I find just a little depressing. Where's the edge? Where's the tension? Where's the rebellion? Creativity depends on this, and the modern obsession with food, like a big meal, dulls the senses. I don't understand why the urban young, especially in London, are so culturally motivated by food. It was never such a raison d'être.
The upside is that it has given London the world's most vibrant restaurant scene. Every week in the capital, an exciting new venue opens, and still there are enough gastronomes to fill them all.
Close to my office is a small, unprepossessing restaurant serving steamed Taiwanese buns. The queue to get a table extends all the way down the street, whatever the weather. And that's just for a bun, for heaven's sake.
The two most significant, pervasive cultural influences in this digitally-enhanced world are food and pornography, and they have more in common than you might think.
Guilty pleasures both, cookery programmes and internet porn sell you visions of a idealised life, where everything looks perfect, where nobody is dissatisfied, where we can gorge ourselves on sensory delights and where, in the end, the viewer is left feeling rather empty and unable to match up to the image being presented.
Food porn. That's what they call the glossy pictures in the magazines of a hunk of meat, all succulent and ripe, dressed to allure. The truth is that it's food and porn. Sustenance and titillation. And at all times viewer discretion is advised.
Register for free to continue reading
Registration is a free and easy way to support our truly independent journalism
By registering, you will also enjoy limited access to Premium articles, exclusive newsletters, commenting, and virtual events with our leading journalists
Already have an account? sign in
Register for free to continue reading
Registration is a free and easy way to support our truly independent journalism
By registering, you will also enjoy limited access to Premium articles, exclusive newsletters, commenting, and virtual events with our leading journalists
Already have an account? sign in
Join our new commenting forum
Join thought-provoking conversations, follow other Independent readers and see their replies