Persecuting people for not wearing poppies – now that's real courage
I recently heard a poignant tale of a family that pinned a poppy to the back of its Yorkshire Terrier, but it shook it off so they had it put down as a mark of respect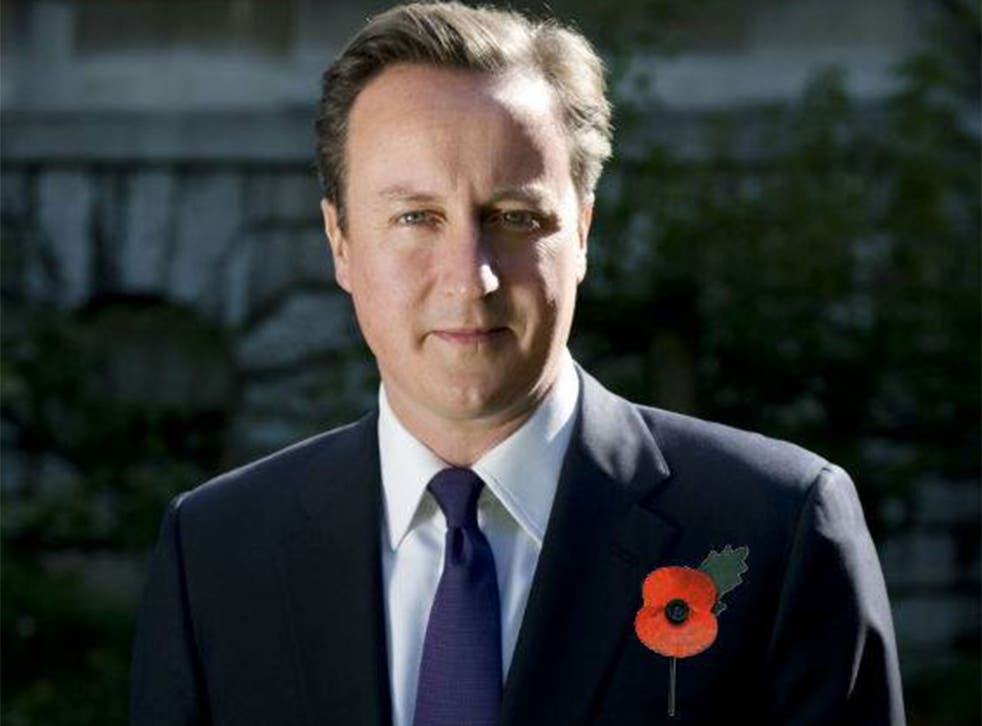 The newsreaders this week have been a disgrace. Why are they only wearing one poppy, when it's only one year and a week away from Remembrance Day 2016? They should be wearing one for next year as well as for this year, but it seems to be too much trouble, which makes you wonder why we bothered with D-Day in the first place.
The lack of respect is so distressing, it's no wonder there are letters in The Times such as "Dear Sir, May I express my incandescent displeasure at the alarming trend for presenters on the Red Hot Asian Babes XXX Channel to dishonour our fallen servicemen, by failing to adorn a poppy upon their person as may be deemed appropriate at this time of year. Their lack of apparel offers no excuse, as a poppy could easily be attached to a bare breast with Velcro, so I can only assume this is a deliberate snub to my grandfather who fought at El Alamein. It certainly thwarted my efforts to pleasure myself on an autumnal evening, and I urge viewers to fulfil their patriotic duty by cancelling their subscription forthwith."
One area the television networks should address immediately is the appalling lack of poppies worn in repeated programmes. Before episodes of Heartbeat and Teletubbies are shown on UK Gold in the approach to Remembrance Day, they should be filmed again, with all the characters wearing poppies, and the same should apply for films such as The Sound of Music and ET.
It's encouraging to see the growth of websites such as WearAPoppyYouArsehole.com, which campaigns for CCTV cameras to be set up in town centres to check for anyone who doesn't look proud enough about their poppy, or goes 10 minutes without stroking it and purring. It's best to stop them now before they get a bus to Syria. And there are touching stories such as the poignant tale of a family which pinned a poppy to the back of its Yorkshire Terrier, but it shook it off so they had it put down as a mark of respect to Uncle Gilbert, who was in the Home Guard.
We can also be grateful the Prime Minister knows how to remember war heroes, because his PR team Photoshopped a poppy on to his jacket to make it look like he was wearing one when he wasn't. If I'd fought in the mustard gas of the Somme, I'd certainly appreciate a heartfelt gesture like that. Tomorrow, his team should show the same photo, but with Cameron wearing a Victoria Cross for fighting behind enemy lines in occupied France. Then they can subtly amend film of him talking to Michael Gove, to make it look like he's rescuing a wounded infantryman by crawling across Belgium during the Battle of Ypres.
UK news in pictures

Show all 50
Finally, he can begin next week's Prime Minister's Questions by emerging from a giant poppy carried by Boris Johnson and Iain Duncan Smith, to make this Remembrance Day a special occasion our servicemen and women will never forget.
At this week's PMQs, Jeremy Corbyn asked a question from a serviceman in which he expressed his worry that the change in tax credits would lose him £2,000. The Prime Minister answered by explaining that Jeremy Corbyn would abolish the army.
He's established a pattern of avoiding questions about whether the cut in tax credits will make people worse off next April. He'll say "I've already explained, what will happen next April is Easter and the start of the domestic cricket season", or "I've made it as clear as possible, the quickest way from Leicester to Derby is up the M1 and along the A50."
Cameron seemed confident the serviceman would be happy with this answer, and would now be able to explain to his kids that ''although you won't be getting any presents this Christmas, and you'll have to take it in turns to wear shoes, at least our Prime Minister sings the National Anthem at memorials and that must be worth at least £2,000''. Because any government can respect people who served in the forces by paying them enough to live on, or not sending them to fight in battles that no one has a clue how to win, but what they really crave is a leader prepared to sing and wear a Photoshopped poppy.
Some may argue the whole idea of funding the welfare of ex-servicemen and women by selling poppies seems a bit peculiar: if we can afford tanks and Tornados to take them to warzones, surely we can afford a wheelchair for those who get blown up when they get there? Others may suggest it's fitting that we still revere the poppy as a symbol of war, given that one of the reasons given for the war in Afghanistan was to destroy their opium trade, and it's now double the size it was when we went out there. It's turned out quite handy; we can ask our Afghan warlord allies to sling us over some spare poppies every October, and there's enough for us all to wear a couple of hundred each.
Touching drone footage of Tower of London poppies - London Live
But those who doubt the poppy mania are traitors, such as 91-year-old writer Harry Leslie Smith, who says he won't wear a poppy to remember the war dead, but I "will lament their passing in private". He said: "I will no longer allow my obligation as a veteran to remember those who died in the great wars to be co-opted by politicians to justify our folly in Iraq, or our morally dubious war on terror."
Yes, well, he may have been in the RAF throughout the Second World War, but he's a coward. Not like the brave politicians and people on Twitter who insist everyone wears a poppy. They're the true heroes.
Register for free to continue reading
Registration is a free and easy way to support our truly independent journalism
By registering, you will also enjoy limited access to Premium articles, exclusive newsletters, commenting, and virtual events with our leading journalists
Already have an account? sign in
Register for free to continue reading
Registration is a free and easy way to support our truly independent journalism
By registering, you will also enjoy limited access to Premium articles, exclusive newsletters, commenting, and virtual events with our leading journalists
Already have an account? sign in
Join our new commenting forum
Join thought-provoking conversations, follow other Independent readers and see their replies