I'm a junior doctor who's used to seeing injustice - so I know how Cameron will save Jeremy Hunt from our ire
A lot of Jeremy Hunt's assertions about doctors sound strangely like the Orwellian insistence that "two and two makes five"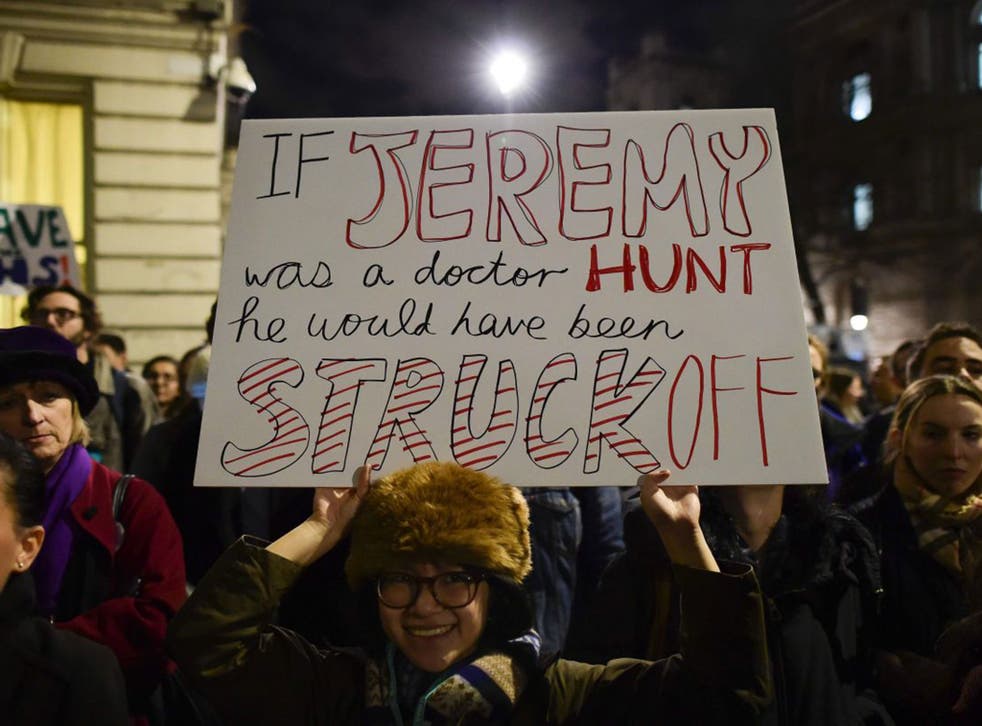 Being the youngest of the three brothers, learning a sense of injustice became the quintessential tool to surviving sibling rivalry.
As a child I remember games of Monopoly where my eldest brother would convince me to trade away properties of the ever-craved orange set in return for the almost worthless brown set or a widely-useless utility company. Much to the protest of my parents and the wider audience he
would tell me that I was getting a "good deal" and that he was the only one telling me the truth.
Only later in the game would I rue the moment I had made such a poorly calculated decision, with all my properties mortgaged and my only remaining income derived from someone else's chance landing on my water works.
Later on in my childhood, I recall reading Lemony Snicket's 'A Series of Unfortunate Events' and marvelling at the injustice so frequently doled out on the Baudelaires - in particular, the phrase "people don't always get what they deserve in this world".
Then several years later I would read Orwell's 1984 and consider the absurdities of Winston Smith's initial role in the Ministry of Truth (including his doctoring of newspaper articles) and the unfolding of the illogical assertion that "two and two made five".
It is now more than ever that these illogical injustices come to mind.
Jeremy Hunt's assertion that junior doctors are getting a "good deal" reminds me of the injustice of many lost Monopoly games. His rampant twisting of figures (and indeed the way he is allowed to continue misleading the public) makes me feel like he himself could be just another Orwellian character working at the Ministry of Truth.
Furthermore his claim that 75 per cent of doctors will be better off on his new contract, that no one will lose any money and yet our pay package will remain neutral, sounds entirely reminiscent to me of "two and two makes five".
As chaos unfolds before my eyes, I can see David Cameron's next move: a pat on the back for Jeremy and a get out of jail free card. In other words, a promotion away from his current job as Health Secretary - and a new minister shuffled in who deems it is impossibly late to reverse the imposition of the dreaded junior doctor's contract.
Memories of James Naughtie's infamous Freudian spoonerism of "Jeremy Hunt" and "Culture Secretary" may now be a fading memory – but the sentiment remains very much there.
Register for free to continue reading
Registration is a free and easy way to support our truly independent journalism
By registering, you will also enjoy limited access to Premium articles, exclusive newsletters, commenting, and virtual events with our leading journalists
Already have an account? sign in
Join our new commenting forum
Join thought-provoking conversations, follow other Independent readers and see their replies