I protested against China during its state visit to London and was intimidated by pro-China bullies
Throughout the demonstration there were clear attempts to suppress my voice in my own country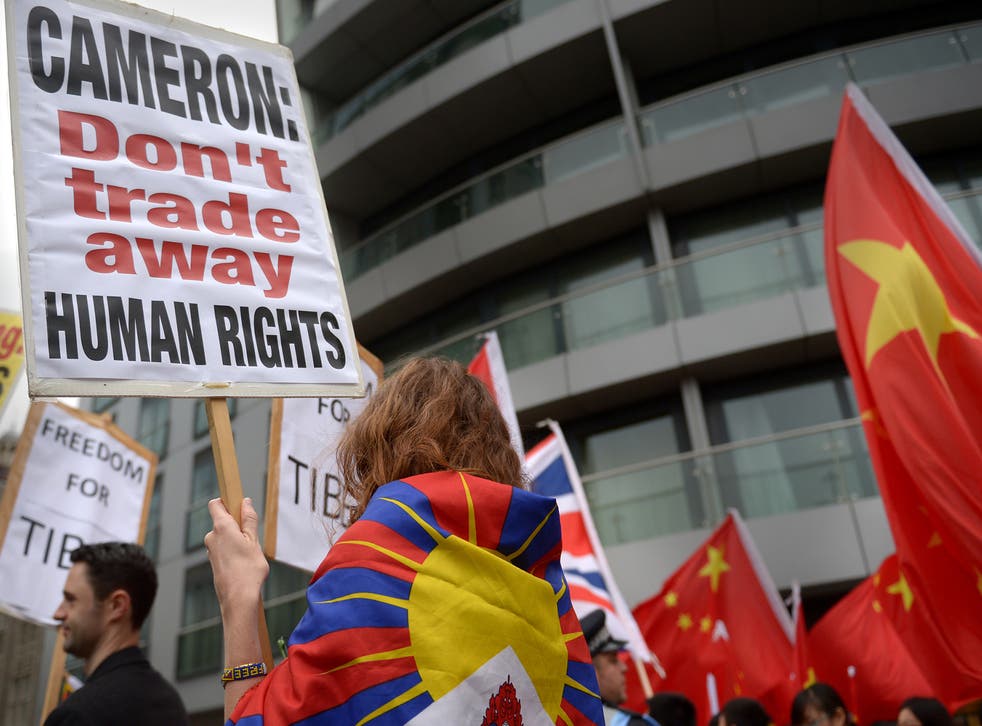 I went to London to support the groups campaigning for Tibetan independence and human rights, and I was shocked by the level of orchestrated action that has accompanied the state visit of the Chinese President Xi Jinping this week. I was unprepared for the scale and level of organisation of the Chinese "welcome" that accompanied the President's every move, clearly orchestrated by the Chinese Embassy.
The whole of the processional route was lined by a sea of giant red banners, students with "I love China" stickers on their faces and identical T-shirts, interspersed with very loud drum and cymbal bashing and Chinese dragon dancers. In the middle of this huge spectacle, human rights protesters were allocated a small area, set back from the Mall, virtually out of sight of the procession.
We decided to take our Tibetan flags outside of the cordon (this is a free country), and were subjected to aggressive bullying by Chinese men carrying huge flags which they used to cover and hide ours. We then had the attention of the Chinese dragon dancers, whilst the drummers and cymbal bashers crashed next to our ears in an effort to intimidate us and drown out our legitimate voices.
I think the police seemed a bit shocked by the level of the Chinese attempt to suppress our voices.
When I filmed the noise makers and showed them a handwritten notice thanking them for drawing attention to our cause I was singled out by three official-looking Chinese men, who effectively herded me away from the event, lowered my arm holding the camera.
I stood next to a policeman and told him I felt threatened, and they immediately backed off but stood a short distance away taking photos of the demonstrators, including me. When I made eye contact with one of them he stonily pointed to his camera, a clear message that he had taken my photo.
Were the Government expecting that level of Chinese control of a state visit? How do ministers interpret the aggressive silencing of a group of British citizens exercising their right to freedom of speech?
I should not be silenced in my own country by an orchestrated show of power from the Chinese Embassy. And these are the people who we have invited in to take tea with our Queen. We have invited this regime in with open arms and, based on the conduct I have seen this week, I am convinced we will live to regret it.
Register for free to continue reading
Registration is a free and easy way to support our truly independent journalism
By registering, you will also enjoy limited access to Premium articles, exclusive newsletters, commenting, and virtual events with our leading journalists
Already have an account? sign in
Join our new commenting forum
Join thought-provoking conversations, follow other Independent readers and see their replies