I protested at Tate Britain because we can't ignore the gallery's controversial relationship with BP any longer
We gave small parts of our bodies yesterday in the service of an awakening conscience: that we must no longer afford BP the right to tattoo our cultural institutions with corporate marks, and to use art and culture to cleanse its crimes from the public consciousness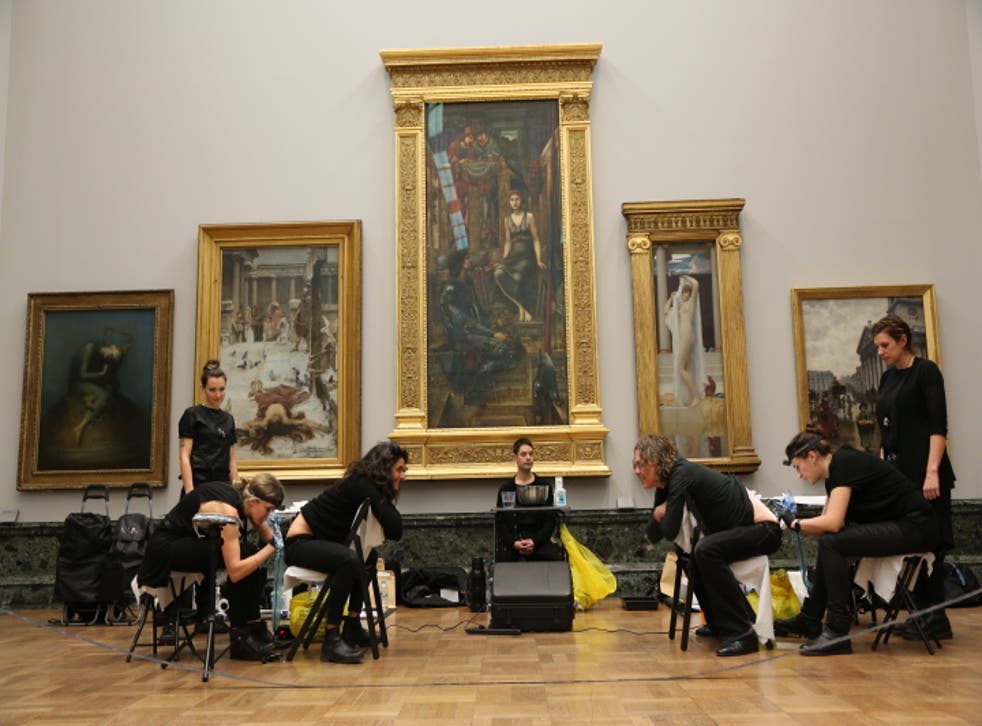 Yesterday, in Tate Britain I had the number 338 permanently tattooed onto my body. 338 represents the parts per million (ppm) of carbon dioxide in the atmosphere in the year of my birth, 1980; this year, that quantity has breached an alarming 400ppm. The tattoo was part of an intervention by Liberate Tate, an artist collective that has been turning up uninvited in Tate spaces for the last five years to make performance art that interrogates and undermines Tate's controversial relationship with BP.
I am an art historian; I teach contemporary art and theory at the University of Essex. Moreover, I write and research the history of tattooing, including its use in performance art and activist practice. So I was honoured and excited to participate in this tattoo-themed 'Birthmark' performance.
Two dozen other activists and performers were similarly inked with their carbon 'Birthmark.' Tattoo machines hummed and buzzed, oscillating like oil pumps, casting dark marks onto our skins. These inky black numbers are heavy with symbolism; distilled metaphors for the damage of climate change.
Using a technology – the tattoo machine -- born from and hardly changed since Victorian times, they're made through pain and bloodshed. Like atmospheric pollution, they are extraordinarily difficult to remove. Black and streaking, they condemn BP's deadly spills in the Gulf of Mexico as well as the oil industry's staining of other landscapes – such as the Lake Michigan BP spill of 2014, or the North Sea disaster in 2012.
As 'birthmarks', memorialising the constant increase of greenhouse gases since the Industrial Revolution, they connote our individual complicity in the accumulation of atmospheric CO2, as well as serving as constant reminders of our capacity to become better stewards of our planet and its future. Like Tate itself, we were branded with a visible mark of the callous damage we are wreaking on our planet; unlike Tate, we will wear these marks with our heads bowed in shame. In a week marking the start of the United Nations Climate Change Conference in Paris, this is important.
Liberate Tate's performances have been audacious and poignant. Oily spills such as 2010's Licence to Spill, in which two performers infiltrated Tate's Summer Party, left large, sticky messes; Floe Piece made the havoc wreaked on the Arctic immediately visible as a piece of arctic ice melted before the eyes of gallery-goers (Tate favourite Olafur Eliasson will coincidentally produce a similar work in Paris this week).
More recently, Hidden Figures shed light under the opaque redactions the Tate tried to place over their financial statements, seeking to hide the derisory sums BP have given them. Tate galleries had refused to disclose the amount they were receiving in BP sponsorship until 2014, when a landmark victory was won by environmental campaigners that forced them to disclose the details of their 25-year arrangement.
In Birthmark, these same ingredients of starkly poetic visual metaphor, courageous performance and humour combine to accentuate the human costs of unchecked fossil fuel exploitation.
'Birthmarks' unfolded in Tate's 1840 room, part of its crassly-branded "BP Walk Through British Art". On one wall hangs William Holman Hunt's The Awakening Conscience (1853), a sorrowful admonishment and visual metaphor of a mistress lead astray by her wealthy lover. In the background, a verdant garden reflects light to, as the Tate's own audioguide has it, "awaken her conscience and recall her innocent past."
We are encouraged to imagine that she will reject her life of illicit luxury and pleasure and seek to live a simpler, more moral life once more". Whilst the sexual 'lesson' of this Victorian morality tale should make a 21st century viewer uncomfortable, the moral lesson can easily be transposed to the Tate and its board of trustees, headed by former BP executive John Browne, seduced by a rather trifling sum of money towards behaviour ill-suited to a cultural institution which is too important to be so tawdrily wooed. Tate's virtue as an art gallery – a place of learning, of inspiration, of debate, of cultural value – is besmirched by its association with a corporation guilty of corporate manslaughter in the Deepwater Horizon spill and complicit in environmental scandals such as the controversial Canadian tar sands project around the world
We gave small parts of our bodies yesterday in the service of an awakening conscience: that we must no longer afford BP the right to tattoo our cultural institutions with corporate marks, and to use art and culture to cleanse its crimes from the public consciousness. The marks on our bodies will last longer than the BP logos on Tate's walls.
Register for free to continue reading
Registration is a free and easy way to support our truly independent journalism
By registering, you will also enjoy limited access to Premium articles, exclusive newsletters, commenting, and virtual events with our leading journalists
Already have an account? sign in
Join our new commenting forum
Join thought-provoking conversations, follow other Independent readers and see their replies