I was a Miss England contestant – and I believe beauty pageants are feminist
I had been ridiculed by girls for most of my life; pageants were the only place that every girl surrounding me helped, be it with a dress that needed pinning or a hair disaster, we were a community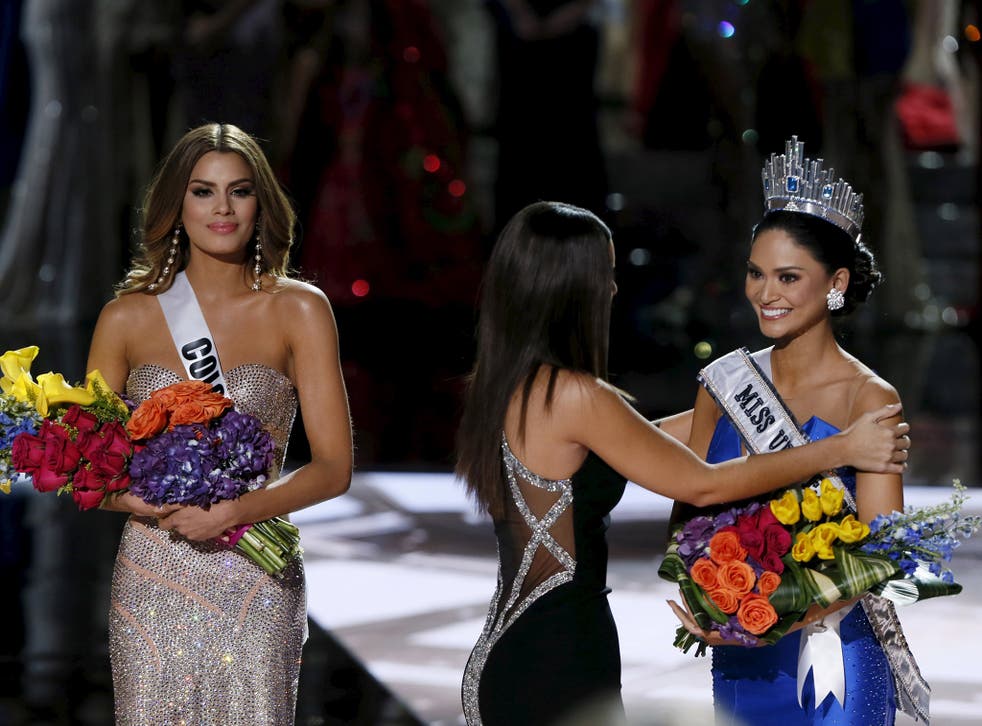 It all started with a passing thought, a thought that women might just be more than what was expected of us. In the past one hundred years or so, that thought became an ideology, a political debate and a bottom line to every woman's response to an outrageous action – I can do it, because I have the ability to choose. I chose to couple the most unlikely of ideas together: feminism and beauty pageants.
I remember the day I became a feminist. I was seventeen, watching the film Pretty Woman with my parents – my mother ironing my dad's shirt for work and my dad sipping on a cold beer. The scene where Richard Gere struts up to his private jet with a stunning Julia Roberts in tow, my father turned to me and said: "Lauri, you marry a man like that who can take care of you, so you have no worries". Even though I had heard these sentiments before, I hit a boiling point that I never knew existed. My immediate response was: "Dad, I want to take care of myself, and my own money". As the room fell silent, I found my voice.
This was also the year I was scouted to compete to be the most beautiful woman in England.
Social Experiment sees feminist bottled at a domestic violence rally
I was minding my own business at The Clothes Show Live, trying to find the last of the great bargains, when a very tall lady came up to me and said that I could be a potential Miss England. My face must have said it all, "at least give it a go" she said. As a teenager, bullies had got the better of me, calling me all names under the sun and as a result my self-esteem left a lot to be desired.
It's been four years and I've never looked back. Why? How can I be a feminist and compete in beauty pageants? I shall explain through the myths that are presented against us frequently.
Myth 1: Beauty pageants objectify women and are all about vanity
I have never once felt objectified. Yes, there are male judges, but I get worried when there are not any male judges. Men and women see things very differently, which balances the opinion of beauty. A national queen is supposed to be the great all around woman, someone for everyone to look up to. Each judge looks for a special something.
Yes I have strutted my stuff on a runway in my bikini. I can see how people would find that weird; I found it daunting at first. But nothing compares to that feeling of applause when you do go out there, empowered, and finally feeling good about yourself. I was often criticised for my body, now people were applauding it.
Furthermore, it is not all about vanity. There is a compulsory round of charity and each contestant must raise money for a charity that they want to give a voice to. I ran half marathons, got myself out of bed to do car boot sales. If I didn't do pageants I'd probably be sat on the sofa watching Netflix, but this gave me the drive and motivation to actually do something, and give a voice to those who without my support, wouldn't be heard.
Wouldn't you like to have a role model for your daughters who promotes charity, healthy living and empowerment?
Ms Senior California pageant 2014

Show all 9
Myth 2: All of the contestants are airheads
We've all seen Miss Congeniality: that fatal question when she says her ideal date would be 25 April. No one actually sees it but there's an interview round behind the scenes where the judges test the contestants' general knowledge. I have failed several times and I'm studying towards a degree. Interviews are always daunting and especially onstage. If you're good enough to reach the top ten you are asked a random question onstage – with the world watching you.
One particular night, a gang of feminists started pelting eggs at us, screaming that we did absolutely nothing but thought we were pretty and held women back. As an egg hit my leg I couldn't help but feel let down. All of my hard work with raising thousands for charity and helping victims of domestic violence find their voice and courage with my words was crashing around me.
As more eggs were hurled, another girl took my hand in solidarity. I had been ridiculed by girls most of my life: pageants were the only place that every girl surrounding me helped with a dress that needed pinning or a hair disaster. A great sense of community surrounds it; in competition we do get a bit heated but when a girl has won we celebrate together.
With pageants I had finally reached that point, after years of being told I wasn't much to look at by fellow women, to feeling proud to be myself and strong.
It started with a thought and ended with a bottom line: women having the ability to choose what they want to do. That's feminism, right there.
Register for free to continue reading
Registration is a free and easy way to support our truly independent journalism
By registering, you will also enjoy limited access to Premium articles, exclusive newsletters, commenting, and virtual events with our leading journalists
Already have an account? sign in
Join our new commenting forum
Join thought-provoking conversations, follow other Independent readers and see their replies