I worked on Sadiq Khan's campaign – and some of the racial stereotyping I saw within Labour was shocking
The Labour Party must stop thinking it has to put communities on a see-saw – constantly seeking to balance one group's interests against the other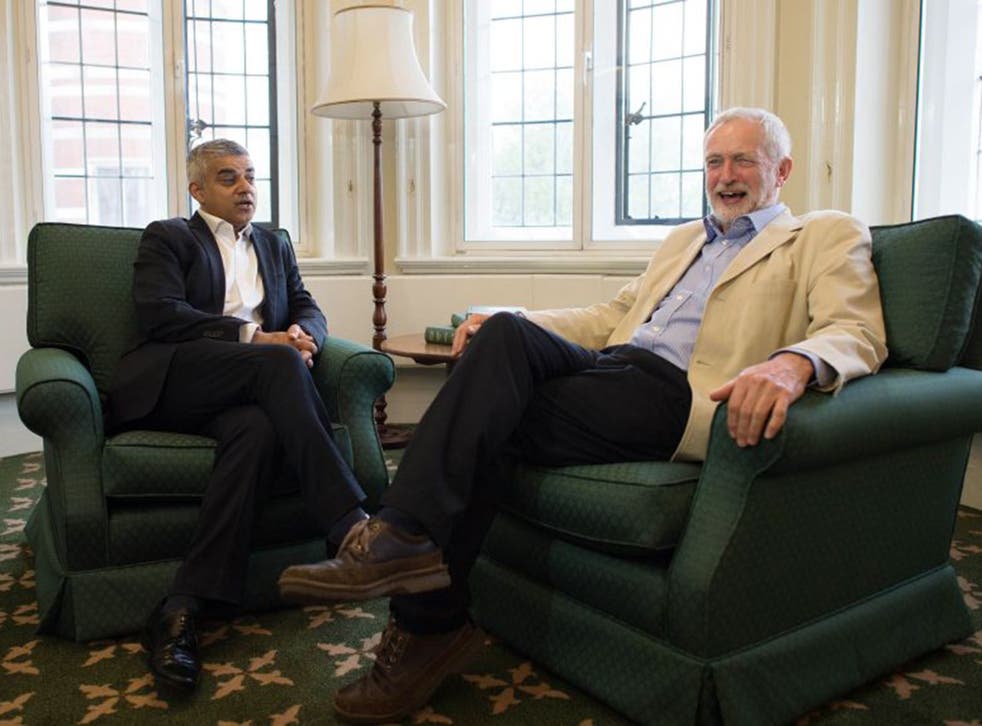 It's been a very long time since the celebration of a Labour victory has brought with it such a sense of hope and encouragement for the future. Sadiq Khan was sworn in as Mayor of London in Southwark Cathedral surrounded by people of all faiths and of none. It was a joy to behold.
The absence of Jeremy Corbyn was telling. Sadiq has rightly said he doesn't want City Hall to become an alternative power base within the Labour Party. But the Khan campaign showed how Labour can win when it unites behind a clear vision, practical policies, and inclusive politics.
Three crucial things the national leadership has demonstrably failed to deliver.
Nobody can accuse Sadiq Khan of being a closet Tory. His victory was all the sweeter because it helped expose and defeat the ugly side of modern Conservatism. The Zac Goldsmith campaign attempted shamelessly to divide communities from one another, play politics with the security of the capital and plant in people's minds the ridiculous notion that being a Muslim equates with being an 'extremist'. David Siesage, who worked for Zac, exposed these deliberate tactics brilliantly in The Independent.
Yes, Sadiq Khan is Muslim. He is devout and he's proud of that fact. He never hid it. Just as I am Hindu and I, too, am very proud of my faith, my culture and my community. Sadiq, like me and millions of children of immigrants, loves the UK and the great world city that is London.
I am proud to call Sadiq Khan a friend. And yet while working to support him I saw a side of the Labour Party, too, that is the exact opposite of the kind of politics he represents.
Unfortunately the Conservatives are not the only party to have given the impression of wanting to divide us into communities and favour one group over the other. Somewhat belatedly, Jeremy Corbyn has admitted Labour isn't doing enough to win the next General Election. One essential first step is to recognise that the party has been inflicting huge damage on itself by alienating large parts of not just the Jewish community but Hindus and Sikhs as well.
Like Sadiq, I was brought up in an inner city council house, in my case in Birmingham. I've been Labour all my life, despite huge pressure from many within the British Indian community to follow them in abandoning my party and embracing the Tories instead.
At the last general election, for the first time in history, more Indians voted Conservative than Labour. Ten years ago we had a lead of around 30%.
There are more young people of Indian descent coming up through the ranks of the Tory Party, as office holders and councilors. Younger generation Indians are feeling more and more alienated and sidelined by our party. At its most stark, the perception has become embedded that Labour is for the Pakistanis and Muslims while the Tories are for Indians and Hindus.
Here is the hard and uncomfortable truth. Too many people in the Labour Party stereotype us in exactly the same way the Tories do. It saddens me to remember how many times I have heard Labour people say, "well Indians are getting richer so of course they will vote Tory".
What a shallow, defeatist mentality.
Very few Indians live in two million pound mansions. I certainly don't. It may be true that we don't regard the pursuit of wealth as something evil, and nor do we treat those who have become successful with animosity. But is Labour really saying we don't want to represent those with high hopes and aspirations for themselves and their families? If the answer is 'yes' then we may as well kiss goodbye to the next general election now.
Sadiq Khan's 5 most significant policies

Show all 5
We can and must fight these false perceptions. I know they don't truly reflect the party I have worked so hard for all my political life.
Sadiq Kahn is already showing us the way. One of his last campaign visits was to a Hindu Temple in north London. Pictures of him taking part in its rituals went viral on the internet. His grandparents were Indian and he's proud of the fact. He says he looks forward to engaging directly with the government in New Delhi and leading a trade delegation to India as soon as possible. Contrast that with the failure of Jeremy Corbyn even to show up when Prime Minister Narendra Modi spoke to members of both houses in Westminster at the end of last year.
I was honoured when Sadiq asked me to join his campaign for the party's mayoral nomination as a senior advisor. What happened next was deeply troubling. Supporters of Mr Corbyn took to social media to warn that my appointment would upset Muslims (the language used was much coarser) and might damage Sadiq. My 'crime', in the eyes of some of them, was to have worked hard to make Mr Modi's visit to the UK a success.
Here was a fantastic opportunity for the party to demonstrate unity of purpose between different communities. And yet members of the radical left tried to use my involvement to do exactly the opposite and, in the process, to warn Sadiq off fighting a more centrist campaign.
Such divisive, hate-filled politics will destroy our party if we don't exclude it completely and utterly from our ranks. That is what we mean when we say Jeremy Corbyn hasn't acted quickly or decisively enough. The Zac Goldsmith campaign in London was rightly condemned, even by decent Tories, for its racial stereotyping and a conscious attempt to spread division and mistrust for political ends. There is an element within our own party that is intent on doing exactly the same thing.
So this is not special pleading on behalf of Indians, Hindus or anybody else. Labour can and will succeed when it can show that at all levels it respects and values our diversity as a nation. Most Labour people do. Only a small minority are letting the rest of us down.
Labour must root out the genuine extremists and condemn their allies among the left. That alone will not be enough. At all levels the party must stop thinking it has to put communities on a see-saw – constantly seeking to balance one group's interests against the other. As Sadiq Khan said, "we will never be trusted to govern unless we reach out and engage with all voters – regardless of their background, where they live or where they work."
Those are wise words from a man who stood up bravely against the Corbynistas and showed that inclusive politics is not only good politics – it is winning politics.
Manoj Ladwa chairs Indians for Labour and is a former President of the National Hindu Students Forum.
Register for free to continue reading
Registration is a free and easy way to support our truly independent journalism
By registering, you will also enjoy limited access to Premium articles, exclusive newsletters, commenting, and virtual events with our leading journalists
Already have an account? sign in
Join our new commenting forum
Join thought-provoking conversations, follow other Independent readers and see their replies