If IDS didn't resign over Europe, he must give us his alternative financial vision - otherwise he's a busted flush
IDS needs to present a clear alternative approach to the Treasury's, not just about where the Budget went wrong, but what the broader vision for his compassionate conservatism looks like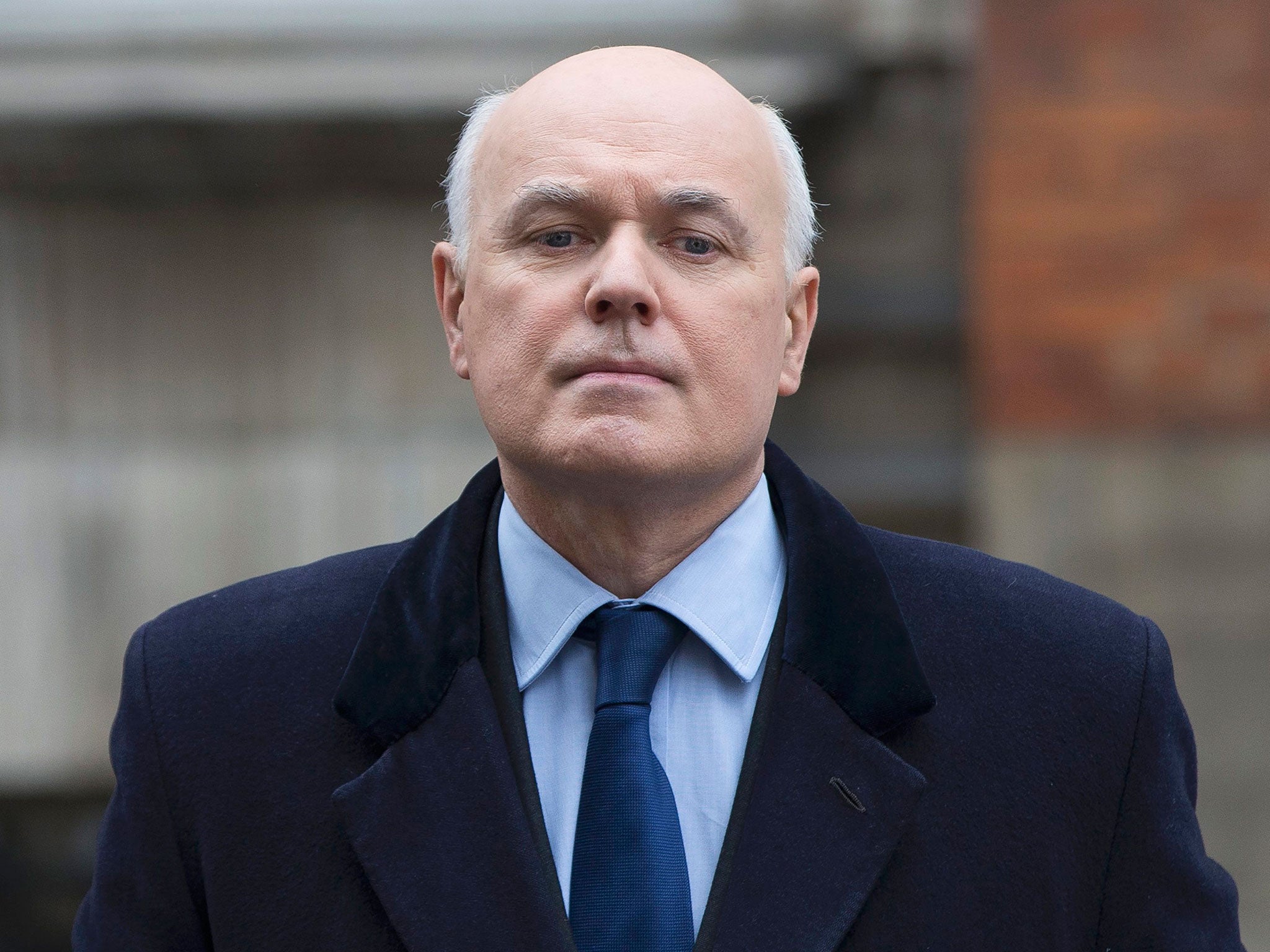 It may be years before we know the full story of the resignation from the Government of the Work and Pensions Secretary, former leader and all-round complicated figure Iain Duncan Smith. Did he resign even after the Treasury and No 10 had ditched their cuts to disability benefits, in an astonishingly fast U-turn?
Was it really all about Europe? Had he been looking for an excuse, as his pensions minister Baroness Altmann claims? Why did it take him six years to realise what was happening? Did he jump before he was pushed? Was it just frustration at the arrogant, uncaring George Osborne? Are Mr Osborne's leadership ambitions now toast? It doesn't matter.
The serious task now for the new Work and Pensions Secretary is to leave all that to the hacks and the spin doctors, and to find a way of reforming social security at a time when, politically motivated or not, the financial constraints on budgets have never been tighter. Stephen Crabb now has one of the toughest jobs in government and, in truth, an almost impossible one. The welfare budget is huge – but most of it, the old-age pension, is ring-fenced for largely political reasons. Hence the squeeze on the rest of the DWP budget, itself under pressure because of pledges on defence, schools and the NHS. And all of public spending is under pressure because of the economy's relatively sluggish growth.
So this is where the Government's economic failures hit hardest – and against those least able to deal with cuts in assistance. It is also where the failure of previous governments to create a sustainable, affordable welfare state is also apparent. Because to be fair to the Chancellor – a lonely position this week – simply spending more and more, outstripping the ability of the economy to pay for it, is not the answer.
In the end the perception that this is what Mr Duncan Smith was arguing for in Cabinet may prove his weakness. IDS, above all, needs to present a clear alternative approach to the Treasury's, not just about where the Budget went wrong, but what the broader vision for his compassionate conservatism looks like.
If he manages that he really will have undermined the Chancellor and indeed David Cameron's claims to One Nation government. He might also, improbable as it may seem, set out an alternative future for his party that goes beyond the current value-free, policy-free debate. The IDS resignation crystallises a moment when the reality of where the Conservatives are taking Britain came sharply into focus. All the Boris vs George personality stuff is just a blue-on-blue political game.
If he fails to take his agenda forward, then IDS and his reputation will dwindle as rapidly as they did when he was defenestrated as party leader back in 2003 (a train of events under which, two years later, Mr Cameron was installed as leader and Mr Osborne as shadow Chancellor – whatever else, it has been a durable partnership). Regrettably, all the signs are that IDS will simply be far too busy with Brexit.
After a Budget that quickly unravelled, IDS seemed to strike with unusual sharpness. But with London, Scottish, Welsh and local elections – plus that awkward referendum – looming, the Tories are unlikely to want to swap a Chancellor let alone the PM or the direction of the Government. Bad timing after all, then, Iain.
Join our commenting forum
Join thought-provoking conversations, follow other Independent readers and see their replies