If Turkey chooses Erdogan at the polls this weekend, Isis will gain strength and the refugee crisis will worsen
The West should make it clear to Erdogan that his destructive policies are starting to overshadow geopolitical and strategic benefits that Turkey has historically brought to the table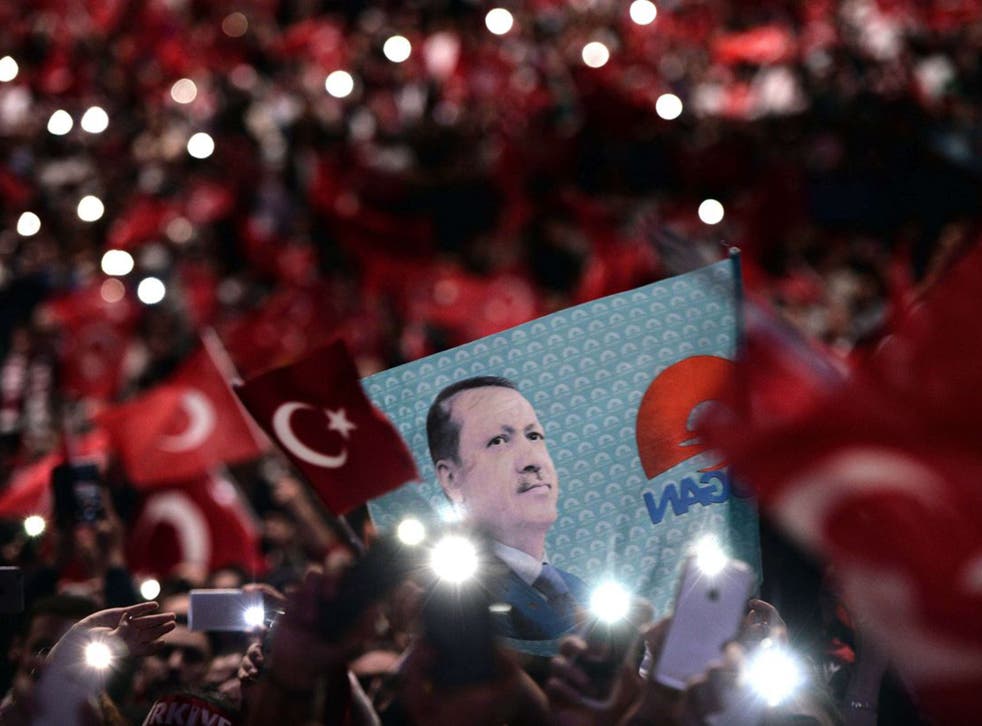 This weekend Turkey will once again head to the polls after its last election in June produced a hung parliament and the country's parties failed to form a government. There is much more at stake in these elections than simply deciding who rules and who does not: it will decide whether Turkey's future is war and bloodshed, or peace and stability. For the latter, Turkish President Recep Tayip Erdogan simply must go before he leads Turkey further into destruction.
Turkey sits in a messy region that has not been short of violence and conflict over the past decade. Wars in Iraq and Syria have destabilised the region as a whole. But Turkey has for the most part been able to manage this and has survived the strains of conflict, including Syria's bloody sectarian war and the rise of the Democratic Union Party (PYD) in Syria, which is now the de-facto government of Syria's autonomous north-eastern Kurdish region. The PYD is a sister group of Turkey's Kurdistan Workers' Party (PKK), which has fought the state for political, human and territorial rights for Turkey's marginalised Kurds over the past four decades.
In recent years, Turkey made considerable progress with solving its Kurdish issue and ending conflict with the PKK, a conflict that has claimed tens of thousands of lives. Restrictions on Kurdish political and cultural rights were also eased. In March 2013, a historic peace deal with the PKK suggested a settlement to the conflict was on the horizon.
But Erdogan has reversed the strides that Turkey has taken and returned the country to levels of violence and instability not seen for decades. Widely criticised for his strongman authoritarian rule and his suppression of liberal and progressive values, Erdogan wants to modify Turkey's constitution so that it gives him, as president, more powers.
However, to do that Erdogan needs a majority. But he lost his majority in the June elections, in large part because of the rise in Turkey of the pro-Kurdish party, the Kurdish Peoples' Democratic Party (HDP) and its charismatic leader, Selahattin Demirtas, who enjoys widespread support across Turkish society - not just amongst Kurds.
Demirtas has deployed the language of tolerance and unity, while Erdogan, since losing his majority has attempted to polarise Turkish society. Just a month after losing his majority Erdogan launched airstrikes on the PKK; has allowed pro-government mobs to attack HDP offices, Kurdish stores and businesses. He has deployed a discourse of fear by questioning the HDP's loyalty to the country, while asserting that the PKK and Isis are one and the same.
This toxic and dangerous game of divide and rule has already had far-reaching consequences. In July, a month after Erdogan lost his majority, Kurdish students in Suruc were killed in a terrorist attack near the Syrian border. Three months later came the horrific attack on a peace rally three weeks ago, which killed more than a hundred people and inured many more.
Erdogan's policies will have repercussions for Europe and the West as a whole. Defeating Isis requires maintaining the PKK's focus on the jihadis in Syria and Iraq – where they have won countless battle-field victories – rather than on a civil war with the Turkish state, which Erdogan may well opt for come the weekend.
The West should make it clear to Erdogan that his destructive policies are starting to overshadow geopolitical and strategic benefits that Turkey has historically brought to the table. This does not mean simply pressuring Erdogan to adopt a moderate stance but making it clear that the PKK and the PYD are central to the West's efforts to defeat Isis. Undermining this effort should be a red line.
Erdogan maintains an embargo on Syrian Kurdistan, where Kurdish towns and cities like Kobane have been liberated from ISIS but require urgent humanitarian assistance that Turkey continues to block. Lifting this embargo is crucial to resolving the refugee crisis, as it will allow for medical supplies and the reconstruction of homes and communities. Humanitarian crises are multipliers of political and violent instability. In other words, Erdogan is harming the military campaign as well as directly undermining the West's efforts to deal with the ongoing refugee crisis.
The desperate man is almost always the most dangerous man. Erdogan may push Turkey closer to the brink if Sunday's election does not give him the results he wants. The West, which in the past has been able to wield significant influence over Turkey, should not let this happen. Simply put, Erdogan must be stopped before it is too late.
Register for free to continue reading
Registration is a free and easy way to support our truly independent journalism
By registering, you will also enjoy limited access to Premium articles, exclusive newsletters, commenting, and virtual events with our leading journalists
Already have an account? sign in
Register for free to continue reading
Registration is a free and easy way to support our truly independent journalism
By registering, you will also enjoy limited access to Premium articles, exclusive newsletters, commenting, and virtual events with our leading journalists
Already have an account? sign in
Join our new commenting forum
Join thought-provoking conversations, follow other Independent readers and see their replies