If we really want to stop being penalised for pregnancy, women need to start naming and shaming their employers
According to research published this week, three quarters of pregnant women and new mothers experience discrimination at work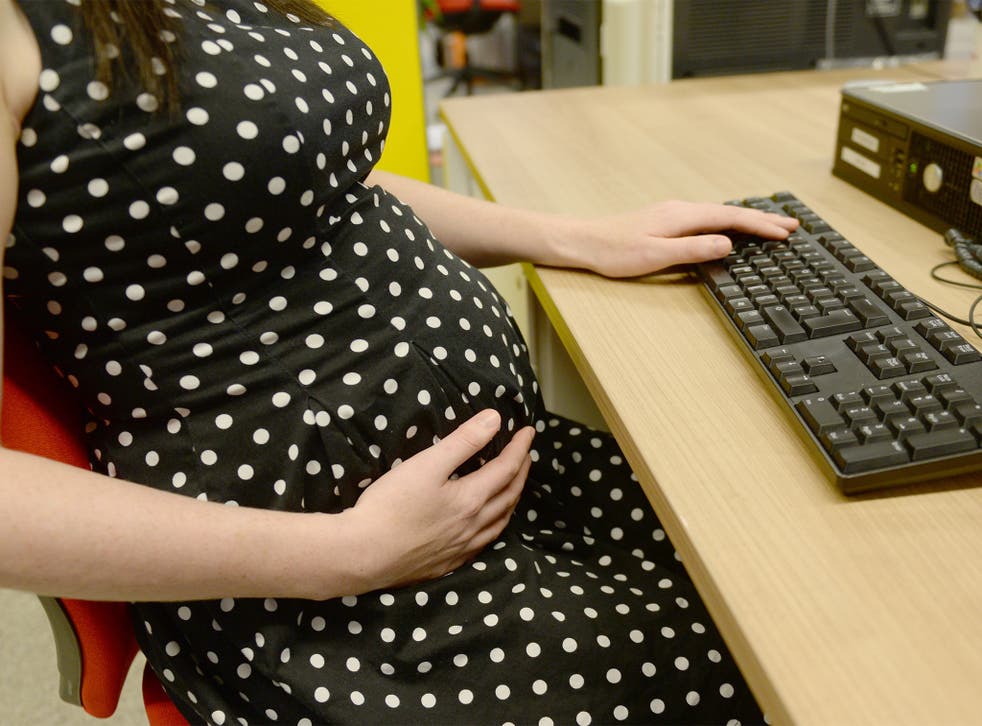 Some years ago, when I was just about to cross the threshold from my 20s into my 30s, I started working with a young woman who proclaimed herself "not a feminist". I was surprised. Why would a young woman entering a male-dominated industry define herself as anything but a feminist? Her answer seemed promising, but was in fact rather telling: at her stage in life, men and women were indeed equal. They had an equal shot at the jobs and an equal pay packet in return for securing them. The gulf between men and women at work doesn't emerge until a few years later.
And, lo, a few years later she told me she had been wrong. By this time she had reached her own late 20s, and had witnessed the trajectory of her slightly older female colleagues' careers plateau while the men rocketed skyward. The young men to whom she'd been a contemporary had been promoted faster and championed more aggressively. The "motherhood penalty" begins long before a woman has children – and regardless of whether she wants them or not. At its worst, it's not only regressive but dangerous.
According to research published this week, three quarters of pregnant women and new mothers experience discrimination at work. Seven in 10 bosses say a woman should have to declare whether she's pregnant when applying for a job, and one in four – a quarter of British businesses, that is – say they should be able to ask if a woman is planning to become pregnant. To do so, let us not forget, is illegal.
It goes on: one in 10 is discouraged by their employer to attend antenatal health checks, a practice that can threaten the health of the mother and unborn child; one in nine lose their job as a result of having a child. With more new fathers taking extended paternity leave, these practices should be long dead. But they're flourishing: the percentage of woman who report discrimination related to pregnancy or motherhood is dramatically up from only 45 per cent a decade ago. No wonder the birth rate is on the decline.
That this is "unacceptable in modern Britain", as Caroline Waters, deputy chair of the Equality and Human Rights Commission, which was responsible for the study, said yesterday, is in no doubt, but the solution leaves a lot to be desired. These attitudes amount to a collective writing-off of hundreds of thousands of working women as bored mums desperate to be at home or broody potential parents just waiting to get knocked up. And, in response, all we've got is a toothless select committee inquiry, which will take months to hear evidence on women's experiences when their voices are already deafening. A report will follow, making recommendations that will be quietly shelved due to the latest priority of a fickle government (whatever its stripes).
The law as it stands is not working. Employers are ignoring it, and employees are too frightened to use it. Cuts to legal aid mean it's hard, even in a case of discrimination, for women to find representation if they wish to launch a case. The sheer stress of such a move – on top of being a new parent, mind – puts most people off; they need an income, and they don't want to be marked out as a troublemaker. Countless managers break these rules daily and yet they feel no consequences.
Waiting for government to act is a futile exercise. Perhaps women should fight back themselves? Naming and shaming those organisations who failed to pay the minimum wage (admittedly with government help) is leading to a change in attitudes and standards, and the same could be done here. Social media platforms make it easier than ever to share stories of pregnancy discrimination in the workplace, anonymously and with the benefit of warning other women away from hostile working environments. A central database sharing evidence about good and bad practice, just like those that compare salaries anonymously, could be compiled. For until employers feel the consequence of their illegal actions, the "motherhood penalty" will be paid by us all.
Register for free to continue reading
Registration is a free and easy way to support our truly independent journalism
By registering, you will also enjoy limited access to Premium articles, exclusive newsletters, commenting, and virtual events with our leading journalists
Already have an account? sign in
Register for free to continue reading
Registration is a free and easy way to support our truly independent journalism
By registering, you will also enjoy limited access to Premium articles, exclusive newsletters, commenting, and virtual events with our leading journalists
Already have an account? sign in
Join our new commenting forum
Join thought-provoking conversations, follow other Independent readers and see their replies