If you celebrated justice for Hillsborough, you have to support the European Convention on Human Rights
Without article 2 of the European Convention on Human Rights the gross negligence behind the deaths at Hillsborough would never have been uncovered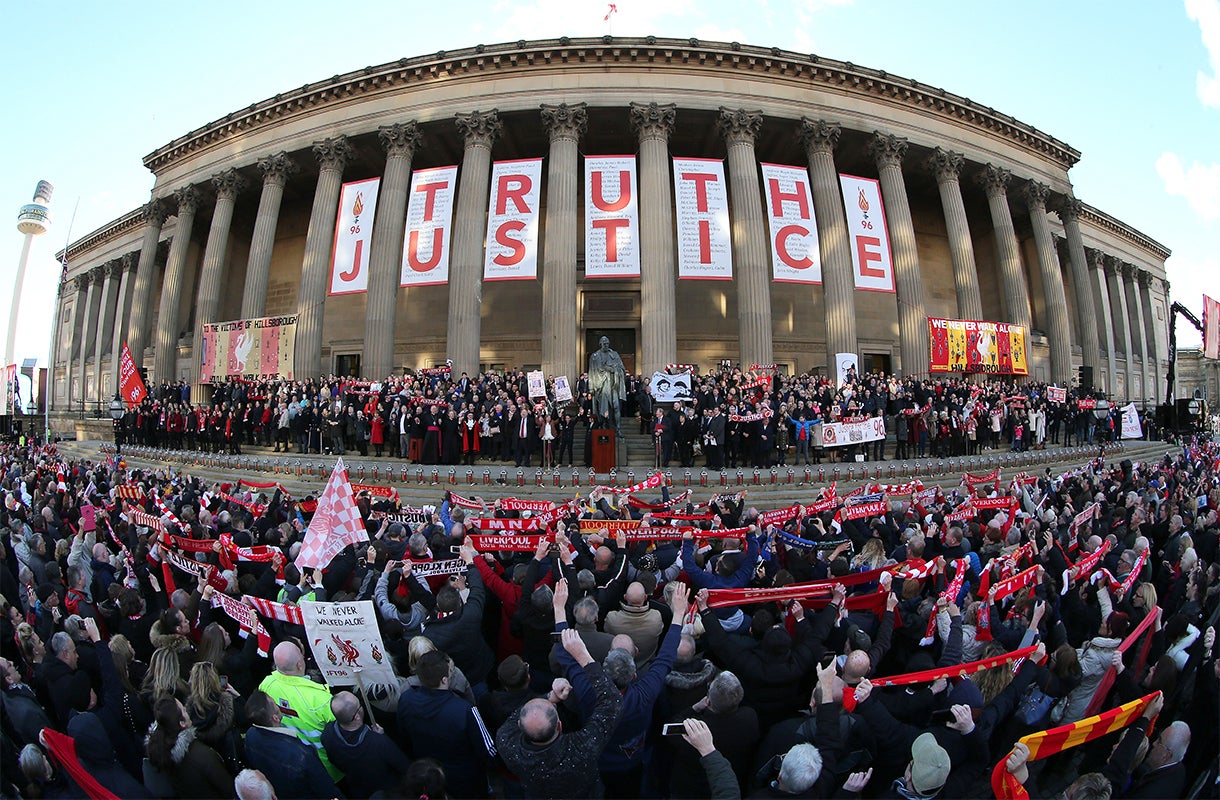 Besides the EU, another favourite political football of Eurosceptics is the European Convention on Human Rights (ECHR). When the convention is not being used to prevent us deporting terrorists then we're being forced to give prisoners the vote (despite no terrorist ever not eventually being deported and no prisoner yet having the vote, sigh). It's a document that in the words of our Home Secretary Theresa May has "added nothing".
I don't think you would find many people on Merseyside who'd agree with her today; because the European Convention on Human Rights, and our own Human Rights Act, played a minor, but crucial role in giving justice to the families of the Hillsborough 96.
Andy Burnham's tribute to Hillsborough victims
Before 2004 Coronial Law only allowed for very narrow inquiries into how someone had died, not the surrounding circumstances. But since article 2 of the European Convention on Human Rights was incorporated into our own Human Rights Act, groups, such as the families of the Hillsborough victims, have been able to seek inquiries that are specifically 'article 2 compliant'. This means that a jury can be convened to assess the wider circumstances behind a death(s) when coming to a verdict, not just the narrow question of how a person died.
Mark George QC, who represented 22 of the families at the recent inquest was clear that without Article 2 of the convention this week's inquest wouldn't have happened. The whole basis on which the jury was able to make a decision in this case rested on it. When presented with a practical example of how the ECHR can help to protect people's rights, abstractions about sovereignty from Theresa May and others seem limp.
Sam Hawke of the campaign group Liberty, said: "The jury's ruling is a momentous vindication for the families who have fought so long to find the truth. But it is chilling to know that the jury's ability to consider the wider circumstances of the deaths of the 96 would not have been possible without the Human Rights Act, which was attacked by the Home Secretary just days before the verdict."
Hillsborough families react to inquest conclusions
Show all 10
There are certainly tensions that the ECHR creates, but when it comes to matters of freedom of speech, or protecting a minority from the tyranny of the majority (or even the state) what else is to be expected. We should be grateful that our democracy is strong enough to endure it. What rankles most is that some Eurosceptics want us to believe that the convention, and by extension the European courts, are a threat to our liberty.
The truth is the European Convention on Human Rights is based on English common law. It exists to protect individual liberty against an overzealous state wielding excessive power. Sometimes that includes even our own state. Hillsborough shows us that for every Eurocrat bogeyman trying to keep a suspected terrorist from being deported to a country where they might be tortured, we have our own police force, falsifying reports and smearing thousands of innocent people in the process.
Does the European Convention on Human Rights sometimes mean that we have to make decisions that we would otherwise not want to? Yes, of course, but it also represents something far more profound. Created in the shadow of the horrors of World War Two it enshrines a common decency towards one another, a decency that its detractors all too readily forget is fragile. In a week when we turn our backs on 3,000 child refugees, having something that remind us our commitment to humanity should extend beyond political convenience doesn't seem like a bad idea.
Join our commenting forum
Join thought-provoking conversations, follow other Independent readers and see their replies