If you think the 'Allah is Great' London buses are a problem, you've proven why we need them
Having been exposed first-hand to the dismal refugee crisis in Europe and the Middle East, I have seen and heard time and again the hope that religion brings to the beleaguered, especially to Syrian refugees who often receive the aid of Islamic Relief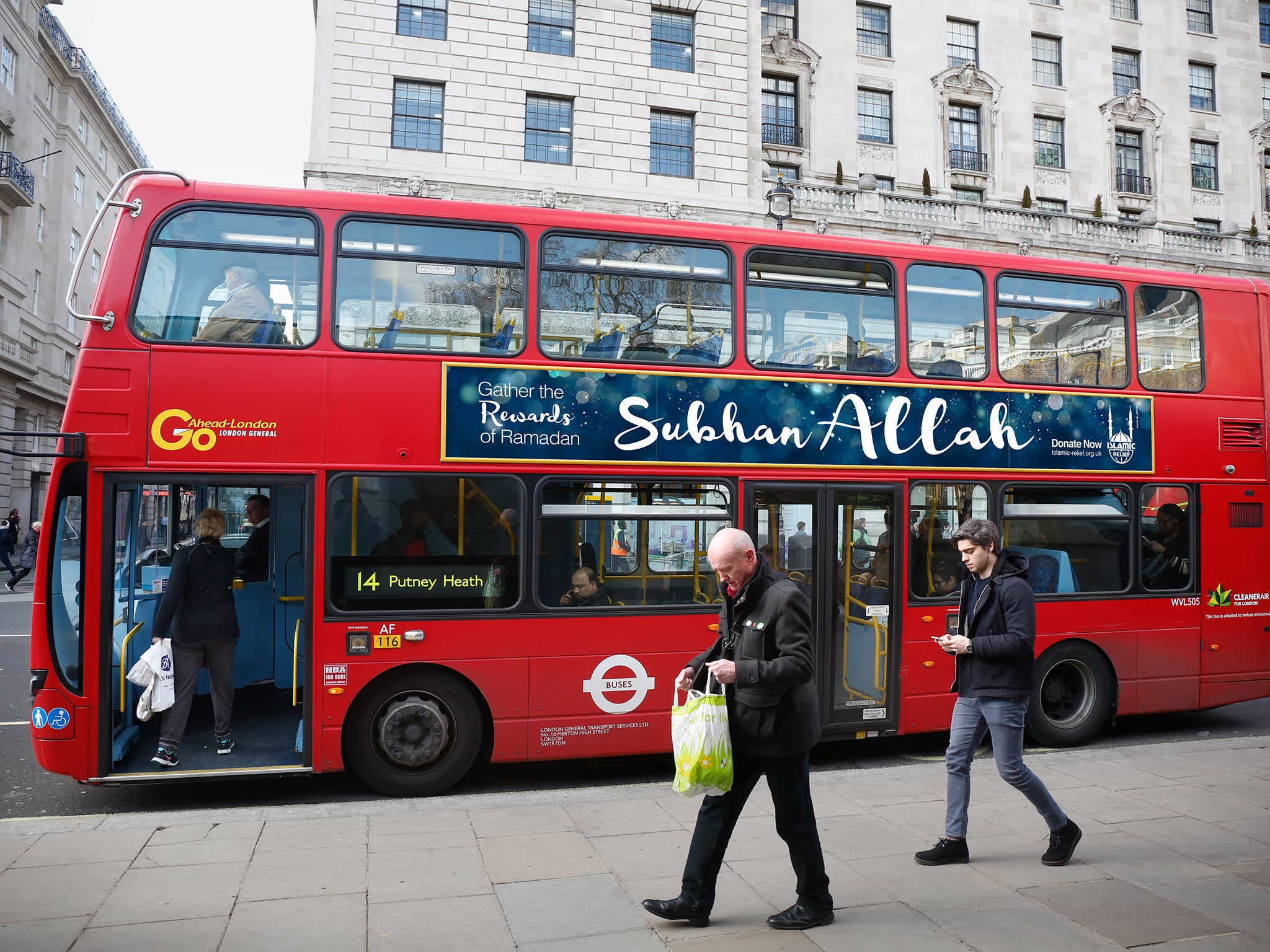 In this current climate of animosity and fear, when would you expect to see or hear the phrase "God is great" in Arabic? For many, the answer would be at the time of an imminent terrorist attack. In reality, however, acknowledging the greatness of God is what reminds the vast majority of Muslims to live lives of peace and unity in accordance with the authentic teachings of the Islamic faith.
Once again, a Muslim charity has come under scrutiny for its recent campaign which will see posters on the sides of red London buses with the words "Subhan Allah" (or "Glory be to God") written across them. Islamic Relief hopes the campaign across five major cities will help to "change the negative climate" around the religion. Islamic Relief, being the largest Muslim charity in the world, has an extensive support base and is recognised far beyond the Muslim community, which makes it one of the most qualified organisations to foster understanding and tolerance between different communities.
Having been exposed first-hand to the dismal refugee crisis in Europe and the Middle East, I have seen and heard time and again the hope that religion brings to the beleaguered, especially to Syrian refugees who often receive the aid of Islamic Relief. Why is it, then, that this phrase that brings strength and optimism to so many can instil irrational fear in others? Why are so many calling for it to be removed from the side of London buses, as if that were an inappropriate place for it to be?
Britain has evolved in manifold ways since the formation of Islamic Relief in 1984. Just days ago, London chose to ignore the campaign tactics of Zac Goldsmith and elect its first Muslim Mayor. British Muslim baker Nadia Hussain was given the honourable task of baking Queen Elizabeth II a cake celebrating her 90th birthday - and last month saw the election of Malia Bouattia as the first Muslim and black NUS president in its history.
It looks like we're living in times of inclusivity and growth. But society is full of paradoxes, and many have become fearful of the use of a word which is supposed to denote the greatest giver of peace to those of faith.
Campaigns such as the "Allah is great bus", and the subsequent unnecessary outrage, signify the need to challenge deleterious stereotypes and make the unfamiliar a common phenomenon that everyone can recognise and appreciate. Social media has seen hysterical outbursts of distaste towards Islamic Relief today. We need to combat this blind fear with education and openness.
Amal Clooney undermines Trump's controversial Muslim ban speech
Instead of loathing a charitable initiative, our time would be much better spent trying to comprehend the lives of those Muslims who we still view with so much suspicion and distaste: refugees fleeing terrible conflict. It is an opportunity for us to show solidarity with them, with each other and with the many British Muslims living harmoniously alongside us.
With the holy month of Ramadan approaching, these advertisements provide Muslims the opportunity to open discussions with others about the tenets of their faith which can help to derail rising Islamophobic sentiment. The social media reaction to the "Allah is great bus" has proven that we need to have that conversation more than ever.
Join our commenting forum
Join thought-provoking conversations, follow other Independent readers and see their replies