If you want an end to austerity, here's why you should vote to leave the EU
There is a socialist case for Brexit. The EU stands for private profit, not social good - which is illustrated best in the case of TTIP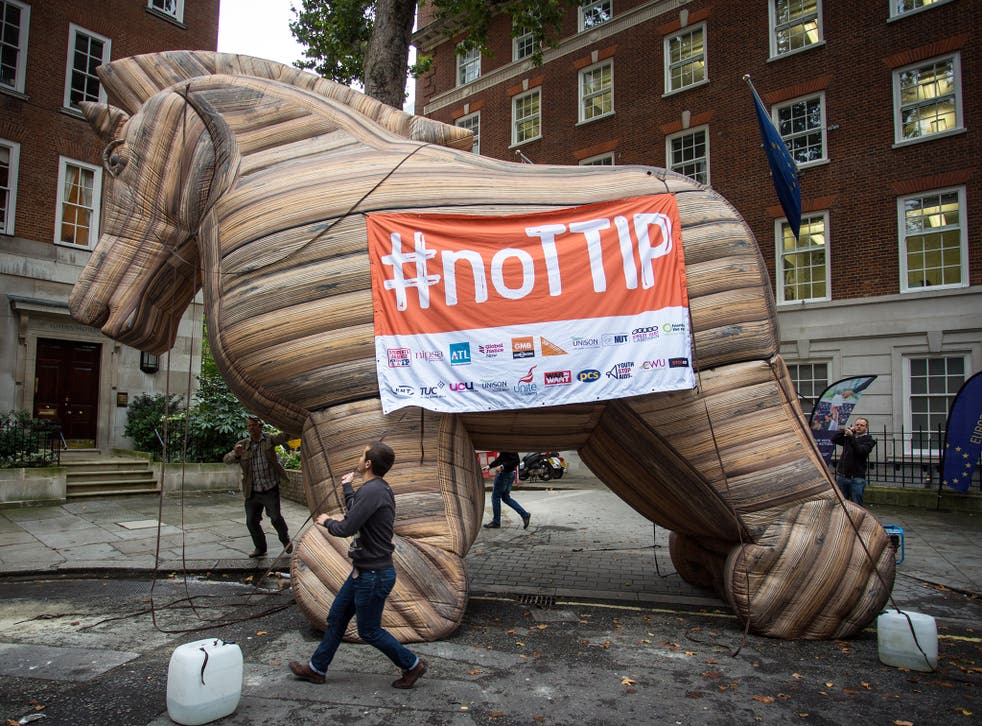 I want to see the election of a Labour government: I want to see an end to austerity, key services like our railways back into public ownership, and the NHS protected from privatisation. But Britain's membership of the European Union threatens the ability of a democratically elected government to do any of this.
The EU we are being asked to remain a member of is no longer the advocate of a "social Europe". Where the Europe of Jacques Delors appeared to offer some defence against the Thatcherite onslaught witnessed here in Britain, today's EU is a key agent and driver of that neoliberalism. Those real social gains which remain in EU law from this period are under threat. It is no coincidence that the big battalions of capital in Britain – the CBI, the Financial Times, the City of London – all stand squarely in favour of staying "In".
Take the Transatlantic Trade and Investment Partnership (TTIP) - a trade deal between the USA and EU – negotiated in secret, and with frightening implications for the future of democracy. It aims to introduce a new 'Investment Court System', which allows multinational corporations to bring legal actions in offshore courts against the governments of nation states for loss of potential profits incurred where services are run in the public sector rather than being privatised or outsourced. This is a thinly-veiled version of the Investor-State Dispute Settlements (ISDS) already contained within other bi-lateral treaties signed by the EU. This led to energy company Vattenfall suing the German government for billions of dollars over its decision to phase out nuclear power plants in the wake of the Fukushima disaster in Japan. If applied here, such a system could well mean that, for example, our National Health Service is ruled unlawful by foreign courts able to dictate to a British government that healthcare must be run for private profit.
UKIP's fear-mongering on immigration might make some Labour supporters cling to the pro-EU side in response. But sadly politicians on both sides of the referendum question will be appealing to popular prejudices. Already, the cross party "Britain in Europe" Group have stressed that the European Arrest Warrant is "necessary" to kick out foreign rapists and murders from UK shores, again reinforcing xenophobia. Plus whilst socialists oppose racist immigration controls, the European Union – at the same time as protecting free movement of labour within EU states – has been pursuing a "Fortress Europe" policy when it comes to policing external borders, leaving refugees to drown in the sea.
It is totally false to portray all advocates of withdrawal from the EU as "little Englanders". In reality, we will need to develop closer solidarity ties amongst social movements across Europe's borders in order to fight off the imposition of austerity. British withdrawal from the EU would deliver a significant blow for accountability and popular sovereignty, not only in Britain but for all the peoples of Europe.
Michael Calderbank is Co-Editor of Red Pepper magazine
Register for free to continue reading
Registration is a free and easy way to support our truly independent journalism
By registering, you will also enjoy limited access to Premium articles, exclusive newsletters, commenting, and virtual events with our leading journalists
Already have an account? sign in
Join our new commenting forum
Join thought-provoking conversations, follow other Independent readers and see their replies