The illegal wildlife trade is causing unimaginable damage – here's how we're working to end it
We must tackle the issue as a serious and organised crime, which has devastating effects not just on rare plant and animal species, but also on local communities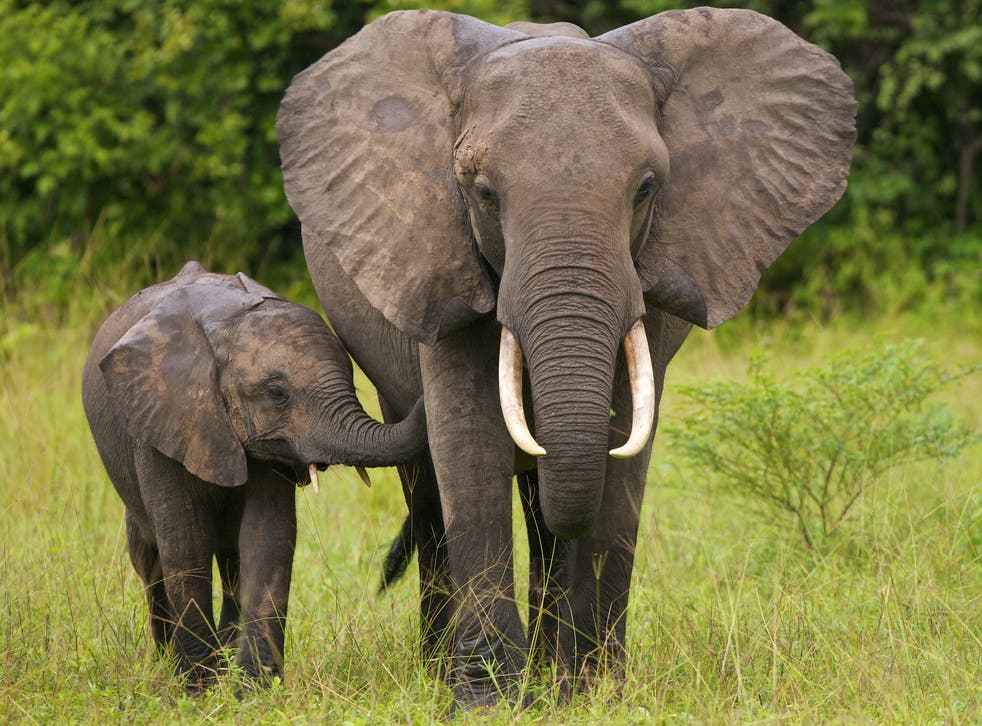 On average, 55 African elephants are killed every single day. Last week, a young baby elephant in Malawi was almost part of that sad statistic. The calf lay trapped in a cruel wire snare under the searing African sun as her mother and their herd looked on helplessly.
Fortunately, the tragic scene was discovered by a patrol of African Parks rangers and British soldiers who had been providing counter-poaching training. Led by Lieutenant Alex Wilson on duty with the Grenadier Guards, the patrol called a local vet and used a helicopter to approach the wounded calf with equipment to save her life. Eventually, the calf was treated successfully and reunited with her mother.
This story had a happy ending. But all around the world, the illegal wildlife trade (IWT) is causing unimaginable damage. Worth up to £17bn every year, it is one of the most lucrative forms of organised crime, and it isn't limited to species such as the elephant and rhinoceros. For example, IWT is also a threat to the scarlet macaw, the jaguar and rosewood, a valuable type of tropical hardwood, which is the most illegally traded genus in the world.
IWT is one of many pressures threatening the survival of endangered species, and sits alongside threats such as rising human populations, climate change and change of land-use. Together, these issues put 1,003 species of plants and animals under threat of extinction according to the Convention on International Trade in Endangered Species (Cites). Such devastation could have unimaginable effects on our planet's fragile ecosystems.
Chris Packham explains why The People's Walk for Wildlife is important
As the story from Malawi shows, however, there is good reason for hope. The actions we have taken as an international community, beyond borders and across governments, have had undeniable effect.
This week, the work will continue, as global leaders, NGOs, business leaders and conservationists meet in London for the fourth Illegal Wildlife Trade Conference. With more than 1,000 delegates attending, including official delegations from 82 countries, this will be the largest conference of its kind ever held. We will be building on the successes of previous meetings in London, Kasane and Hanoi. But we must yet go further. We are still at crisis point.
The conference will focus on how to tackle IWT as a serious and organised crime, which has devastating effects not just on rare plant and animal species, but also on local communities. IWT fuels corruption and insecurity, undermines development, and brings crime and instability into some of the world's poorest communities. We are tackling the underlying issues driving this trade, including providing alternative and sustainable livelihoods to people in poor communities to ensure they can support their families without being forced to turn to crime and to be able to stand up to pressure from organised gangs.
To achieve this, we will be strengthening and expanding international coalitions between the private sector, national governments, NGOs and academics. By working together we can champion best practice, achieve results that are impossible if we act alone and make use of the kind of innovative technologies that have the potential to transform the international approach to IWT.
Organisations such as the Zoological Society of London are leading the way with innovative technical solutions such as "Instant Detect", which uses satellites to monitor the flora and fauna of some of the world's most challenging environments, from the Antarctica to the Sahara. Instant detect is also being used to help provide early warning of poaching activity. Live information is sent to rangers who can then act quickly.
Finally, we will be focusing on how to close the markets that contribute to the illegal wildlife trade. The UK is introducing one of the toughest ivory bans in the world, with some of the strongest enforcement provisions, and 32 African states have called for all European countries to close their ivory markets. I am delighted that the UK has chosen to lead the way on this issue.
Although we have made valuable progress, the scale of wildlife crime has increased dramatically in recent years. Poaching levels for many species remain unsustainably high and organised criminal networks continue to profit from the proceeds of the trade. Our fear is not just for the future of increasingly rare and beautiful mammals such as the African elephant, rhino and pangolin, but also for endangered trees and plant life as varied as cacti, orchids and rare palm trees.
Illegal wildlife trade both fuels and encourages corruption. It undermines the rule of law, governance and security; it damages economic growth and sustainable development; and it deprives societies of their valuable and finite natural resources, threatening the health of local economies.
It is vital the international community – represented by the impressive global coalition now gathering in London – unites to tackle these problems before it is too late.
Thérèse Coffey MP is the environment minister
Join our new commenting forum
Join thought-provoking conversations, follow other Independent readers and see their replies