I arrived here on the kindertransport – the similarities between now and 1930s Europe are chilling
With coronavirus threatening our continent, now more than ever there must be a Europe-wide agreement on refugees, writes Lord Alf Dubs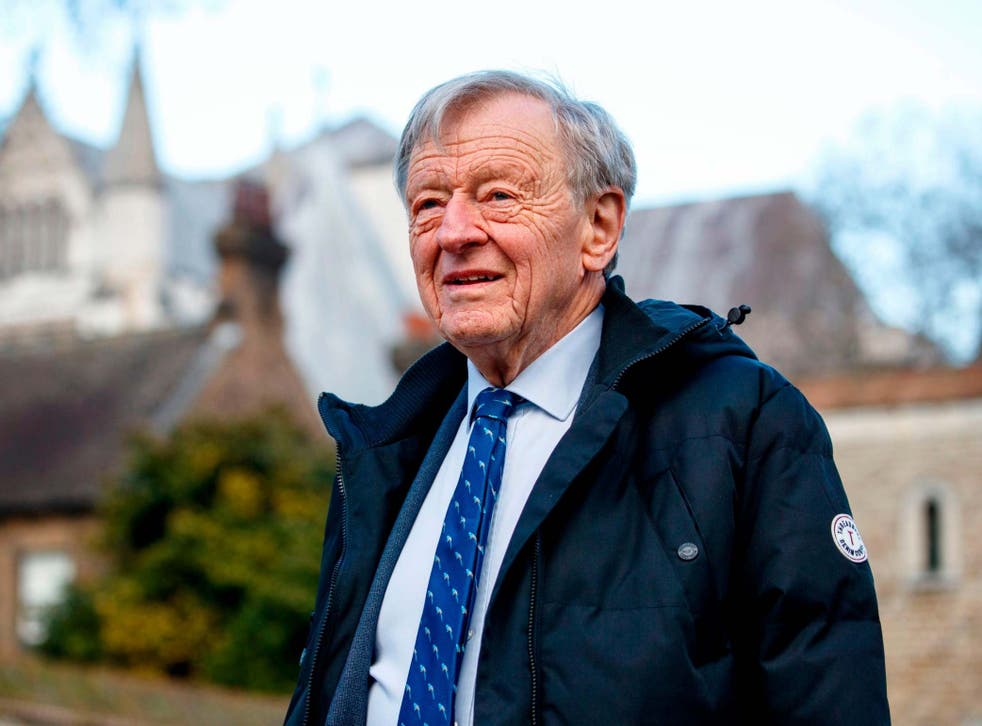 At the end of February, the refugee crisis in Europe boiled over. Thousands flocked to the border between Turkey and Greece, which remained closed to them, despite Recep Tayyip Erdogan's dishonest assurances that they would be able to cross.
The Greek authorities, overwhelmed by the numbers arriving on the Aegean islands of Lesbos, Chios and Samos, responded with tear gas, including against families with children. Now coronavirus threatens to overwhelm the already unsanitary and overcrowded camps and the border between the two countries where refugees are amassing in numbers. This is the latest chapter in our continent's shameful treatment of those fleeing war in the Middle East.
During that fateful weekend in February, a group of far-right extremists tried – with some "success" – to prevent this most recent influx of refugees from disembarking from the boats they used to cross from Turkey. One child refugee drowned after the dinghy he was on capsized and far right extremists targeted NGOs, volunteers and even journalists reporting on the escalating crisis.
Not since the Europe of the 1930s have migrants in Europe been under such sustained attack. Attitudes in Britain towards immigrants have changed since we took in 27,000 Ugandan Asian refugees in the 1970s. When 1.2 million Bosnians fled the Balkan wars of the 1990s, Britain agreed to admit several thousand rescued from Serb concentration camps and they arrived in the UK with very little public dissent. As CEO of the Refugee Council at the time, I was tasked with helping to arrange their reception and support. Austria, now one of the EU countries most openly hostile towards refugees, took in over 86,000 Bosnian refugees between 1992-1995, having previously opened its doors to thousands of Hungarians fleeing the Soviet crackdown of 1956.
In fairness to Turkey, it has absorbed millions of refugees since the Syrian conflict first catapulted them from their homes. And Greece was already struggling economically when thousands of those refugees began to arrive on its shores.
But Turkey, Greece and the EU as a whole also come out of these recent events badly. Refugees are being used as political pawns by Erdogan, but Turkey is far from unique. Italy's Salvini also refused to allow refugees to disembark, Hungary's Orban has publicly said that refugees are not his concern and only white Christians should be allowed to enter the country, and anti-immigrant sentiment is on the rise in Austria, France, the Czech Republic, the UK and elsewhere. In many EU countries, the far-right has exploited the refugee situation for political gain and unfortunately, their electoral success is evidence that this grubby strategy works.
To combat this, and in light of the very real threat that coronavirus now represents to people living in cramped and unclean conditions on Europe's external borders and in camps, the EU urgently needs to develop an overall policy on immigration and the resettlement of refugees across the continent. Refugees on the Greek islands are living cheek by jowl, in very close proximity, in unsanitary conditions. Practising social distancing is not possible. Even regularly washing hands is difficult when there is limited access to soap or hot water. According to estimates from Safe Passage, there are 30,000 refugees on the Greek islands, in facilities built for 6,000. In light of coronavirus and to avoid a humanitarian catastrophe, they must be urgently evacuated and resettled.
But the rise of the right across Europe has made the task of developing a continent-wide refugee policy nigh on impossible. And as a former member, the UK no longer has a voice; no meaningful means of lobbying, no seat at the table, no ambassador to the EU and no way for politicians here to advocate on behalf of the refugees entering Europe. Our new isolationism, a consequence of Brexit, can also be traced back to a change in British attitudes towards immigration which has taken hold in the UK over recent years. It may also explain why the British government was slow to take action against the spread of coronavirus when our EU neighbours were moving far more decisively and in concert.
Key to understanding why domestic attitudes towards migration have changed so quickly is the last Labour's government decision to allow citizens from the former communist countries of central and Eastern Europe to work in the UK immediately upon their accession to the EU in 2004, without transitional controls, followed by a further influx in 2007 when Romania and Bulgaria joined.
At the time of Poland's accession, the Polish Ambassador estimated that 30,000 Poles would come to the UK. In the end, over a million arrived. With the wisdom of hindsight, we should have moved in line with most EU countries to have an interim period before opening our doors. While these new EU citizens quickly made positive contributions to our country, opponents of their admittance exploited their arrival in racist terms. More recently, the Tory government's obsession with keeping immigration numbers down has reinforced a belief among some members of the public that migration is a drain on British resources, when all evidence points to the opposite.
The latest incarnation of this shift in attitude towards migrants is this government's new points-based immigration system which is damaging to the country's own economic interest. Our care system, as well as our hospitality industry and agricultural and horticultural sectors, depend on migrants – now more than ever before. In London, for instance, it is estimated that 40 per cent of care workers are non-British. Given the average salary of a full-time care worker in London is £17,000 – less than even the salary listed on the government's Shortage Occupation List of £20,500 per year, these vital workers will no longer be eligible to come to the UK.
In November 1938, Labour MP, Philip Noel-Baker, made a speech in the House on the topic of racial, religious and political minorities. The immediate backdrop he described was a refugee crisis of huge proportions triggered by the German state's determination to exterminate the Jewish race. In his address to the house Noel-Baker said: "This House notes with profound concern the deplorable treatment suffered by certain racial, religious and political minorities in Europe, and, in view of the growing gravity of the refugee problem would welcome an immediate concerted effort amongst the nations, including the United States of America, to secure a common policy. I know the House will recognise that this debate can serve no useful purpose unless we speak the truth, unless we face the facts and review the situation as it really is." In the event, the UK alone, among European nations, took in 10,000 Jewish refugee children, myself included, who arrived here on the kindertransport.
Former child refugee Lord Dubs says he cannot understand the Government shutting down child refugee program
The antisemitism we thought had been put to bed in 1944-45 has also begun to resurface, both in the countries of eastern Europe and in Britain. Despite the efforts of organisations like the Holocaust Education Trust and the Holocaust Memorial Day Trust, there are still people who deny that the Holocaust ever happened and for the first time in my living memory, the Labour Party, traditionally a bulwark against prejudice, has allowed Jewish tropes to pollute its political discourse.
We need to keep public opinion onside or the extreme right will exploit the situation even further, resulting in an increase in the dual evils of Islamophobia and antisemitism. The migration crisis is not over. Today, Jordan and Lebanon have each taken a million refugees and Turkey closer to 4 million, while the majority of EU countries balk at taking a few thousand.
There must be a global, and certainly at least a Europe-wide agreement on refugees; Greece, Turkey and Italy cannot tackle the crisis alone, and we must foster a more honest conversation both at home and abroad about the benefits of migration.
Lord Alf Dubs is a Labour peer, former MP for Battersea and life-long campaigner for refugees. He arrived in the UK as a refugee aged six
Register for free to continue reading
Registration is a free and easy way to support our truly independent journalism
By registering, you will also enjoy limited access to Premium articles, exclusive newsletters, commenting, and virtual events with our leading journalists
Already have an account? sign in
Register for free to continue reading
Registration is a free and easy way to support our truly independent journalism
By registering, you will also enjoy limited access to Premium articles, exclusive newsletters, commenting, and virtual events with our leading journalists
Already have an account? sign in
Join our new commenting forum
Join thought-provoking conversations, follow other Independent readers and see their replies