Why the India-China border dispute might soon spiral out of control
The world superpowers should be focusing on building labs and aiding the climate crisis instead of pursuing each other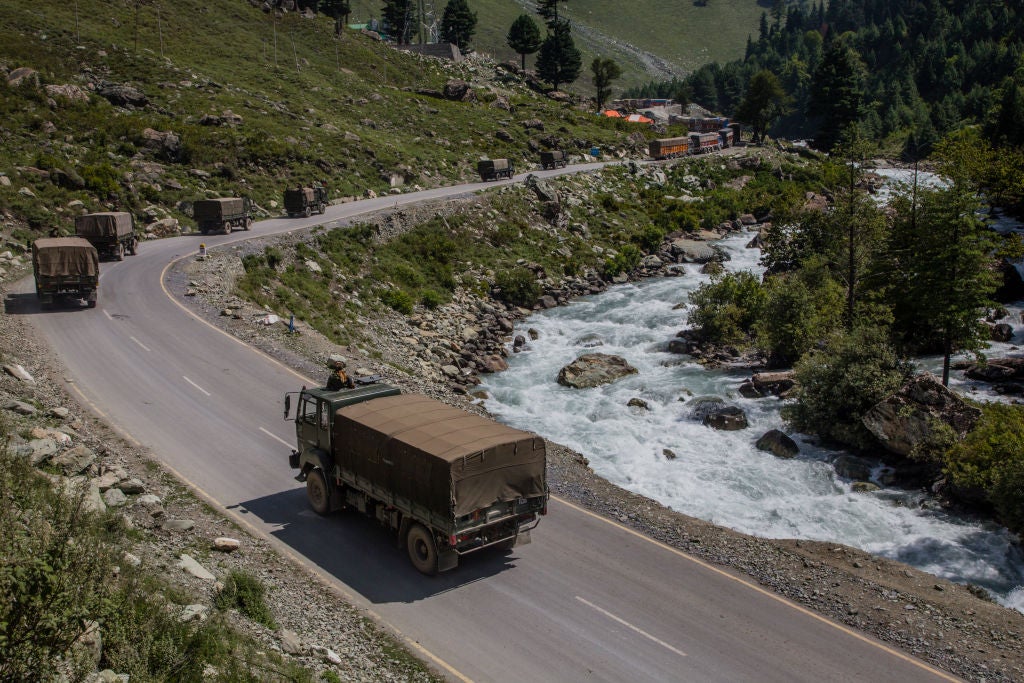 India and China share a long history of mistrust and conflict concerning their boundaries. The two nuclear-armed nations, with a combined population of more than two billion, have never agreed on the length of their Line of Actual Control (LAC). India believes the LAC to be 2,175 miles in length, China considers it to be only around 1,242 miles.
Relations between the two countries have been deteriorating since June, when at least 20 Indian soldiers were killed in a skirmish in the disputed Ladakh border area – the first occasion in 40 years where death came as a result of LAC tensions. 
All summer, military officials have tried to establish peace in the area, and on Friday officials finally came to an agreement and a "five-point consensus". 
Foreign ministers met in Moscow and were in agreement that the current situation "in the border areas is not in the interest of either side. They agreed therefore that the border troops of both sides should continue their dialogue, quickly disengage, maintain proper distance and ease tensions," a joint statement concluded.
This sudden diplomatic harmony is a little surprising considering that in the last week there were claims by either nation that opposing troops had crossed into each their domain and "warning shots" were fired. If these allegations are indeed correct, it's an infringement of long-held protocols regarding firearm usage on this sensitive land. Furthermore, Beijing has never backed down when it comes to disputes like this.
Under Indian prime minister Narendra Modi's new plans, 66 key roads will be built along the Chinese border, including one to a high-altitude Indian airbase, the latter reportedly responsible for triggering recent clashes between the two countries.
Before the Moscow meeting took place, one of China's state newspapers warned India that it could never win a war between the countries. "We must remind the Indian side that China's national strength, including its military strength, is much stronger than India's. Although China and India are both great powers, when it comes to the ultimate competition of combat capability, the Indian side will lose. If a border war starts, India will have no chance of winning," ran an editorial in The Global Times, on 5 September.
China has a habit of constantly bragging about its power, but adding fuel to this recent fire is not a smart move. Both countries are equipped with nuclear weapons that could destroy millions of lives and severely affect the remainder of the world. China may have the largest military in the world, but intimidating a nuclear nation with such muscle-flexing is worrying, especially as India battles the effects of coronavirus – a deadly disease, we must remember, that originated in China. The pandemic has pushed India's population and policymakers into anti-China positions.
Relationships also wouldn't be as fragmented if the Chinese authorities hadn't readily dismissed Modi's proposition to clarify the LAC during his visit to China in May 2015. Surely Beijing cannot blame India for developing and building infrastructure on its side of the border when it has attempted to officially set boundaries?
The world already has enough to be anxious about without adding the idea of disputes between nuclear nations into the mix. The "five-point consensus" between these two powerhouses needs to be dealt with calmly and quickly, and give everyone one less thing to worry about.
Regardless, China has a history of illegally crossing foreign borders. Out of the 14 countries the country shares its boundaries with, not one country has avoided territorial disputes with China. The country has also changed its maps more times than any other nation.
I fail to understand the need for world domination at such a delicate time of global pandemic and climate emergency. Right now, every country's main aim ought to be funding and building labs to help battle the current pandemic, and preparing for further emergencies, plus making investments in slowing climate change. The world's two biggest nations fighting over a border dispute at this time is completely illogical and preposterous. These neighbours need to work together on strategic and economic relations.
Join our commenting forum
Join thought-provoking conversations, follow other Independent readers and see their replies