The Independent's journalism is supported by our readers. When you purchase through links on our site, we may earn commission.
It's taken a year, but thanks to the bravery of a handful of women, India has finally moved into the Me Too era
Despite a culture of victim blaming, prominent men in positions of power from various industries – advertising, journalism, media and politics –  are now toppling from their pedestals as women's voices are becoming stronger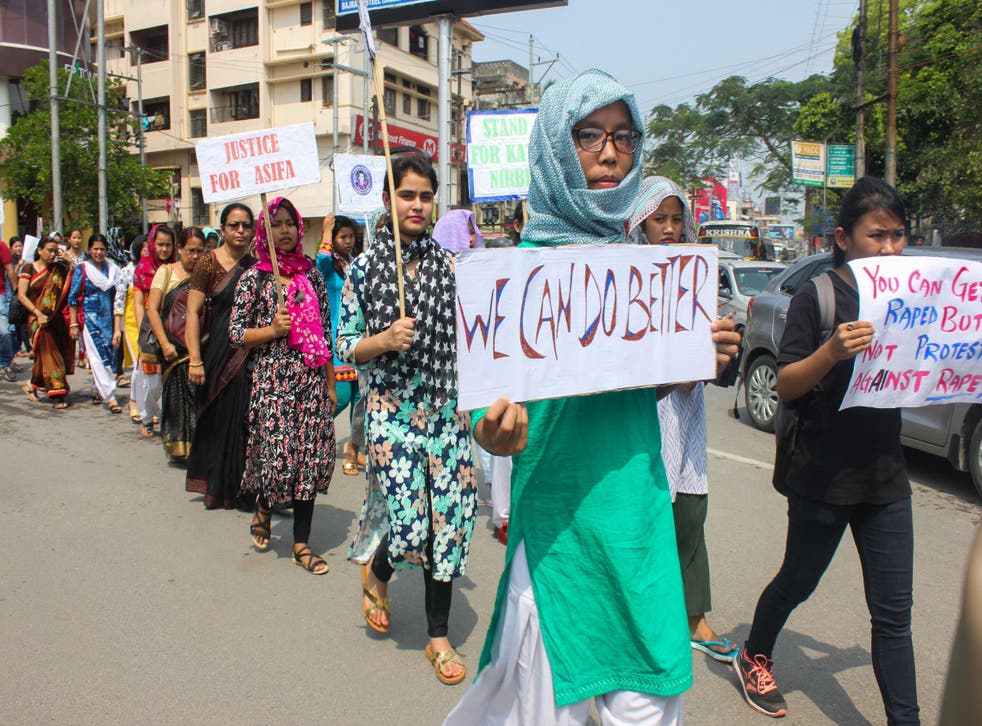 Indian women are angry. After years of silence – ensconced in social stigma, fear, ineffective law enforcement and a deeply flawed judicial system – India has tipped into its own Me Too era, a year after it made waves across the western world.
It wasn't that Indian women were silent last year: social media streams across the country flooded with #MeToo posts, but the climate was largely calm, partly because women who could and should have spoken out – women in the limelight – chose not to.
Prominent Bollywood celebrities such as Lisa Haydon, Shruti Hassan and Parineeti Chopra distanced themselves from the term "feminism", largely misguided about what it meant. When a Facebook list outing accused harassers became public, it was dismissed by prominent Indian feminists themselves, saying that they respected "due process" and suggested that the "manner of naming can delegitimise the long struggle against sexual harassment, and make [their] task as feminists more difficult."
But things changed in late September this year when actor Tashushree Dutta came forward about being sexually harassed by her co-star, revered actor Nana Patekar – a decade after the initial incident occurred, and a decade after her original police report had been filed, since she respected "due process".
India had seen the power of Me Too elsewhere, giving women hope that their voices would be heard. More and more women, prominent and otherwise, came forward. Shortly after Tanushree Dutta, writer-producer Vinta Nanda mustered the courage to publicly accuse actor Alok Nath of rape and repeated sexual harassment.
Not only are women and their anger being acknowledged, but so are the facts – things have been going from bad to worse. The number of reported rape cases has increased by 26 per cent since 2013, and so have other crimes against women. And they have thus far shown no signs of improvement. This is not helped by women's lack of representation in positions of power – women still only make up 11 per cent of parliament.
But prominent men in positions of power from various industries – advertising, journalism, media – are now toppling from their pedestals as women's voices are becoming stronger. Last month, Prashant Jha stepped down as chief of bureau and political editor for Hindustan Times, a national paper in India with an estimated circulation of one million; a high-profile production studio, Phantom Films, closed when a former employee came forward with her Me Too story, outing director Vikas Bahl. Eminent advertising agencies Publicis India and DDB Mudra, among others, were washed clean with Me Too stories that had, for years, been brushed under the carpet.
Processions 2018: March to celebrate 100 years of women's suffrage

Show all 10
A former employee of Taj Hotels went on record to speak out about being sexually harassed by a former CEO, and politician MJ Akbar recently resigned as minister of state for external affairs after a number of sexual misconduct allegations against him from numerous women who had worked with him over the years.
Back in 2008, Tanushree Dutta's car was attacked by a mob after she first opened up about being harassed by Patekar, yet now she has seen unprecedented levels of support.
For Indian women, like women everywhere, this level of media attention and scrutiny is the first step towards reaching equality, and a society that believes women who accuse men – powerful or otherwise – of assault, abuse and rape.
Support free-thinking journalism and attend Independent events
Indian women have until now been hesitant to come forth with these allegations, which are perceived as shameful to the victim's family. A historic attitude of victim blaming and shaming has led to a situation where an estimated 99 per cent of sexual assault cases currently go unreported. But with more high-profile women speaking up about their experiences, this could be about to change.
Men who have long abused their power are finally answering for their actions. Women who have come forth with their stories can now get the closure they deserve and, thanks to them, women across India can look forward. While there is still much left to do, especially in changing people's minds about gender roles within Indian society, this is a step in the right direction.
Register for free to continue reading
Registration is a free and easy way to support our truly independent journalism
By registering, you will also enjoy limited access to Premium articles, exclusive newsletters, commenting, and virtual events with our leading journalists
Already have an account? sign in
Register for free to continue reading
Registration is a free and easy way to support our truly independent journalism
By registering, you will also enjoy limited access to Premium articles, exclusive newsletters, commenting, and virtual events with our leading journalists
Already have an account? sign in
Join our new commenting forum
Join thought-provoking conversations, follow other Independent readers and see their replies