'Insurgent' parties gaining support from voters
Between them, Ukip, the SNP and the Greens have the support of more than one in four of the electorate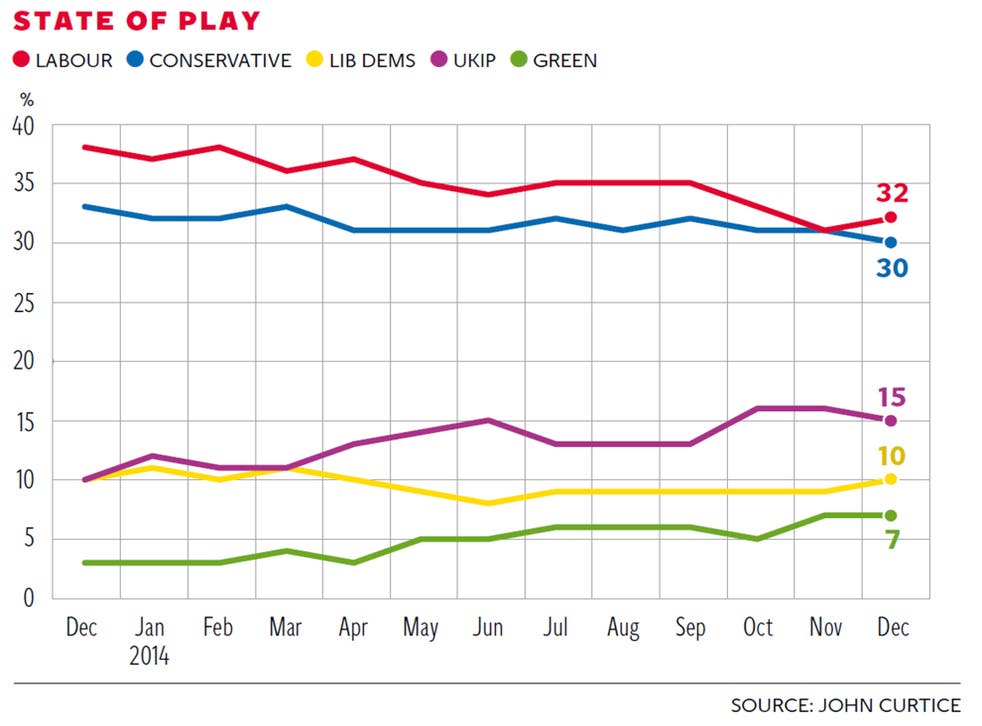 All the established parties at Westminster have had a poor 2014. Labour's support has dropped by six points in our poll of polls, leaving the party barely any more popular than it was five years ago. It still has a lead over the Conservatives only because support for the senior coalition partner has edged down three points too.
And although the Liberal Democrats ended the year at the 10 per cent level at which they began, for much of 2014 their support has been in single figures – their worst performance in nearly a quarter of a century.
With just over four months to go to polling day, "insurgent" parties, principally Ukip, the SNP and the Greens, between them have the support of more than one in four voters.
The reasons for this unprecedented rejection of Britain's three main parties are not hard to find.
All three Westminster leaders are unpopular. Never before in nearly half a century of polling have Ipsos MORI previously reported such a pattern so close to an election. Less than half of all voters (42 per cent) reckon any of the three main parties can address the issue that now tops their concerns – immigration.
Meanwhile, although only 41 per cent think the coalition is handling the economy well, less than one in five think Labour would do any better. Ukip supporters continue to be especially pessimistic about their own and the country's economic prospects.
North of the border, the Westminster battle has come to seem an irrelevance. Most of the 45 per cent who voted Yes in September's referendum simply regard the ballot in May as a second chance to back independence.
In previous elections success went to the Westminster party that demonstrated it was better than its rivals. In 2015, however, voters are going to have to be convinced that any of them is worth voting for.
John Curtice is Professor of Politics at Strathclyde University
Register for free to continue reading
Registration is a free and easy way to support our truly independent journalism
By registering, you will also enjoy limited access to Premium articles, exclusive newsletters, commenting, and virtual events with our leading journalists
Already have an account? sign in
Register for free to continue reading
Registration is a free and easy way to support our truly independent journalism
By registering, you will also enjoy limited access to Premium articles, exclusive newsletters, commenting, and virtual events with our leading journalists
Already have an account? sign in
Join our new commenting forum
Join thought-provoking conversations, follow other Independent readers and see their replies