It's been a proud year for female athletes – but not for gender equality in sport
While women have continued to excel in football, rugby and athletics, progress towards equality has been disappointingly marred by scandal and shadow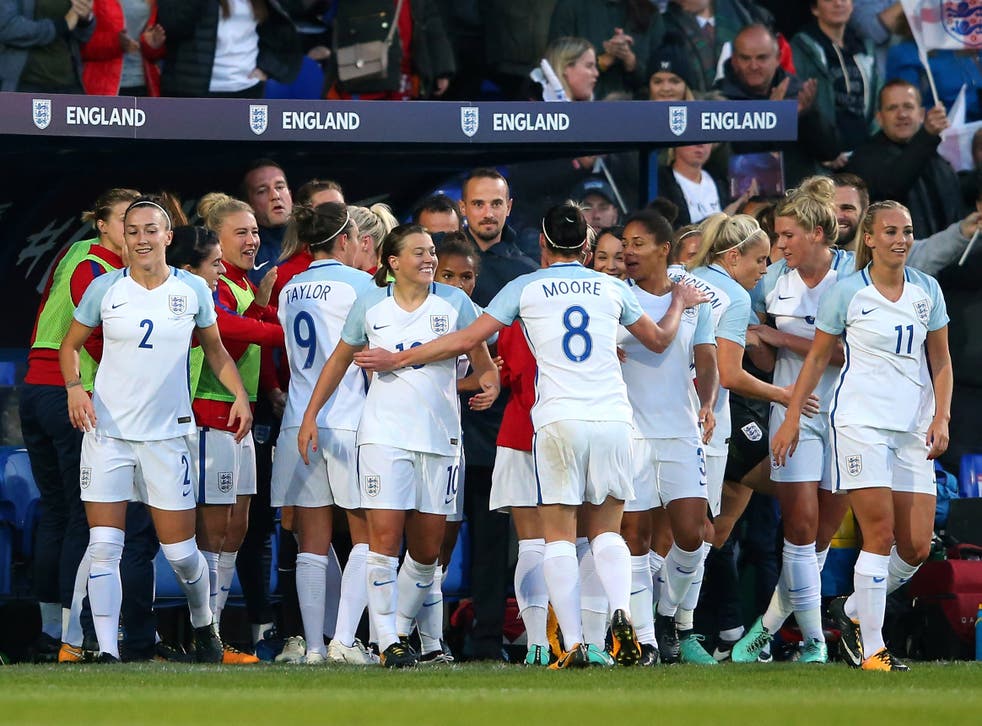 It's International Women's Day 2018, and we've come a long way.
That's the sentence that should've been the introduction to this article, but the sad matter of fact is that 2017 was one of the worst years in history when it comes to gender equality in sport.
From Mark Sampson's dismissal as England football manager for "inappropriate behaviour", to the failure to offer full-time professional contracts to England's Rugby World Cup final-reaching side, professional sport left a lot to be desired when it comes to the progress that has been achieved by the #MeToo campaign and other successful equality movements.
The "progress" started with British Cycling. As if the most dispiriting story to come out of British cycling, that Chris Froome failed a drugs test, wasn't bad enough, there was the resignation of Shane Sutton, the former director of Britain's most successful Olympic team ever, after accusations of bullying towards female members of the team were made public.
Olympian Jess Varnish made her accusations clear after she was unceremoniously dropped from the Team Sprint, and although Australian Sutton was not sacked for any behavioural issues, his swift resignation rang alarm bells.
But what really hurt was the scandal surrounding Sampson and the treatment of the England Women's football team. What should have been a period of celebration – third place in a World Cup and a semi-final appearance at last year's European Championships – ended in the biggest blotch that the women's international game has seen.
Sampson, supposedly the man responsible for the welcomed injection of public interest in women's football, had to answer to the Football Association on accusations of racism and bullying towards Eni Aluko.
Sampson was cleared, but his tenure was short lived. An "inappropriate relationship" with a former player/s while working at Bristol put paid to not only his reign as England manager, but the most successful managerial reign ever seen in English women's football history. His reputation, rightly, lies in tatters. If the very top could fall, how can we say that there has been progress?
But what makes particularly interesting reading is the scenario surrounding the England Women's Rugby team. Having beaten New Zealand for the first time ever last summer in Rotorua, the Red Roses reached the final of the year-ending World Cup, only to be blasted away by a phenomenal Black Ferns comeback.
Having come so close to defending their world crown, what the sport needed at that point – from the richest rugby union in the world, by some way – was further investment to boost the game.
The Rugby Football Union (RFU) did meet one side of that, investing more than ever before in rugby in 2017/18, but that was at lower levels and not, sadly, at the professional level where it was deserved.
Instead, England's best players – such as Emily Scarratt and six-try Test hero Jess Breach – were plucked from the XVs game and taken on a two-year Sevens course with an aim to winning this April's Commonwealth Games, July's Sevens Rugby World Cup in San Francisco and the Olympic Games gold medal in 2020 in Tokyo.
International Women's Day: groundbreaking figures from history

Show all 17
Are such measures seen in the men's game? Do Owen Farrell and Chris Robshaw disappear for two years to try and boost the Sevens game? Of course not, and while from a success-first point of view this makes sense for the RFU, it left a number of Rugby World Cup winners and finalists without the professional contract that they had given up their jobs for two years before the 2017 Final.
One saving grace can be found in individual sports, and in particular the likes of Lizzy Yarnold, Katarina Johnson-Thompson (KJT) and Laura Kenny.
Yarnold, a 2014 Winter Olympian gold medallist, returned to the Skekelton run to successfully defend her crown in Pyeongchang last month in what proved to be one of the golden days of British sport, as Olympic rookie Laura Deas claimed bronze on the same evening in South Korea.
Then came KJT. The heptathlete flattered to deceive at Rio 2016 and, with it, adopted an unwanted choker tag. So when her beaming smile fronted the nation's sport back pages last week as she won a World Indoors Championship gold medal, it felt like the dawning of a new era. No longer was Jessica Ennis-Hill the women to beat, Johnson-Thompson is and, hopefully for her own mental state, she'll prove that in 2020.
But what really inspires is Kenny (nee Trott) who returned to the Velodrome last week to help the Great Britain's team pursuit to World Championship silver.
Ennis-Hill, and many other before, have shown that there is nothing more impressive and awe-inspiring than returning from childbirth, motherhood and the difficulty of looking after a family along with training professionally to succeed at the highest level.
Kenny has the talent, desire and support to go and extend her record as Britain's most successful female Olympian in Tokyo in two years, and here's hoping she does so.
But imagine if she becomes the most successful ever? Or the England Women's Rugby team show up Eddie Jones's chargers and win Commonwealth, Olympic and Sevens World Cup gold, before returning to claim the 16s crown?
Imagine the Women's Football team blast the men's side so far into their shadow that the public take pride in the Lionesses, not the Three Lions?
Only then, and without scandal, dark shadows and whatever disappointment is next on this long escalator towards gender equality in sport, will we be able to turn around on International Women's Day and say that the last 12 months were a success.
Register for free to continue reading
Registration is a free and easy way to support our truly independent journalism
By registering, you will also enjoy limited access to Premium articles, exclusive newsletters, commenting, and virtual events with our leading journalists
Already have an account? sign in
Register for free to continue reading
Registration is a free and easy way to support our truly independent journalism
By registering, you will also enjoy limited access to Premium articles, exclusive newsletters, commenting, and virtual events with our leading journalists
Already have an account? sign in
Join our new commenting forum
Join thought-provoking conversations, follow other Independent readers and see their replies