Why we blockaded the Department of Health on International Women's Day to fight for trans rights
Everybody who has experienced misogyny must stand together in the name of bodily autonomy, for an injury to one woman is an injury to all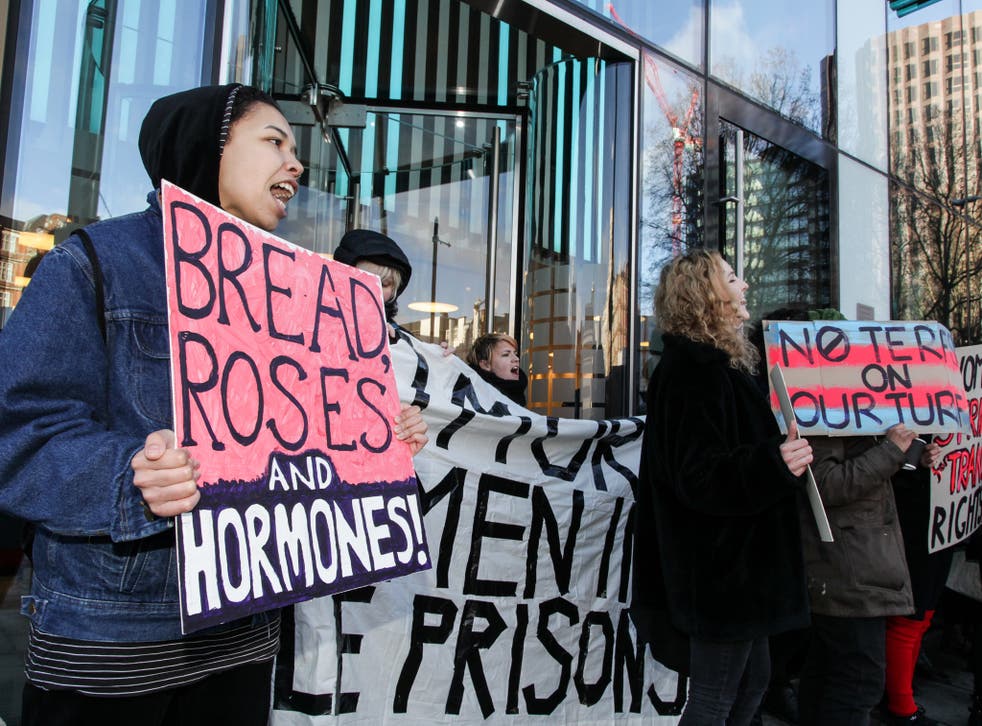 The NHS is failing trans people. Gender Identity Clinics (which provide specialist trans healthcare) are few and far between; indeed, there are only eight in England. As such, the wait to access services is dangerously long, with people in some parts of the UK having to hold out nearly three years for an appointment. Given that approximately half of young trans people and a third of trans adults attempt suicide, it is clear that these delays are unacceptable. Something must be done now.
Not only is specialist trans healthcare thin on the ground, but the more general forms of support on offer also tend to be inadequate. Some trans people are being missed by NHS screening programmes (with trans men, for example, not being invited for pap smears or mammograms that might potentially save their lives). Care is often delivered by people without appropriate knowledge and training, and some trans patients find themselves having to explain key terms and ideas to the so-called professionals.
According to a recent study by the LGBT rights charity Stonewall, 41 per cent of trans people accessing general healthcare services found that staff lacked understanding of trans health needs. In some cases, staff may be prejudiced and wilfully unhelpful, as well as under-informed. A 2016 report by the Women and Equalities Committee included accounts of GPs refusing even to make referrals to Gender Identity Clinics. These are major problems, and we haven't even touched on the topic of trans minors or trans people in prisons – two particularly vulnerable populations, whose physical and mental health needs are going unmet. It is clear that the NHS must do better.
International Women's Day: groundbreaking figures from history

Show all 17
This is why trans women and allies from the Women's Strike blockaded the Department of Health to protest against substandard healthcare for trans people. We want to see drastic improvements in the accessibility of existing trans healthcare. As a matter of priority, we demand that waiting times for Gender Identity Clinics be brought in line with the NHS 18 week maximum, and that frontline medical staff receive mandatory training on trans and non-binary healthcare. This must be properly resourced, and both delivered and monitored by trusted trans organisations.
Furthermore, we want trans people to be better able to access the care they need within their own communities. Local GPs (once trained) should be given greater responsibility for treating trans patients – and for doing so in an appropriate, sensitive, and non-discriminatory manner. This could involve extending their remit to include the prescription of laser hair removal, referrals for vocal training, and the provision of other services to improve trans health and wellbeing.
Given the current state of trans healthcare in the UK, these demands alone seem fantastical. But the truth is that they are little more than a band aid. What is really required is a thoroughgoing transformation of how care is provided, where it is delivered, when, and by whom. We view the changes we are calling for today as part of an even wider struggle for high-quality gender and reproductive healthcare. Everybody who has experienced misogyny must stand together in the name of bodily autonomy, for an injury to one woman is an injury to all. When it comes to making trans and non-binary lives more liveable, we must follow the example of the Women's Strike and demand the impossible.
Register for free to continue reading
Registration is a free and easy way to support our truly independent journalism
By registering, you will also enjoy limited access to Premium articles, exclusive newsletters, commenting, and virtual events with our leading journalists
Already have an account? sign in
Join our new commenting forum
Join thought-provoking conversations, follow other Independent readers and see their replies