I once adored the UK and felt welcome here – but after reading what the Home Office sent to my father, I don't anymore
I've tried to stay strong, but my brother – who hasn't seen our father in a year, and can't return to Iran – has been in bed for a week, weeping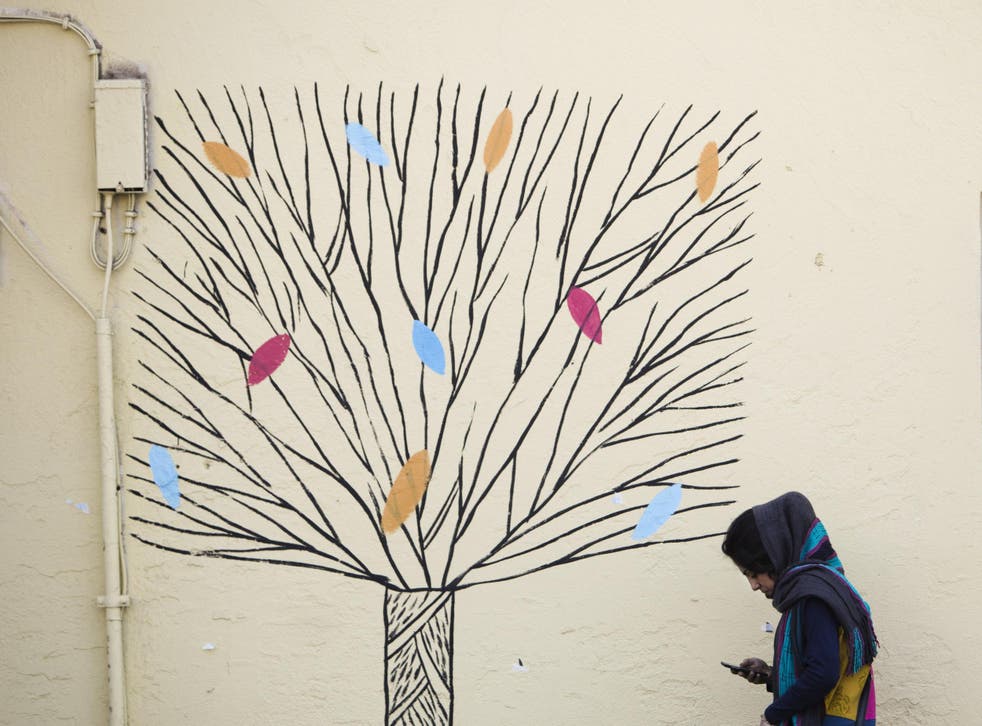 I always thought if I had a book launch in the UK – that if I wrote a book in my second language of English that I was happy with, and if I found a publisher for it, and then if the book launch took place in the glorious Keynes Library – I would be ecstatic. And yet all morning, I could not stop shedding tears.
My tears are not tears of joy, but of despair.
Only a few days ago I found out the Home Office rejected my father's visa application. When I found out (via my siblings), I didn't cry. But my younger brother, who is doing his Masters degree in England, has spent the week in bed, weeping. He has not seen our father since last year, when he left Iran. He can't return to Iran because he would have to join compulsory military service. My father doesn't want him in Iran. They haven't seen each other in over a year.
I travel to Iran frequently, because women don't have to do military service training. I was going to travel there over summer – as I always did. But my father told me he was planning to come over both to see his youngest and to attend my book launch. His eyes were shining more than ever when he said the words "book launch". Two foreign words, sticking out in a Farsi sentence, like a beautiful insult. For me, the idea of my father being present in my book launch was the epitome of joy. For he was the reason behind the whole book.
I received the news of my mother's death in March 2016 after one of my poetry performances in London. I already had a ticket back to Iran as I had planned to celebrate Persian New Year with my family only a week later. When I was on the plane back to Tehran, the only thing I was hoping for was a crash. This time, I didn't want to reach my destination.
Donald Trump reads poem 'The Snake' to warn of danger of accepting immigrants
I didn't want to be hysterical on the plane – I was careful not to make a scene – but my tears wouldn't stop falling, and I realised I couldn't stop shaking. After a few hours of staring out of my dark window, it dawned on me that the plane would not crash. I took out my notebook and wrote a poem about my mother's death. I was surprised that the poem poured out of me in English. I stopped trembling.
I read the poem, Black Lace – which is the fourth poem in my debut poetry collection, Sorrows of the Sun – at around four in the morning for my dad. My brothers were asleep in their rooms. My father and I were in our half-lit kitchen in Tehran.
He was sitting on a chair, asking me to eat the food he'd made for me. I couldn't eat and, despite loving my dad's cooking, I do not even recall what it was. We just stared at each other, in silent shock. For once, we did not have anything to say to each other. The house felt hollow. Our silence was like fire, burning us alive.
I had to say something to him, to console him. I felt like weeping upon his shoulders, but I didn't want to upset him further. I had to find a way, so I told him about my new poem. "May I read it to you?"
"Of course," he replied.
I read it to him. I have read my works in many an event, but I doubt anyone ever listened to me as carefully and as wholeheartedly as my father did that night. When I finished the poem, my father burst in tears. I withheld mine and held him in my arms. We had both lost so much weight, he was as light as a flower. We left the kitchen and settled in our empty living room.
I asked him whether he would like to hear the rest of my poems. He said yes. I opened my laptop and read. I read and read. He listened and listened, laughing at some. I laughed with him. Then he said, "Your poems are so good! Why don't you publish them as a book?"
His ambition for me made me feel hopeful for the first time since receiving that devastating news.
Fox News expert on violent immigrants in Sweden turns out to be violent immigrant
A few months later, I had the first draft of my poetry collection. I edited it. I asked my older brother and supervisor to read it. They made comments. I edited it further. I polished it. And then I didn't sleep. While I was editing it and performing pieces from it here and there, I found a publisher who asked me to stop editing it. I didn't even have an agent. And I already had a publisher that loved my book.
I dedicated it to my mother. Everything happened very quickly. I was surprised and ecstatic, discussing every detail of my work, not just with my publisher, but also with my father. I called him every day talking to him about the progress of the book, the cover, the font, the book launch date. I called him because I missed him every day and I was looking for an excuse to hear his voice.
We couldn't say "I miss you" so we'd just talk about my book, and I'd ring up to query him about "the shade of scarlet in the cover". Unsurprisingly, my mother's death made me more attached to my father than before. And at times I felt I was doing it all for him, to make him happy, to make him proud, to give him some good news after what he went through. (My mother died in front of him from a stroke, and he took it so badly that they had to hospitalise him.)
I recalled all this and the fact that I was not even a part of it, because I was selfishly writing poetry in another continent, and I wept. I wept for my mother's death, for my state of motherlessness, but I admit I also wept for my father's loneliness, I wept for his love for my mother. And I wanted to make it up to him.
I know how it is to pretend nothing has happened. To carry on living as if everything is fine. To shower, to eat, to slather your face in SPF so people will say: "Darling, you're glowing!", to meet up and drink with your friends, to work, to make love, to make your niece and nephew laugh on Skype, to study, to work in the library, to get mad when people whisper loudly in the library as if that were your only concern, as if life were perfect and there is just one tiny problem, the library not being as quiet as it should be. I have done it before, after my mother's death.
I exercised, made love, got mad at pettiness, shopped, put on make-up, embraced my ambitions, taught Persian poetry, pretended nothing happened. Yes, I took advantage of the six free sessions of counselling that the university offered. And after that, the idea of being with my father – and making him happy – was the only thing that kept me going.
Then their letter came.
Ken Clarke accuses Tory party of hitting new anti-immigrant low
In the first few days upon finding out, I was too shocked to say anything. Speechless. Sometimes I railed against "the system" and "racism". Sometimes I pretended it hadn't happened at all.
And then I was talking to my publisher about the launch, talking to my friends about what I should wear. Looking at clothes in overpriced London shops. Pretending it mattered. Fooling myself that I cared about what to wear when my father cannot be there. Pretending that I was an ambitious, independent being and it did not matter whether or not my father could attend. I wrote the book for myself, not to please him.
And I realised I couldn't see the clothes, the people; I couldn't hear my friends. At times, the words of the officer who rejected my father's application were all I could see. "Your application for a visit visa to the United Kingdom has been refused."
This is the opening line of their charming letter addressed to my father. They have explained their rejection reason in five chunky paragraphs:
"You state you are employed as a professor receiving a monthly income… You have provided a personal action of official faculty members which state you receive [this amount] per month. You have provided a Bank Mellat statement in your name with a closing balance... The bank statement does not demonstrate you are receiving the stated income on a monthly basis. I am not satisfied that you have accurately presented your circumstances and therefore your intentions in applying to enter the United Kingdom. This undermines the credibility of your application to the extent that I am not satisfied that you are genuinely seeking entry as a visitor or intend to leave the UK at the end of your visit. Paragraph V4.2 (a) (c) of Immigration Rules."
There is no literary or polite way of saying this: this discourse stinks.
And thanks to Theresa May, there is no right of appeal anymore.
Had they actually scrutinised my father's circumstances, they would have realised that he lived in the UK previously for years – he did his PhD in the UK, before choosing to leave for Iran. Also, according to his numerous passports that the Home Office got hold of, he has travelled to many a country for conferences and holidays. He never stayed.
If these immigration officials had actually bothered to Google his name, they would have seen that my father is a well-known professor who has published a number of well-regarded scientific papers and books in his field. And why am I speaking like them? Why should it even matter whether or not he is a professor? He could be a plumber or a pauper, and he would still be credible.
Ruth Davidson tells immigrants 'This is your home and you are welcome here'
Incomes are usually a little irregular in Iran, meaning that a person's bank statement might sometimes show slightly different numbers from month to month. So what? Not everywhere is as "progressive" as the UK. And why should the regularity of one's income matter? After all, he is just a widowed father who wants to attend his daughter's first book launch and visit his homesick son. Where is the lack of "credibility" in this scenario?
He also has another son in Iran, a British citizen, who chose to live in Iran. Not everyone – even bonafide Brits – are desperate to live in Great Britain. My father always loved England and he was the person who encouraged and supported me to study for my higher education in the UK. I haven't asked him recently. And I am not going to. But I think this might have changed his feelings.
Because I know I wanted to stay once. I know I adored the UK once and wanted to contribute to it in my own way and felt welcome. I know that is not how I feel any more, and you know what?
It's your loss.
Register for free to continue reading
Registration is a free and easy way to support our truly independent journalism
By registering, you will also enjoy limited access to Premium articles, exclusive newsletters, commenting, and virtual events with our leading journalists
Already have an account? sign in
Join our new commenting forum
Join thought-provoking conversations, follow other Independent readers and see their replies