Is the backlash faced by French-Lebanese author for speaking to Israeli media justified?
Millions of Arabs are well aware that Palestinian officials speak daily to Israel military and political leaders, so why the focus on Amin Maalouf for speaking to Israeli i24 channel?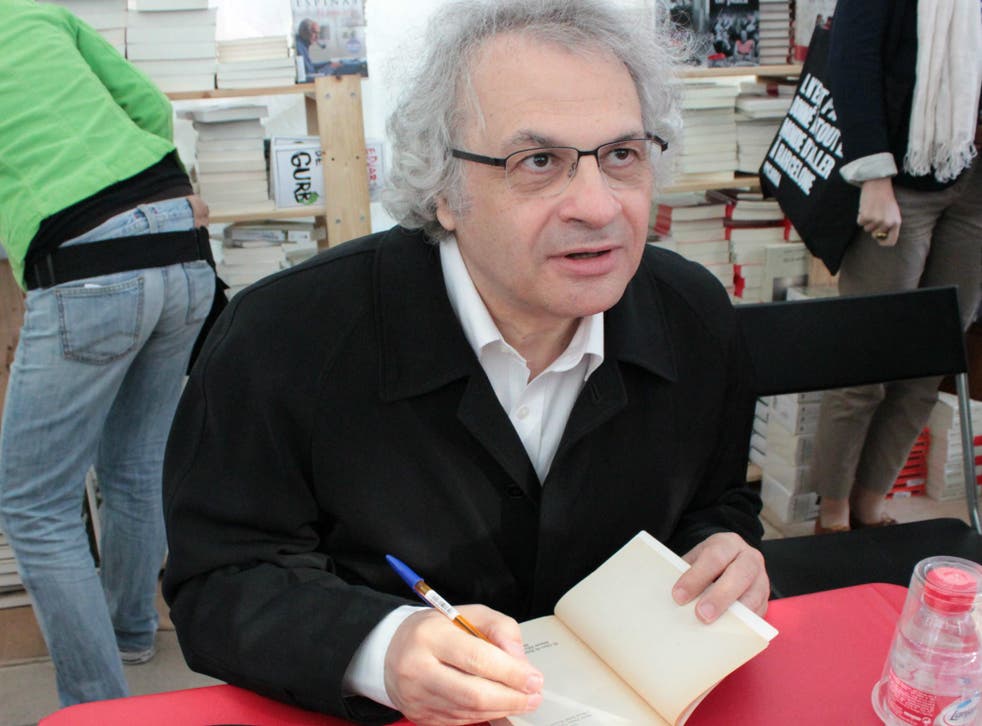 Loaded with honours and a Legion d'Honneur, holder of France's top literary award, one of the French 'Immortals' in the Academie Francaise, no less, and perhaps the finest living novelist in both Arabic and French, you'd think that Amin Maalouf was beyond reproach. No one who has read The Rock of Tanios – a grim, painfully accurate account of sectarian life in Lebanon's Chouf mountains and colonial interference in the Levant – or Leo the African, can doubt his literary magnificence.
But then… zoot alor! Maalouf, who holds both Lebanese and French citizenship and writes in French, gave an interview in French about French culture to an Israeli-French television station, and the sky has fallen in. In his native Lebanon, Maalouf's head is on the block. There are demands that the country's greatest living writer should be deprived of his Lebanese nationality and put on trial, amid accusations that he has betrayed his people. Attacked by the international boycott of Israel movement, Maalouf's Leo the African has now been dubbed 'Leo the Israeli'.
And of course, since Maalouf is a Christian – Lebanese Maronites are traditionally more sympathetic towards Israel than Lebanese Muslims who've been killed in their tens of thousands by Israeli forces over more than half a century – those anxious to destroy Maalouf's reputation are largely Muslim. It's a sorry tale that would itself make a good novel with its cocktail of hypocrisy, snobbery, nationalist hatred, history and downright stupidity.
Just after he published Rock of Tanios, I met Maalouf in a fog-smothered Christian Maronite monastery in the Metn hills. He was a chubby, humorous, humble man whose politics were a lot less impressive than his literature. "My profound conviction," he announced in a later portentous and boring political work, "is that too much weight is placed on the influence of religion on people, and too little on the influence of people on religion." But he condemned the lies of the Western leaders who invaded Iraq. "The country of Abraham Lincoln reached the conclusion that (the emergence of Arab democratic regimes) was much too risky," he said.
So far, so good. Then came his latest appearance on the Israeli i24 channel, owned by the Franco-Israeli businessman Patrick Drahi. As a Frenchman, of course, Maalouf broke no French law by talking to Israeli television. But of course, by chatting away about Western culture while making absolutely no reference to Israel's cruelty towards his country of birth, Maalouf did – at the least – miss the chance of putting across the reality of Lebanon's past suffering to thousands of Israeli television viewers. The Lebanese French-language and very Christian newspaper L'Orient Le Jour naturally defended its favourite author, but even its own writers were upset.
"Yes, we are at war with Israel," Dominique Edde wrote. "Yes, Patrick Drahi's channel is far from being as neutral as it would like us to believe, and yes, we hoped that a writer of such international renown, loaded down with honours and prizes, would have seized the opportunity of such an interview to express his disagreement with a regime with so 'murderous' an identity. He didn't do that, and that's a pity." But what's all this nonsense about a trial? Maalouf, Edde added, is not a man of conflict.
True, but only months after Israel's bloody 1982 invasion of Lebanon, Maalouf became part of an official Lebanese-Israeli delegation set up to create what would have been a totally unequal and one-sided peace treaty between Israel and Lebanon; as much of his country lay in rubble, Maalouf sympathetically visited the Israeli settlement of Kiryat Shmona to examine some shell-holes in a building. He later chose, wisely, to remain silent on these activities.
But no one complained when Maalouf participated in an interview in Brussels in 2013 with the Israeli novelist David Grossman, whose soldier son was killed in the 2006 Lebanon war. In fact, that meeting was not even reported in Lebanon although one newspaper reader, recalling the event now, says that Maalouf should not have given his latest Israeli television interview since "there are surely dozens of other occasions to be interviewed on non-Israeli channels and if the purpose was to make an opening to a people with whom we are in conflict…it will only be exploited by some Israeli media to prove that Israel is accepted by intellectuals." In reality, the Jerusalem Post highlighted not Maalouf's presumed exercise in cultural bridge-building but the "slurs" cast upon him by the Boycott, Divestment and Sanctions Movement which demanded he "apologise" to Palestinians and Lebanese.
But now for the hypocrisy bit. Millions of Arabs are well aware that Palestinian officials speak daily to Israel military and political leaders. They are even more alert to the fact that Al-Jazeera, the plaything of Qatar's billionaire emir, maintains offices in Jerusalem and regularly interviews Israelis, beaming their comments across the world. Indeed, after the death of ex-prime minister Ariel Sharon – who sent the Lebanese Christian militia into the Sabra and Chatila camps in 1982 where they murdered up to 1,700 civilians – Al-Jazeera's presenter, talking to an Israeli official in Jerusalem, expressed her company's condolences on Sharon's demise.
But there were, of course, no demands for Al-Jazeera to be taken to court. Nor was it accused of treachery. Amin Maalouf comes from a wealthy family which made its fortune in Egypt – but he is not as rich as the Emir of Qatar (nor, for that matter, as well off as i24's owner Patrick Drahi, whom Forbes has named as the richest man in Israel).
Another L'Orient reader has written that there would surely have been no shame in Maalouf saying on Israeli television, "that there is injustice in Palestine that the Palestinians suffer under Israeli military occupation….A pity! An opportunity missed…But I'm sure that our illustrious Amin Maalouf will find another occasion to rectify this mistake."
Don't bet on it. Maalouf left Lebanon at the start of the civil war in 1975. And exiles, however brilliant, have a remarkable habit of recalling their original homes and social history with devastating accuracy – look at James Joyce – but losing all touch with the political reality and suffering of the countries they have left behind. Here, the name of Auden comes to mind. But no, Maalouf is unique. That's why he is as untouchable as he is immortal. But given the frightening political leadership in Jerusalem, Israeli television might not be the best way to bridge any cultural gaps just at the moment.
Register for free to continue reading
Registration is a free and easy way to support our truly independent journalism
By registering, you will also enjoy limited access to Premium articles, exclusive newsletters, commenting, and virtual events with our leading journalists
Already have an account? sign in
Register for free to continue reading
Registration is a free and easy way to support our truly independent journalism
By registering, you will also enjoy limited access to Premium articles, exclusive newsletters, commenting, and virtual events with our leading journalists
Already have an account? sign in
Join our new commenting forum
Join thought-provoking conversations, follow other Independent readers and see their replies