Isis hostage crisis: Militant group stands strong as its numerous enemies fail to find a common plan to defeat it
The jihadis are being squeezed militarily and economically, but there is no sign of an implosion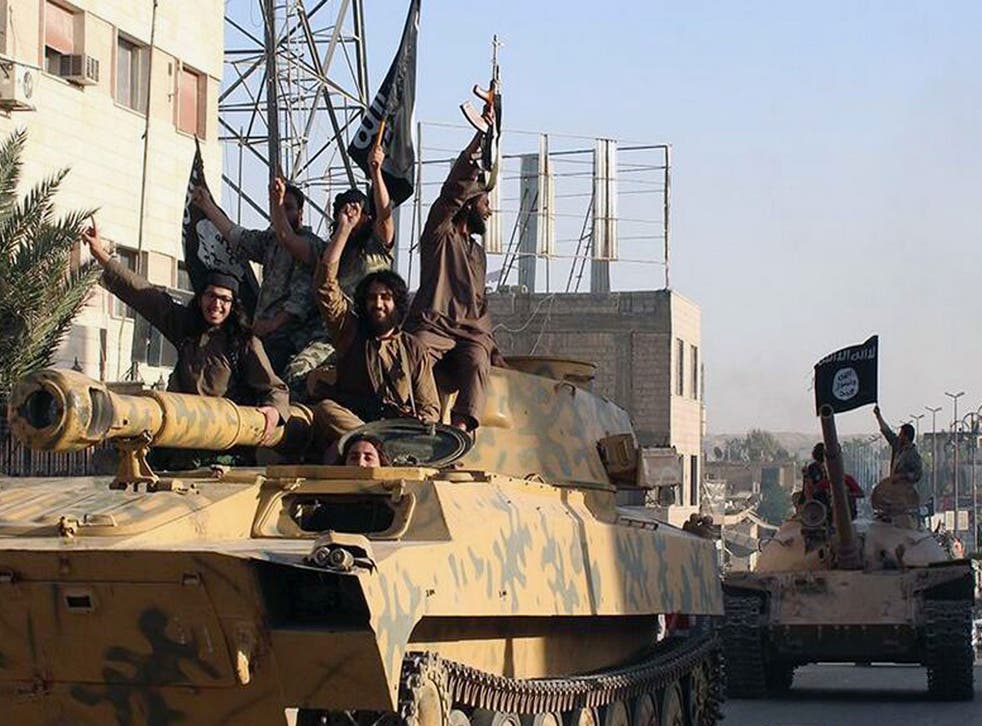 Isis is surviving attempts to defeat it and holds about the same amount of territory in Iraq and Syria – an area larger than Great Britain – as it did at the end of its blitzkrieg offensives last year. Its enemies are numerous, but disunited and without a common plan. Neither the Iraqi nor the Syrian armies, its chief military opponents, are strong enough to over-run the jihadi state.
So long as Isis continues to exist, it retains the capacity to dominate the political and media agenda for days at a time by threatening the public execution of hostages. These grizzly events, as we have seen with the Japanese and Jordanian hostages, are stage managed in order to gain maximum publicity and inspire general terror.
Isis has suffered setbacks, but has also had successes. This week, its forces were finally driven out of the Syrian Kurdish town of Kobani after a siege lasting 134 days, in which it suffered heavy losses from 606 US air strikes. But elsewhere in Syria, Isis has been advancing towards the city of Homs as well as gaining strength south of Damascus and at al-Qalamoun, close to eastern Lebanon. By one account, Isis has won control of territory since last September where one million Syrians live, in addition to the area it already held.
In Iraq, government forces have made advances in the provinces around Baghdad, but earlier this week bullets hit a plane and wounded passengers over Baghdad International Airport, forcing major airlines to stop flying there. This isolates the Iraqi capital and, though the airport is not completely closed, Isis could probably achieve this at any moment. The Iraqi government's victories against Isis have largely been the work of sectarian Shia militias. Iraqi sources say that regular army brigades, with a nominal strength of 3,000, may have only a few hundred in the frontline. Iraqi Kurdish peshmerga have been winning back territory around Mosul from Isis as they advance behind a curtain of US air strikes. But Kurdish officials say their forces would never assault a Sunni Arab city like Mosul, because this would infuriate Sunni Arabs in general.
The failure of the Iraqi army to reconstitute itself after shattering defeats at the hands of Isis last summer has important political and military consequences. If the Baghdad government's main fighting force consists of Shia militiamen then it will be difficult to get Sunni support for the government. The militias tend to treat all Sunni as actual or potential Isis members. In recent fighting in Diyala province north east of Baghdad and in Hilla – south-west of the capital – Sunni villages and towns taken from Isis have been emptied of their inhabitants. Where the Iraqi army has had successes and captured ground it does not have enough men to hold it unless local commanders hand over to the militiamen. An Iraqi army with some Sunni soldiers is essential if Mosul is to be recaptured, say Iraqi observers.
Isis victories last summer frightened many countries and parties, hostile to each other in normal times, into coming together. In the battle for Kobani, the US at first kept its distance from the Syrian Kurdish militia – the Kurdish People's Protection (YPG) – because they are ultimately commanded by the Kurdistan Workers' Party (PKK) which the US has called "terrorists". It was only when Kobani was on the verge of being captured by Isis in mid-October that the US began close air support for the YPG.
Retired US General James Mattis told the Senate Armed Services Committee this week that in the war against Isis, the US has a "strategy-free" stance. He said that in Syria, America's political objectives were uncertain and the time for supporting "moderate" Syrian rebels had passed. The Syrian armed opposition is increasingly under the control of Isis and its rival, the al-Qaeda affiliate, Jabhat al-Nusra. President Bashar al-Assad is losing the important military advantage of fighting a fragmented rebel movement which, at one time, the US said consisted of 1,200 different groups.
Timeline: The emergence of Isis

Show all 40
Western political, military and security policies point in different directions and often contradict each other. The aim of the US and its allies is to defeat Isis, but also to get rid of Assad, though his fall would probably lead to the break-up of the Syrian army and benefit Isis and Jabhat al-Nusra. Turkey is an important ally against Isis, but its Prime Minister Ahmed Davutoglu told The Independent last week that it is impossible to close the 510-mile-long Turkish Syrian border to jihadis because the terrain is too difficult. According to the International Centre for the Study of Radicalisation and Political Violence, the number of foreign fighters joining Isis in Iraq and Syria has risen from 15,000 last October to 20,000 today. A fifth of these come from Western Europe. Isis has also conscripted fighters in the territories it controls.
Isis is being squeezed militarily and economically, but there is no sign of it imploding. Even its loss of Kobani is not necessarily a sign of weakness, since it held on for months despite fighting the highly motivated and well-organised Syrian Kurds, backed by an intensive US air bombardment in a confined place.
Western analysts are encouraged by the number of experienced Isis commanders killed last year, but its ideology is built around martyrdom, and the high casualty rate among leaders shows that they fight in the frontline. President Obama says America's main effort is in Iraq but unless it can rebuild the Iraqi army then it will be near impossible to defeat Isis there. And so long as Isis continues, so too will high profile hostage-taking and executions.
Patrick Cockburn is the author of 'The Rise of Islamic State: Isis and the Sunni Revolution', published by Verso
Register for free to continue reading
Registration is a free and easy way to support our truly independent journalism
By registering, you will also enjoy limited access to Premium articles, exclusive newsletters, commenting, and virtual events with our leading journalists
Already have an account? sign in
Join our new commenting forum
Join thought-provoking conversations, follow other Independent readers and see their replies