My friend James Foley was murdered by Isis reporting the truth. Too few are left to shed such light on the Middle East
There are no journalists from the outside world in opposition-held Syria to record these momentous days. Jim would have hated this state of affairs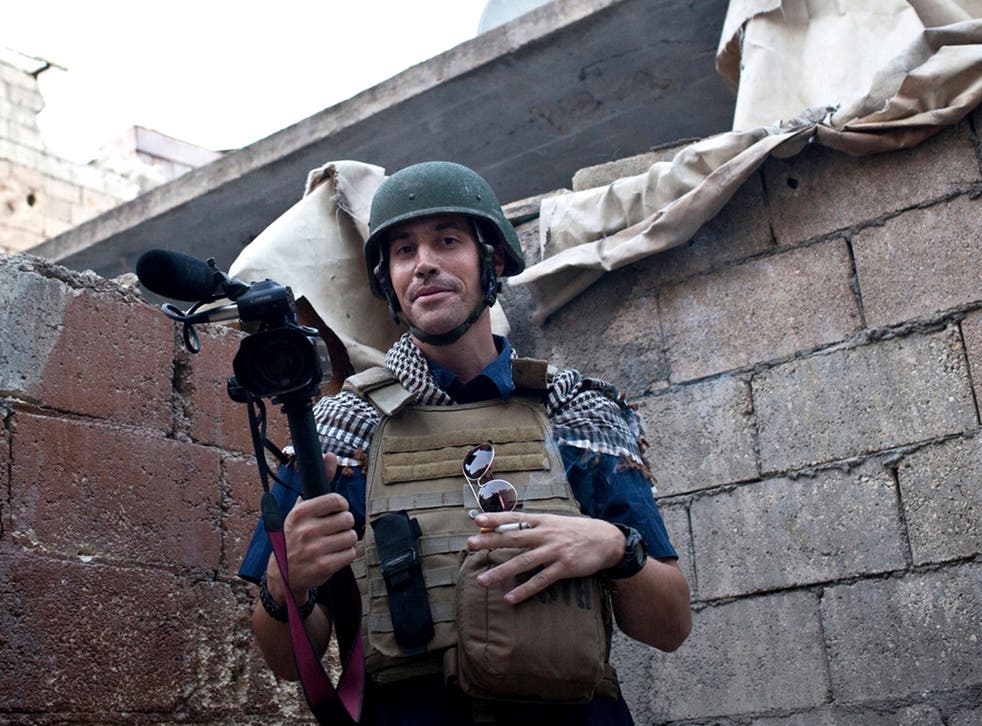 It was a relief that the documentary about Jim Foley did not show his murder, dressed in an orange jumpsuit, forced to kneel on the desert sand before being beheaded by a masked terrorist; the scene from the grotesque Isis video which has been shown repeatedly across the world.
Those of us who are his friends had often thought about what he was going through in those terrible last moments. But we would rather have memories of his life rather than his death: working alongside him covering conflicts; remembering someone who, as well as being a great photojournalist, was also brave and modest, and always retained sympathy for those whose suffering he chronicled.
Jim: The James Foley Story has won an Emmy and a Sundance Audience Award since its release and it is likely to get an Oscar nomination too. It had its first television showing in this country on BBC4 on Sunday evening. It was beautifully made, incredibly moving, poignant and sad. But there was humour, and amid the grim reality, a sense of hope rising above despair.
The reason for much of that hope was the type of journalism that Jim undertook, often undergoing hardship, often at personal risk, to try and give an accurate account of unfolding events. This is especially important now at a time when we are seeing the upsurge in the use of false news; the spreading of untruths and propaganda by organisations pretending to be news outlets and whose falsehoods sometimes repeated by genuine news organisations because of inadequate checks. We have also seen how unscrupulous politicians embrace and encourage this kind of deception for their own advantage in the Brexit referendum and the US presidential elections.
In pictures: James Foley

Show all 11
Facebook, which has faced scathing criticism for being the platform for fake news being disseminated, announced at the weekend that it was working on counter-measures. The organisation has been in denial over its culpability in the issue; Mark Zuckerberg now acknowledges that "we have much more work ahead on our roadmap".
But even if Facebook manages to control the flow of misinformation there is still a need to try and find out what is happening on the ground – especially in difficult places and situations, in conflicts such as Syria, which are shaping international geopolitics at a time of turbulence and uncertainty.
There was a time when a few foreign journalists could go into opposition-held parts of Syria to cover the civil war. I remember travelling with Syrian activists to pick up Jim and a friend he was working with, Nicole Tung (a fellow American and another highly talented photographer), from behind regime lines in Aleppo. They had been stranded without transport amid shellfire because Jim, typically, would not leave without doing his job as thoroughly as possible.
That was in 2012, when the rebels were on the verge of taking Aleppo, Syria's largest city and commercial capital. But their offensive ended in a stalemate due to the West – which had encouraged the uprising against Bashar al-Assad – failing to provide any worthwhile help, and an opposition damaged by the disunity which would become their endemic weakness.
Back in London later that summer, I was asked by John Cantlie, a British freelance photojournalist, whether he could accompany me on a trip back to Syria. John wanted to meet Syrian fighters, known to me, who had rescued him and a Dutch freelance war correspondent, Jeroen Oerlemans, when they were abducted a few months earlier by a jihadist group.
Family buries children killed in Aleppo airstrike
The trip did not take place. I was in Gaza covering the war with Israel that year when we heard that John has been kidnapped again, in Syria, and that Jim had been taken with him. There were reported sightings of Jim and John, claims that they had been split up. Everything was not lost, it was felt: there was the possibility that they would be freed. That is what happened with three Spanish and four French journalists who had also been held by Isis.
But, it transpired later, the Spanish and French governments had paid a substantial ransom for their release. The British and American governments have a policy of not paying ransoms. The US authorities had, indeed, threatened Jim's family with prosecution after they had been in contact with the kidnappers. President Barack Obama ordered a review of the policy after the killing of Jim and Steven Sotloff, another American hostage. Two Britons, Alan Henning and David Haynes, were also decapitated at about the same time. The British Government, however, is adamant that it does not intend to review its ransom policy.
The man who carried out the beheadings, Mohammed Emwazi, also known as Jihadi John, a Briton, was subsequently killed in a drone strike. Isis is now on the retreat with the capital of its "caliphate", Raqqa, facing an impending onslaught. Meanwhile Aleppo, where Jim Foley did much of his work in Syria, has become a symbol the country's continuing agony, smashed to bits by relentless air strikes.
There are, however, no journalists from the outside world in opposition-held Syria to record these momentous events. That presence effectively stopped with the kidnappings and executions by Isis and unchecked regime bombing.
Foreign journalists now go into the country only with the regime. There is absolutely nothing wrong with that; but it does mean that one side of the conflict remains uncovered by the international media. Jim, a seeker after what actually is going on, would have hated this state of affairs.
John Cantlie, meanwhile, remains missing, last known still a captive of Isis. The fate of Austin Tice, an American journalist, is also unknown after he disappeared near Damascus four years ago – further reminders that trying to shed light on the dark corners of the world can come with a heavy price.
Register for free to continue reading
Registration is a free and easy way to support our truly independent journalism
By registering, you will also enjoy limited access to Premium articles, exclusive newsletters, commenting, and virtual events with our leading journalists
Already have an account? sign in
Join our new commenting forum
Join thought-provoking conversations, follow other Independent readers and see their replies