Netanyahu and Hamas are losing the battle to stave off war – and the Israeli elections aren't helping
The incumbent prime minister and the Hamas leadership appear loathe to tumble back into conflict, but are facing searing pressure from all sides to do just that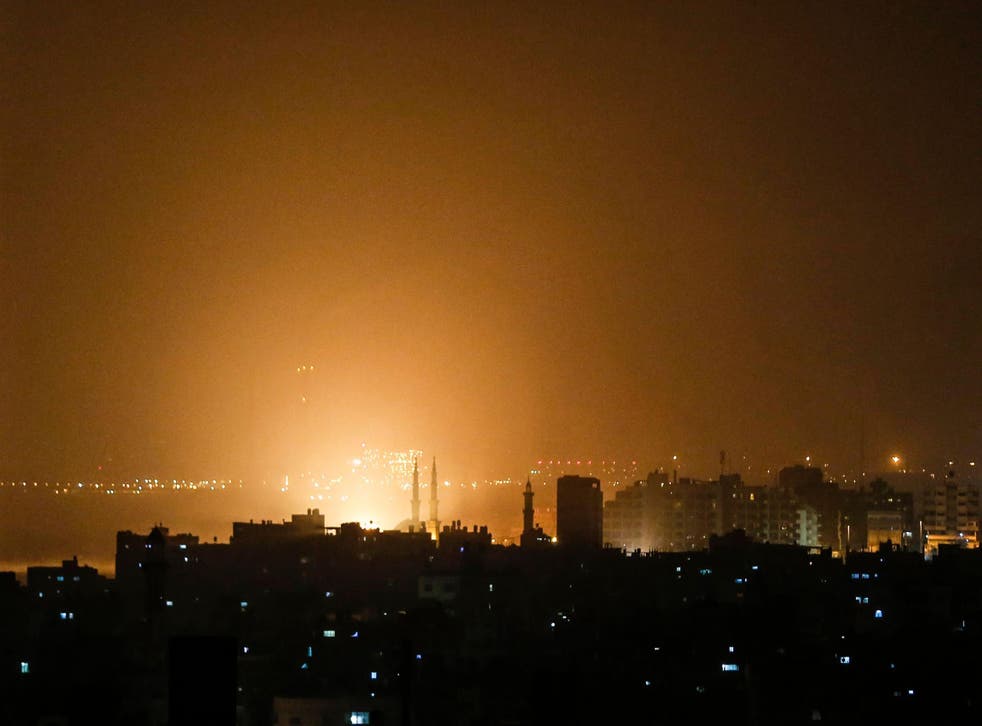 When rocket sirens began sounding in greater Tel Aviv just weeks before a general election, it seemed almost inevitable that war between Israel and Gaza would erupt.
Long-range fire at the country's bustling commercial and party capital – some 80km from the Strip – is a serious red rag. Israeli incursions into Gaza have been launched ahead of the last three elections here, often winning incumbent prime minister Benjamin Netanyahu additional votes on a security ticket.
And right now Netanyahu's Likud party isn't performing well in the polls (the latest says they would secure just 28 of the 120-seat parliament). This is largely because he is campaigning under the shadow of a possible indictment on corruption charges.
With tensions between the two sides already at breaking point, in the past this would have been an obvious trigger for war.
But while Israeli aircraft did strike 100 targets in Gaza in retaliation, prompting more cross-border rockets, both sides largely pulled their punches.
Clues as to why lie in the details of the Tel Aviv attack which have gradually trickled out.
Hamas, the militant group that runs Gaza, said they had no idea who fired the rockets on Tel Aviv adding they were actually in a meeting about ceasefire arrangements with Egyptian security officials at the time of the attack.
Islamic Jihad, an even more hardline militant group in the Strip, also denied its members were responsible. Israeli intelligence was apparently taken completely off guard.
It transpired that, unbeknown to Hamas leaders, low-level fighters had taken the matter into their own hands.
Israeli intelligence officials, quoted in local media, said the junior operatives had been "messing around" with a rocket launcher which was prepared to fire towards Tel Aviv, and so the attack was "accidental".
Israel's Channel 13 described it as "something out of Monty Python".
But it has raised questions over whether Hamas has control of its increasingly frustrated fighters, at a time when it is struggling to handle a rising tide of anger over the dire economic and humanitarian conditions in the besieged enclave.
On the same day as the "accidental" rocket fire, Hamas forces were filmed beating and arresting dozens of people, including local journalists, at a protest in Gaza against new tax hikes that has made an already difficult existence even worse in the blockaded territory.
A day later, hundreds more gathered in Gaza's central Deir al-Balah district in rallies which were also forcibly removed.
The 25-mile-long enclave suffers from some of the highest youth unemployment rates in the world, over half the population lives under the poverty line. It is largely due to an 11-year-long Israeli siege, but Hamas mismanagement has been blamed for contributing to widespread misery. Anger among the population is simmering.
Meanwhile, Netanyahu is facing mounting calls back home for a military operation ahead of the polls. His firebrand education minister and coalition partner Naftali Bennett criticised his response to the Tel Aviv rockets as "pathetic" and demanded the "uncompromising pursuit and systematic neutralisation of Hamas's leaders".
Netanyahu's main election rival and former army chief Benny Gantz urged a "strict, stern and continuous policy against Hamas".
Even Labour Party leader Avi Gabbay said the security situation in southern Israel was "the worst ever" and vowed to do the "exact opposite" should he become premier.
Support free-thinking journalism and attend Independent events
The Hamas leadership and Netanyahu appear loathe to tumble back into war but are facing searing pressure from all sides to do just that.
And in two weeks that will be ratcheted up even further with the anniversary of the start of the Great March of Return – weekly rallies Gazans have been holding at the border fences with Israel against the blockade.
Israeli forces have killed nearly 200 Gazans since the protests started on 30 March 2018, according to the UN that said the killings possibly amount to war crimes.
The Israeli army has defended its actions saying Palestinians have hurled incendiary kites and balloons tied with explosives at Israel and tried repeatedly to breach the borders, endangering civilians.
The anniversary, both sides have warned me, is expected to be a long and bloody day that might just be the tipping point.
Despite caution from the leadership, actions on the ground may overtake them.
Join our new commenting forum
Join thought-provoking conversations, follow other Independent readers and see their replies