Israeli teenagers' funeral: It is obscene when either side kills children – not only Palestinians
In the end it's all about the colonies Israel is building on Arab land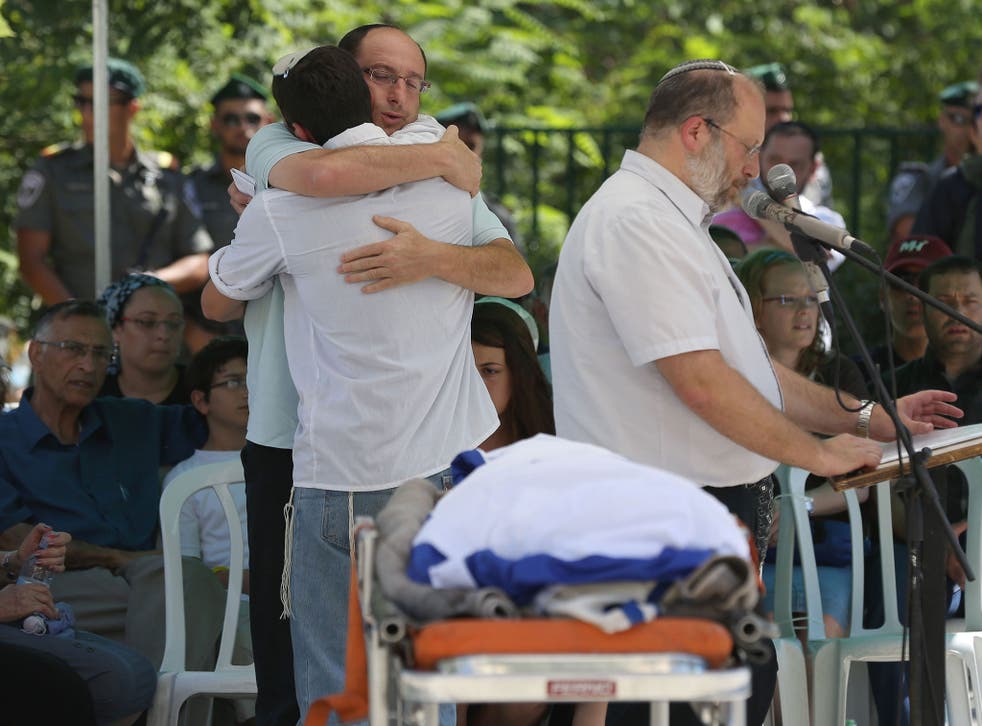 Three Israeli teenagers killed by Palestinians. Vicious, cruel, unforgivable. True. At least 37 Lebanese children killed by Israel. Regrettable, unfortunate, but the ultimate fault of "terrorists". Untrue. The slaughter of the children at Qana in Lebanon in 1996 – among 109 civilians killed by Israeli shellfire as they sheltered in a UN camp – was a war crime. So, I might add, is the murder of three Israeli teenagers.
But the obscene theatre of the Israeli-Palestinian war follows a script as scandalous as it is lethal. This week, the Israeli Prime Minister called the Palestinians who killed three Israelis "beasts". So what? Didn't Menachem Begin call Palestinians "two-legged animals" in 1982? And then Begin unleashed thousands of Israeli air raids against them – just as Netanyahu says that Hamas "will pay" for these latest deaths.
And now President Shimon Peres says that Israel will "punish the villainous terrorists with a firm hand". Yet how many media folk will recall today that this is the same Shimon Peres who as Prime Minister launched the 1996 war against "terrorism" which led directly to the mass killing at Qana? None. For the one thing which is forbidden in the Middle East is an institutional memory.
Back in the 1960s, Israel launched air strikes against "terrorists" in Lebanon. Countless thousands of air raids later, they were still staging air strikes to "wipe out terrorism" in Lebanon or to "root out the evil weed of terrorism" (Begin) – the 1982 Lebanon invasion costing around 17,000 lives – and during the siege of Gaza (2008-9) with its more than 1,100 Palestinian dead and 13 Israeli dead (four killed by their own side). President-elect Obama was silent on that – but voluble today, when he condemned "this senseless act of terror against innocent youth".
In pictures: Israel reacts to deaths of kidnapped teenagers

Show all 23
In 1996, Hezbollah said that Israel had "opened the gates of hell". Hamas warned that Israel was "opening the gates of hell". The same corrupt script, you see. And blood will have blood – at least Macbeth sounds original.
And we must forget that Palestine is meant to be a state – if only Netanyahu would shine his new-found enthusiasm for Kurdish statehood upon his Palestinian neighbours – and that statehood would mean an end to all violence, would it not? But Mahmoud Abbas, as corrupt as the late Yasser Arafat, has done a deal with the corrupt Hamas which allows Israel's corrupted political administration to insist that there can be no peace if Hamas is part of a Palestinian government – even though, when Hamas was not part of the Palestinian cabinet, Netanyahu claimed that he had no Palestinian negotiator to talk to because Abbas could not speak for Hamas.
In the end – speak it not today – it's all about land. It's about the colonies which Israel is building against international law on Arab land – colonies for Jews and Jews only – on the very occupied West Bank in which the three Jewish teenagers were killed, travelling to see their families in the very illegal Jewish colonies which are destroying peace. No, this does not justify their deaths.
Their murder was vicious, cruel and unforgivable. Their families do not deserve this grief. Justice should be done. Justice. And that means murderers on trial. And land unthieved. But first… More blood.
Register for free to continue reading
Registration is a free and easy way to support our truly independent journalism
By registering, you will also enjoy limited access to Premium articles, exclusive newsletters, commenting, and virtual events with our leading journalists
Already have an account? sign in