It doesn't really matter who the next Turkish prime minister is. Erdogan is the only man in town
As Erdogan attempts to become the next Atatürk, he risks the future relations with the West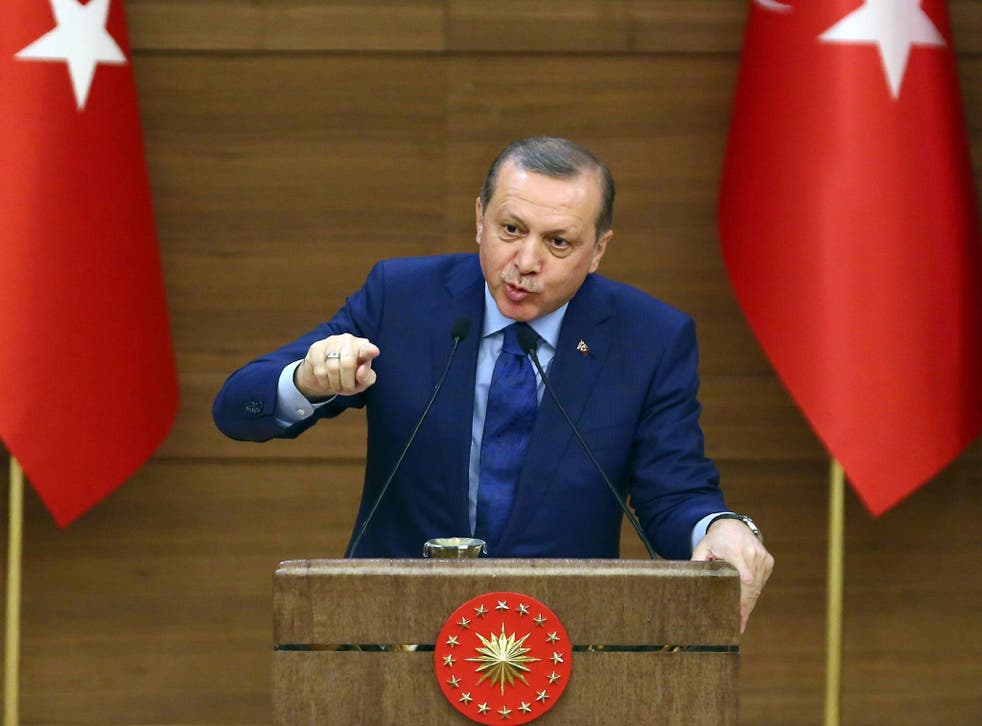 On Sunday Turkey's ruling AK (Justice and Development) Party will hold an extraordinary convention to elect a new chairman and prime minister. But don't hold your breath, party loyalist, Binali Yildirim, has been nominated and there is no reason to believe he will not be elected with acclaim.
Well, perhaps not quite the same acclaim his predecessor, Ahmet Davutoglu, was received with when he became prime minister and nominal leader of the AKP in August 2014. It was Davutoglu, a professor of political science and later foreign policy adviser to Erdogan as well as foreign minister, who formulated a grandiose vision of a new world order with Turkey at its centre. The AKP would not just be a political party but "a great historical movement" which would establish Turkey's hegemony over the Balkans, the Caucasus and the Middle East.
Ironically, Davutoglu, who had been hailed as "a true grandson of the Ottomans", came unstuck because of his cordial relations with European leaders such as Angela Merkel and Donald Tusk and his brokering the refugee deal with the EU. The finishing touch was his scheduled meeting with US President Barack Obama, whereas President Erdogan could only manage an unscheduled meeting with Obama on the sidelines of the Nuclear Security Summit in Washington.
Turkey's two million Syrian refugees

Show all 11
While Davutoglu was on an official visit to Qatar at the end of April, his authority to appoint provincial party officials was taken away by the AKP's central executive committee (MKYK). Even more damaging was an anonmyous blog called The Pelican Brief accusing "our cute and cheery hoca" (teacher) of being "a simple pawn in the game of chess global powers are playing in our country".
Four days later Davutoglu resigned, although he stated: "It is not my preference to see my term cut short." However, Erdogan reminded a meeting of local headmen the previous day: "What matters is not to forget how you came to where you are, what you need to do there and what your targets are."
As the editor-in-chief of Hürriyet Daily News, Murat Yetkin, concluded, Erdogan has managed to achieve a de facto shift in Turkey's political system, which will further centralise executive power in the president's hands. So in practice it will not matter much who is Turkey's next prime minister.
Now the Turkish parliament is in the process of removing the parliamentary immunity of the deputies from the Kurdish HDP (Peoples' Democratic Party) as a prelude to their prosecution for treason. This can pave the way for a new election, which will give the AKP the necessary 367 seats or more (they now have 317) to make it possible to change the constitution to an executive presidency without a referendum.
The refugee deal which Davutoglu brokered in a six-hour session with Angela Merkel in March risks foundering because of Turkey's failure to comply with all the 72 conditions for visa-free travel to the Schengen area. The sticking point is the EU's call for Turkey to revise Turkish anti-terror legislation to align it with European standards, as Turkish academics have been prosecuted for criticizing Turkey's war with the PKK.
Erdogan has adamantly refused to do so, telling the EU "we'll go our way, you go yours." Nevertheless, the president has given the EU until October to resolve the issue. Alexander Graf Lambsdorff, Vice President of the European Parliament, puts an optimistic gloss on things when he states, "Erdogan's aim isn't to wreck relations with the EU but to immortalize himself as second state founder alongside Atatürk, as the man who is giving religion a greater role in state affairs again."
Not so Turkish professor and columnist,Nuray Mert, finds that Turkey's alliance with the West has always been a marriage of convenience and that the marriage is coming to an end under Islamists' rule. In her view, Turkey has started to turn its back on the EU and the West in general. The universal values of democracy and freedoms have started to be defined as "Western values" which are alien to Turkish culture and history.
If this is the case, then the outlook for not only the EU but also the West's relations with Turkey is bleak.
Join our new commenting forum
Join thought-provoking conversations, follow other Independent readers and see their replies