We're leaving in our droves - if Hunt keeps trying to impose his contract, there won't be any junior doctors left
We are in constant discussion about alternative career pathways, moving to dentistry or the best time to sit the exams qualifying you to work in America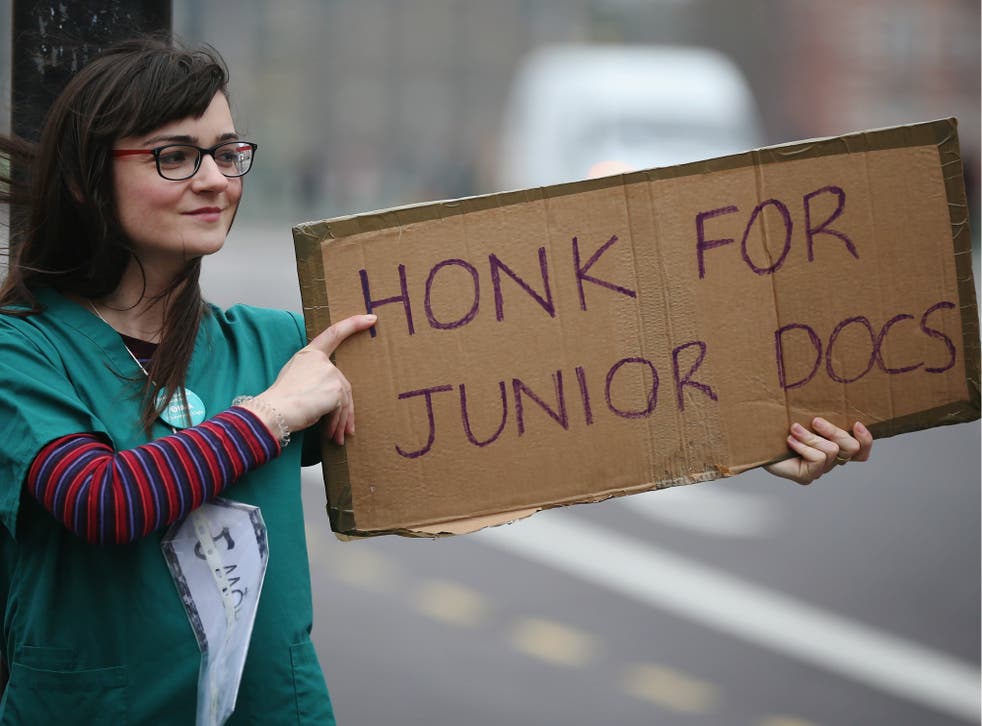 Around the dinner table in my house of six medical students, the main topic of conversation is the 'tough path ahead'. We are in constant discussion about alternative career pathways, or the best time to sit the UMSLEs, the exams qualifying you to work in America.
The distinct change in morale of hospital staff over the past few months has sucked the buzz out of pursuing a medical career. With enthusiasm dampened, medical students are thinking 'damage limitation' when considering their future specialty.
In fact in a recent survey of medical students that was published in the British Medical Journal, 35 per cent of students reported that they would leave the NHS if the contract was imposed, 14 per cent of students would leave after their two foundation training years and 29 per cent said that the new contract would affect their choice of specialty.
These figures suggest that students will be driven to specialties with the most contained hours. This will particularly affect women who wish to have families, as seen in the recent equality report published suggesting that "women will be disproportionately affected".
I am currently on placement in Acute General Medicine - a specialty that I am really enjoying and yet with the imposition of this contract, this is a specialty, alongside others such as A&E that will be off the cards.
Junior doctors' plea to David Cameron
The NHS will enter a staffing crisis unless our opinions are at least acknowledged. At the beginning of 2016 there were 273,810 doctors on the register. By 22nd March 2016, this number had dropped to 233,404 showing how undervalued doctors across the UK are feeling.
Some of these doctors will be entering other careers. I have already been approached by a number of management consultancy, professional services and biotechnology companies offering graduate jobs to medics.
A large number will be moving to America, Australia, New Zealand and beyond. So far this year, 2002 doctors have requested their 'Certificate of Current Professional Status' from the GMC which is required to practise medicine abroad suggesting a huge spike in the number of doctors equipping themselves with alternative career options. This also means billions of pounds of taxpayer money used to train these doctors is being thrown down the drain.
Large numbers of students are deciding to apply to alternative university degree courses which have better career paths and options after graduation. In a survey of over 1500 school students on the online community 'The Student Room', 37 per cent of students who had once wanted to study medicine have said they no longer are pursuing their applications due to the imposition of the new contract.
In pictures: Junior doctors protests in UK

Show all 10
Some of the students I have supported with their medical school applications have cancelled their places on courses or deciding to pursue a career in dentistry instead. As the desire to enter the medical vocation decreases, so does the number of applicants and in turn, the competition for places. As competition decreases, so will the calibre of medical students and therefore, the standard of future doctors.
The implications of this are a far greater crisis than the one we currently find ourselves in. Not only would the number of doctors in our healthcare system plummet but the standard of doctor would too. The quality of care would be compromised and the future of UK healthcare at true breaking point. Current medical students are demoralised and angry, the future generation of medical students won't even be applying. It would be fair to say a generation of doctors is being lost. This dispute represents so much more than any of us realise.
Join our new commenting forum
Join thought-provoking conversations, follow other Independent readers and see their replies