Five excuses McCain SHOULD have used for playing poker on phone during Syria hearing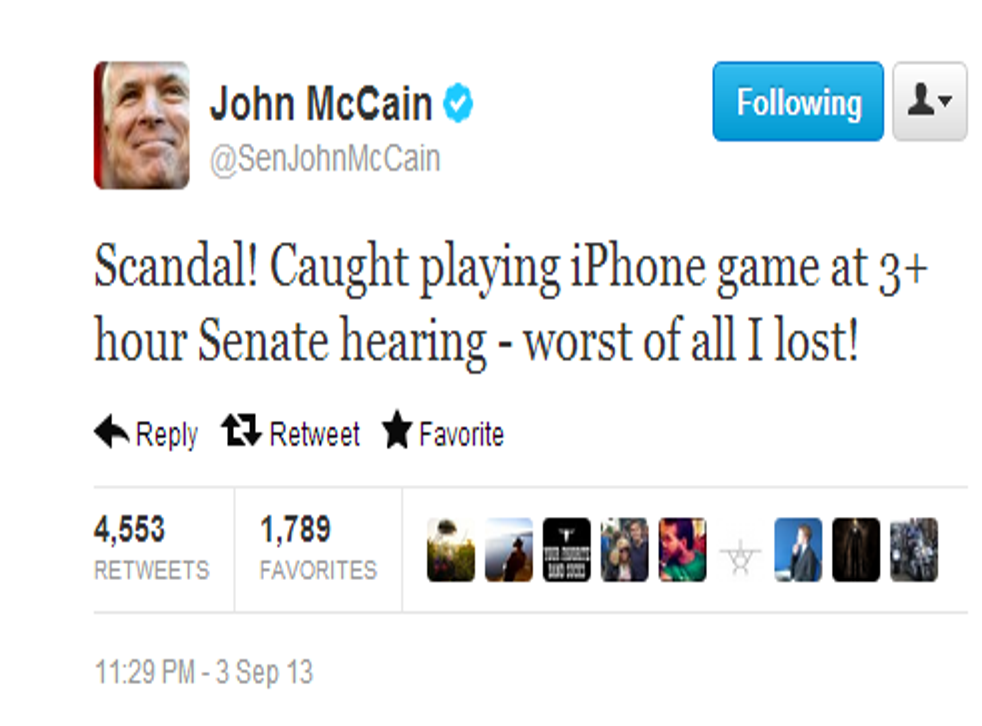 You might have thought Senator John McCain would pay attention, after months of advocating the arming of Syrian rebels, but during a key senate hearing yesterday evening on the potential use of military force in the Middle Eastern region, the former Presidential candidate was snapped playing poker on his smartphone.
McCain made light of the incident on his Twitter account after a picture started circulating on the internet: "Scandal! Caught playing iPhone game at 3+ hour Senate hearing - worst of all I lost"
Nevertheless critics were quick to point out that perhaps McCain should have kept his phone in his pocket. "It's only WAR IN SYRIA", tweeted Eoghan McDermo, in one of the least vituperative responses.
Certainly the excuse of the Vietnam vet-turned-politician could use some work. Here are some he might try out, next time he's caught fiddling on a cheap app while his colleagues deliberate America's role in a crisis of extraordinary global seriousness.
1. The Gambler
"Listen, I'm up to my eyes in debt to these sharks. I need a Royal Flush or two or the McCain house is gonna be repossessed!"
2. The Diplomat
"Poker is actually a fairly accurate simulation of how international diplomacy works, and Syria. Essentially Assad has called our bluff on chemical weapons. Practice is vital."
3. The Background
"My phone background has ALWAYS been a picture of online poker. Some of my happiest memories were made playing on my own deep into the night!"
4. The Everyday Joe
"Let he who hasn't had a game of Angry Birds during a long meeting cast the first stone. Any takers?"
5. The Lie
"It must have been photoshopped. You guys know how the liberal media works..."
Register for free to continue reading
Registration is a free and easy way to support our truly independent journalism
By registering, you will also enjoy limited access to Premium articles, exclusive newsletters, commenting, and virtual events with our leading journalists
Already have an account? sign in
Join our new commenting forum
Join thought-provoking conversations, follow other Independent readers and see their replies