If you disagree with Ivanka sitting in on Donald Trump's G20 meetings, you might be a bad feminist – it's totally unclear
As Ivanka hovered gingerly over President Trump's impromptu chats with world leaders, the pair reminded me of that point when my ageing father could no longer be trusted to go to the Post Office alone to buy postage stamps without causing light mayhem involving at least three serving staff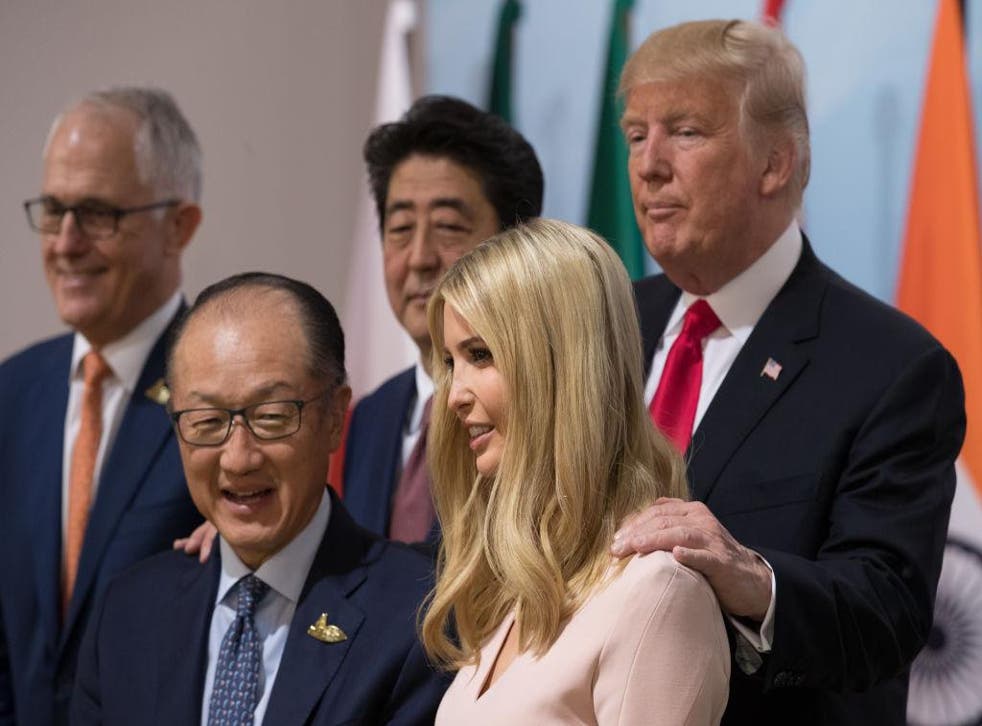 As the unelected, utterly unqualified Ivanka Trump sat in on a G20 meeting on "Partnership with Africa, Migration and Health" between Theresa May, the Chinese President Xi Jinping and just downwind of Angela Merkel this weekend, I was reminded of some useful advice I heard last November after her father's election. We must keep on, no matter what, remembering things are not normal. No matter how normal the weirdness begins to seem.
As our discombobulation limits are stretched baggy, we should remember that President Trump doing things like rattling away on Twitter, settling personal and political scores left, right and centre is undignified, dangerous and weird. It is not acceptable.
Nor is it acceptable for the POTUS to set his country against the free press. We should keep on finding the energy, although we're exhausted, to flobber our nostrils at President Trump meeting President Putin on Friday for a chat about all those nasty electoral rigging rumours (which didn't happen, Trump has Putin's word) only then to announce talks of an "impenetrable cyber-security unit so that election hacking and many other negative things, will be guarded…and safe".
And onto this list of things that should not become regular or moot we should write in Sharpie permanent marker: "Ivanka Trump sitting in for her father Donald Trump at top level political meetings". The G20 summit is not the 4-7pm drive time slot on BBC Three Counties Radio. It's not OK to have someone "sit in" if the main event needs a break.
Ivanka Trump plays significant role standing in for Donald Trump at G20
Nevertheless, to my eyes, observing footage of Ivanka and Donald's double act at the G20, the way they tackle receptions and photo-calls, there was a real sense that Trump's day-to-day survival leans heavily on his daughter. Trump, woefully out of his depth, needs Ivanka by his side. In a world of being misunderstood, she gets him.
In a crowded room of frenemies, Ivanka flits around fragrantly explaining things in his ear, smoothing over silences with her charm and acting as a buffer for his social awkwardness. Regardless of how you feel about Ivanka, she is a bloody great wingman.
Still, at the G20, as Ivanka hovered gingerly over President Trump's impromptu chats with world leaders, the pair reminded me of that point when my ageing father could no longer be trusted to go to the Post Office alone to buy postage stamps without causing light mayhem involving at least three serving staff. He needed me to keep things breezy and on track. Except in Trump's case the stamps are the Paris climate agreement, and the serving staff are Russia and China, and the "light mayhem" is global environmental Armageddon.
If the President of The United States chivvying his daughter into tense, top-level talks is worrying, there's an argument that him being prohibited from taking her could be graver.
The added dilemma with criticising Ivanka Trump for her recent coups such as dining with President Xi Jinping at April's Mar-a-Lago Summit is that Ivanka Trump is a female and a self-identifying feminist. To argue that Ivanka won her place at the G20 table unfairly is in turn to argue that every other man in the room gleaned power fairly, squarely and on merit. All feminists know deep down that this isn't true either.
Ivanka Trump: 'I leave the politics to other people'
We do know that if Hilary Clinton, as Secretary of State, had ever let her daughter Chelsea Clinton "sit in" a top-level meeting while she had a little break, Donald Trump would have squawked about it so long and hard during the debates he'd practically have laid an egg. We also know things are viewed more seriously or negligently when powerful women do them.
But the greatest problem with criticising Ivanka is that she positions herself as a sharp-elbowed feminist with her own girl power-based entrepreneurial website, and the grit to sit on a W20 women's empowerment summit panel with Christine Legarde. Jeer and scowl at her if you like, but Ivanka Trump and her fans will not take this lying down.
Citizens United chairman David Bossie said yesterday that left-wing criticism for Ivanka was not beneficial to women. "These feminists are feminists in name only. They're only feminists when it affects their chequebook," Bossie said on Fox News. "They don't fight for women across the board. They never have,"
With irony Bossie, in insulting modern feminism, was proffering an argument that third-wave feminists tie ourselves in knots with constantly. "White feminists don't care about black feminists!" we hurl at each other. "And leftie feminists don't care about Tory women! And those rich empowered wimmin don't care about poor ones either!" And so on and so forth and vice versa, and on we go, fighting the battle of who cares less.
Ivanka Trump: I have been shocked by the level of 'ferocity' and 'viciousness' against my father
Today's feminism is very confusing, wholly incendiary and totally exhausting. And it's even more tiring now that Ivanka Trump and her chums are on board.
Bossie went on to say about today's militant females: "If you agree with them, they are on your side and they will fight for you. If you are not on their side, they will demean you in the most ugly terms."
I want, dearly, to say here that Bossie is a deluded, out-of-touch fool and the patriarchy should wind its neck in, but, well, I can't quite keep a straight face. He has a point.
My sense is we'll never quite stop Ivanka Trump "sitting in" for President Donald Trump, as there will never be a feminist consensus on whether it's awful or actually quite awesome. Ivanka's visibility is inspiring millions of little girls to reach higher. To reach for what and at whose expense is debatable – but she's not vanishing anytime soon.
Register for free to continue reading
Registration is a free and easy way to support our truly independent journalism
By registering, you will also enjoy limited access to Premium articles, exclusive newsletters, commenting, and virtual events with our leading journalists
Already have an account? sign in
Join our new commenting forum
Join thought-provoking conversations, follow other Independent readers and see their replies