Joking that Ivanka Trump is swooning over Justin Trudeau isn't funny, it's sexist
The 'swooning' memes circulating around the internet make it seem like her priority was ogling Trudeau as opposed to the issue in hand, it also implies that she is incapable of conducting business with a man without thinking about him as a romantic or sexual partner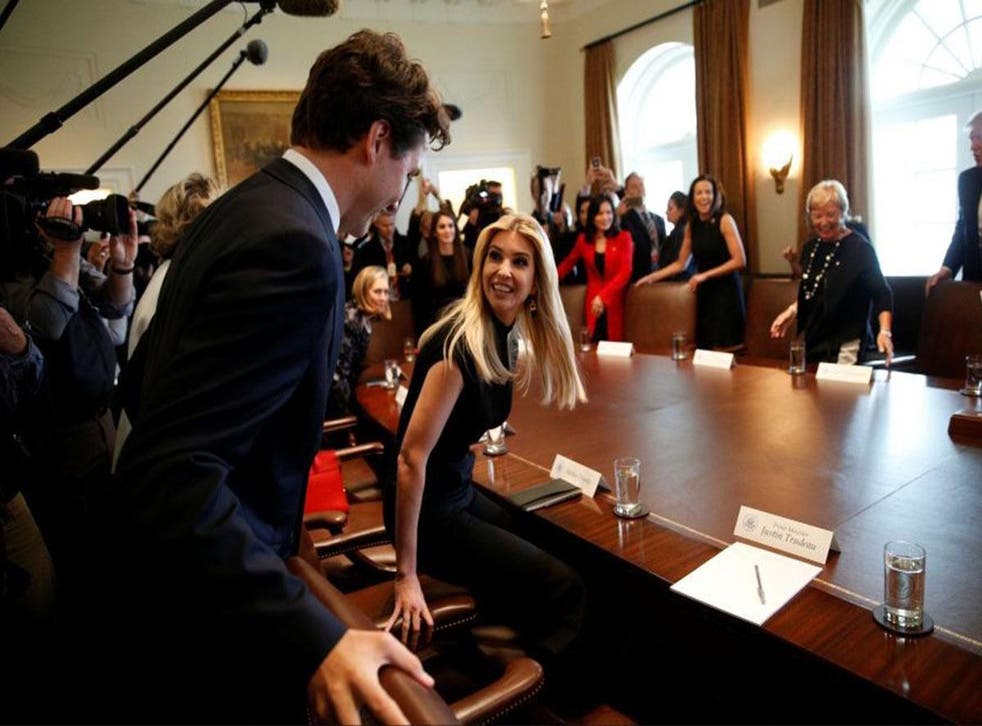 On first glance the viral memes of Ivanka Trump 'gazing' at Justin Trudeau, are pretty funny. Not so different from the ones that had been doing the rounds of Joe Biden looking lovingly at Barack Obama. However, on closer inspection the photos of Trump's daughter and Justin Trudeau were taken at a White House meeting about the challenges faced by women in the workforce.
Ivanka, who was attending a roundtable meeting on Monday about this serious issue, was undermined with implications that she was not taking the matter seriously, instead being distracted by the Prime Minister of Canada's good looks. Not only does that make it seem like her priority was ogling Trudeau as opposed to the issue in hand, it also implies that she is incapable of conducting business with a man without thinking about him as a romantic or sexual partner.
While in reality Ivanka's facial expressions were likely to have been conveying engagement and interest in the subject matter, the memes imply that a woman cannot look or smile at a man without having romantic intentions. Are we expected to frown? To avert our gaze? If she had done so, Ivanka would have been criticised for being "moody" or "immature".
In 90 seconds: Trump and Trudeau differ over border control
One of the biggest challenges faced by women in the workforce is this kind of double standard and the fact that our professional capabilities are constantly scrutinised. If we demonstrate leadership we're "bossy", and if we're critical we're "bitchy", but if we're conscious of pleasing people or don't speak up we're "submissive".
Critics of the Trump administration may assume that Ivanka and her father are tarnished with the same brush, however her father's track record is not an acceptable reason for her to be subject to this same form of abuse. If anything, we should be doing all we can to demonstrate solidarity against his behaviour.
The controversial orders Donald Trump has already issued

Show all 9
This is why, in my opinion, the most worrying thing here is the title given by The Huffington Post on their coverage of the viral memes: "Ivanka Trump Looked Thirsty AF While Glancing At Justin Trudeau". As if people weren't worried enough about Donald Trump's sexist behaviour, this headline from a reputable publication could be straight out of a misogynistic male forum.
The terminology "thirsty AF" not only evokes imagery of drooling, salivating, and lapping, it also implies desperation (which is how urban dictionary defines the word 'thirsty'). Is this married, successful businesswoman really 'swooning' over Trudeau in the middle of an important meeting about issues pertaining to women in the workplace? We know that is not her number one priority, and it's dangerous that The Huffington Post could be implying otherwise, and following in President Trump's footsteps.
I'm a big fan of memes, parodies, and friendly mockery in general, however there is a time and a place. Now more than ever the media should be exemplifying gender equality and respect for women, not being complicit in the normalisation of their mockery and humiliation.
Register for free to continue reading
Registration is a free and easy way to support our truly independent journalism
By registering, you will also enjoy limited access to Premium articles, exclusive newsletters, commenting, and virtual events with our leading journalists
Already have an account? sign in
Register for free to continue reading
Registration is a free and easy way to support our truly independent journalism
By registering, you will also enjoy limited access to Premium articles, exclusive newsletters, commenting, and virtual events with our leading journalists
Already have an account? sign in
Join our new commenting forum
Join thought-provoking conversations, follow other Independent readers and see their replies