Don't underestimate Jacob Rees-Mogg – he is the Corbyn of the Conservative Party
The people who disrupted his speech at the University of the West of England might as well have been paid to do so by the Moggmentum campaign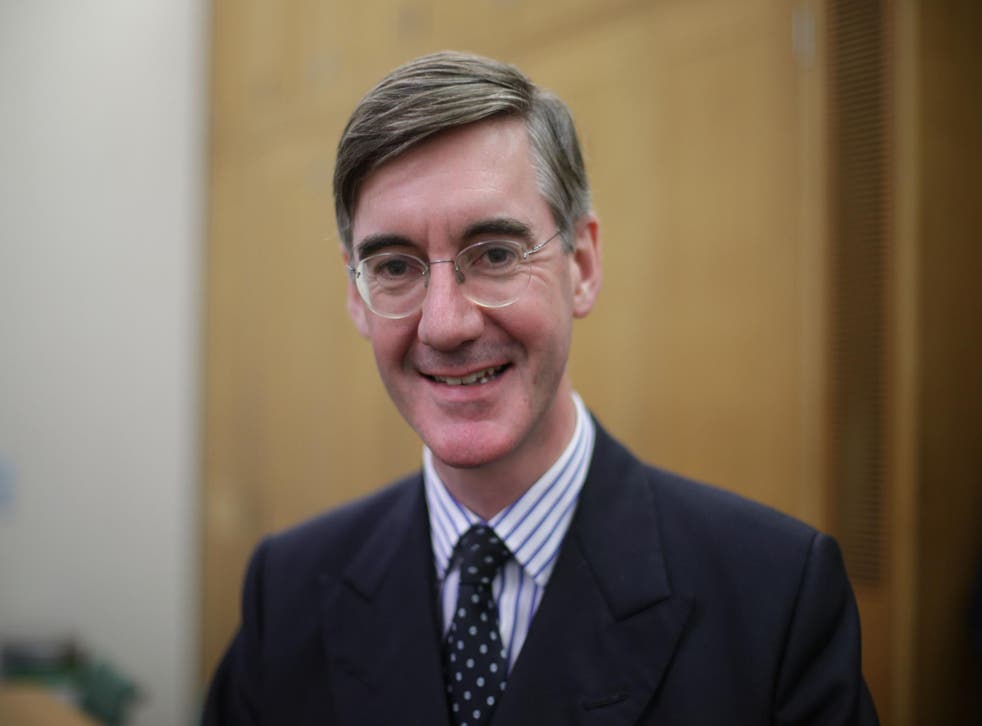 It is time to take Jacob Rees-Mogg seriously. When the bookmakers made him favourite as next Tory leader in November, I thought it was evidence of the naivety of political betting. I did not doubt his appeal to Conservative Party members, but thought that his support among his fellow Tory MPs was limited.
The only way he could become leader is if he were one of the two candidates chosen by MPs for the final ballot of the members in the country. And I thought other MPs regarded him with that special condescension they reserve for "characters", that is, quixotic loners.
Last month, however, one of the many mistakes Theresa May made in her reshuffle was her failure to make him a minister. Within moments, Rees-Mogg was elected – unopposed – as chair of the European Research Group, the main grouping of Brexit true believers in the Commons. That gives him a bloc of at least 50 MPs, not all of whom would vote for him in a leadership contest but enough of whom might to get him to the last two.
That is why I take seriously what Professor Philip Cowley said this week after he interviewed Rees-Mogg in front of an oversubscribed audience at Queen Mary University of London: "I'll make only one observation, based on last night. If he stands in any forthcoming leadership contest, if he gets through to the last two, he'll walk it."
UK news in pictures

Show all 50
There are two "ifs" there. One is whether he could make it to the all-member ballot: yes he could. The other is whether he wants to be leader and therefore, if there is a contest before 2022, prime minister. Of course he does. In the old days people might have become MPs because they wanted to serve their constituents from the back benches in comfortable obscurity, but not today. In that respect, Rees-Mogg is a modern man.
But being old-fashioned is his appeal. Cowley said of Tory members: "They'll love him because he is unapologetic. No triangulating. Argues for capitalism, unashamedly. He's basically a pinstriped Conservative Corbyn."
Indeed, Rees-Mogg came top of the Conservative Home survey of Tory members this week, albeit with only 21 per cent of responses from a self-selecting sample (ahead of Michael Gove on 16 per cent). But Cowley is right that his pitch cuts through with the Tory selectorate.
"It is not a facade," Rees-Mogg told Cowley. "I am who I am." Well, yes, but who are we really? Jeremy Corbyn's Castro-capped Bennism is not a facade either, and yet it turns out to be remarkably flexible on the question of Brexit.
Corbyn exploits his reputation, acquired in decades as a quixotic backbench loner, for constancy of principle. Such backward-looking traditionalism gives him the authenticity that is the magic ingredient of modern politics. It is genuine, but it can also be finessed for convenience.
It is the same with Rees-Mogg. He is genuine, but his opposition to abortion, for example, is something he has said he would never seek to impose by law on others. His courtly Roman Catholic gentleman act is not an act, but it is a form of attention-seeking.
Masked individuals disrupt Jacob Rees-Mogg speech at UWE Bristol
He talks about his nanny, who looked after him and who now looks after his children, not wanting him to change their nappies as if this were normal, but he knows perfectly well it isn't and he revels in people's reactions.
Thus the people who disrupted his speech at the University of the West of England yesterday might as well have been paid to do so by the Moggmentum campaign. The story was big on mainstream and social media, and it was all about Rees-Mogg standing up to bullies. He has done it before ("Jacob Rees-Mogg politely takes on angry protesters at Conservative Party conference") and every time it makes him stand out more clearly in a politics painted in broad brushstrokes of primary colours.
This time it got him on the Today programme this morning, so that the row over his accusation that Treasury civil servants breached impartiality – the absurd charge that they doctored the figures to undermine Brexit – could rumble on for another day.
I thought Corbyn's dogmatic anti-capitalism and anti-imperialism was a minority interest that wouldn't work in British politics, but I overlooked the importance of his authenticity. It hardly mattered what it was about: one or two themes struck a chord and his unchanging commitment to them raised his profile.
I am not making that mistake again. Get ready for Jacob Rees-Mogg, Prime Minister.
Register for free to continue reading
Registration is a free and easy way to support our truly independent journalism
By registering, you will also enjoy limited access to Premium articles, exclusive newsletters, commenting, and virtual events with our leading journalists
Already have an account? sign in
Join our new commenting forum
Join thought-provoking conversations, follow other Independent readers and see their replies