Jamie Harron's arrest in Dubai should make us question why we ever thought it was OK to holiday there in the first place
Dubai's growing schtick as a heavenly holiday destination for heteronormative families, as well as a playground for Western straights willing to play by its rules, isn't exactly progressive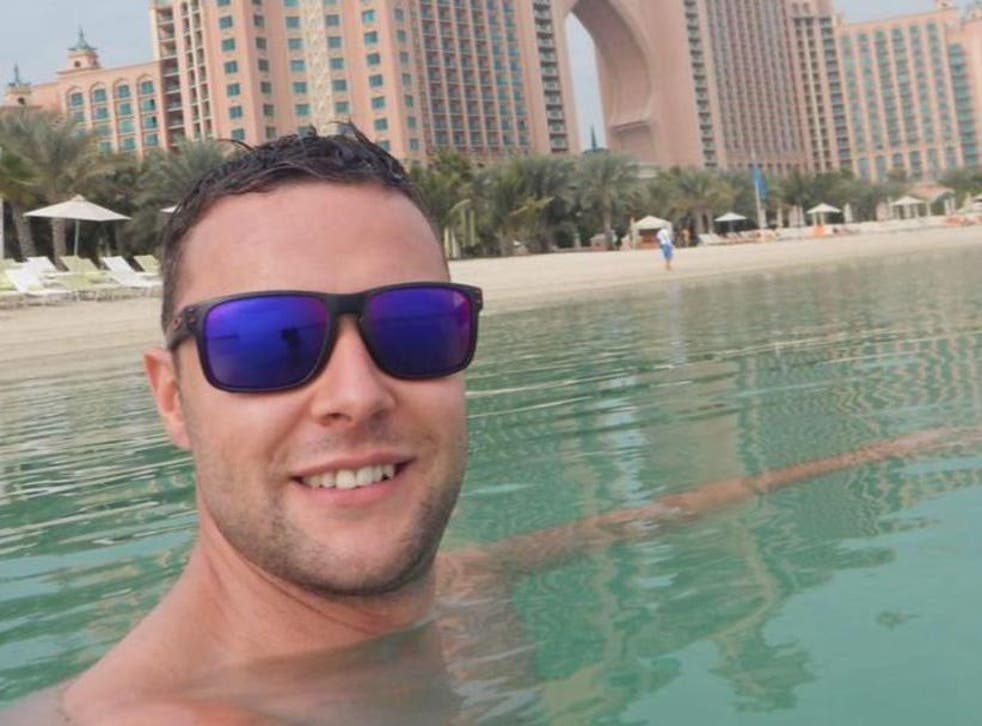 British electrician Jamie Harron's three-month sentence in Dubai for accidentally "touching a man's hip" in a bar thwarted any remaining urge I had to holiday in Dubai. Harron's sentence for public indecency was finally overturned today, but my squeamishness remains. Clearly this news will be balm to the sort of British holidaymakers who flock there.
I'm sure Colleen Rooney, long-suffering wife of errant multimillionaire and Spudulike Wayne, does not jet off to Dubai hoping to bump into me. The Rooneys do not long to meet myself, plus social justice campaigner Bidisha and the cross-dressing ceramic artist Grayson Perry, by the infinity pool, debating global gay rights, intersectional feminism and the problem of modern slavery.
They don't want to hear me banging on about my concerns over the United Arab Emirates' construction industry. Heavens, no – Premier League WAGs or Michelle Keegan and Mark Wright no doubt adore Dubai precisely because it is not a holiday destination for whining metropolitan liberal elite windsocks.
Dubai, for an increasing number of Brits, is heaven as it's freshly built, luxuriously hewn and always sunny. Of course, how those gorgeous gleaming hotels are built so efficiently might not bear thinking about, but it seems to me if you're a Brit booking a holiday in Dubai, the trick is to suspend all heavy thinking.
Boris Johnson says Sirte could become the next Dubai when the dead bodies are removed
Instead, one must treat the place like a less cerebral Las Vegas, wilfully forgetting that it's almost always OK and sunny in Dubai until the moment authorities decide that, for you, it isn't.
Tourist Scott Richards was detained for three weeks last year for posting on Facebook that he'd bought a blanket for refugees in Afghanistan. The DJ Grooverider forgot himself to the point he passed through Dubai airport with two grams of cannabis in his trouser pocket and received a sentence of four years. Jamie Harron was having a lovely time until he touched another man's leg.
This has made no impact, as far as I can see, on tourism. But why do we turn a blind eye to Harron's confiscated passport, his £32,000 in legal costs or his painful four-month legal battle to avoid prison for seeming gay?
I have no knowledge of Harron's sexuality, and neither is it important, but his lawyers have always insisted he was merely moving through a crowded bar, and momentarily touched another man to steady himself. In Dubai, this touch was enough.
Many commenters have argued the crux of this case is the vast difference in Dubai between open and private behaviour. They say that if you want to be gay in private in Dubai, please yourself, but open touching of any kind is forbidden. Being openly gay – or, worse still, shamelessly – will be your downfall. The casual, openly stroked ear. The momentarily openly cupped waist. The quick, silly open kiss. These open things may seal your fate as a tourist. And as I only ever holiday with enormously open gay people, I think we should just stick with Puglia. Or, in the full spirit of Brexit, let's just go to Blackpool.
Because it's true that the North-west of England may not be great for tanning, but this is why spray-tan booths and bronzing balls were invented. And while, unlike Dubai, there is a dearth of five-star luxury hotels from Lytham St Annes to Morecambe Bay, this is possibly due to Europe's comparative squeamishness about the ethics of human slavery in construction. But this is fine: give me a Bourbon biscuit in a tatty Blackpool B&B which reverberates after 11pm with the glorious sound of open, non-shameful bumming. Why would I holiday in a place that appears to abhor the people I love?
We live in interesting times. Or, more accurately, morally confounding ones. None of these things are easy.
I am certain Dubai is full of closeted gay men and good-natured tolerant types who couldn't give two stuffs what Jamie Harron did or didn't do with his hand. But I'm reticent about Dubai's growing schtick as a heavenly holiday destination for heteronormative families, as well as a playground for Western straights willing to play by its rules.
All of this comes at a point where I see homophobia very much alive in other global settings. It is painful to hear of gay purges and gay pogroms in Chechnya, or of the torture and murder of Russian pop singer Zelim Bakaev, or to see six-year sentence for lewdness handed out to students who waved rainbow flags in Egypt, or be told any global battles over homophobia began and ended with a smattering of equal marriage. Or to feel like no one really cares about things like the sentence handed down to Jamie Harron because "that's just what it's like in those places".
I'm leaving Dubai to the likes of Colleen and Wayne Rooney. I am certain they'll be absolutely devastated.
Register for free to continue reading
Registration is a free and easy way to support our truly independent journalism
By registering, you will also enjoy limited access to Premium articles, exclusive newsletters, commenting, and virtual events with our leading journalists
Already have an account? sign in
Join our new commenting forum
Join thought-provoking conversations, follow other Independent readers and see their replies