If he's lucky, Jared Kushner will be able to sort out the Israel-Palestine question during his lunch break
Trump has appointed a relative by marriage to the constitutional post of 'Alternate de facto President while I tweet crazy stuff and fine-tune my sand wedge game at Mar-a-Lago on weekends'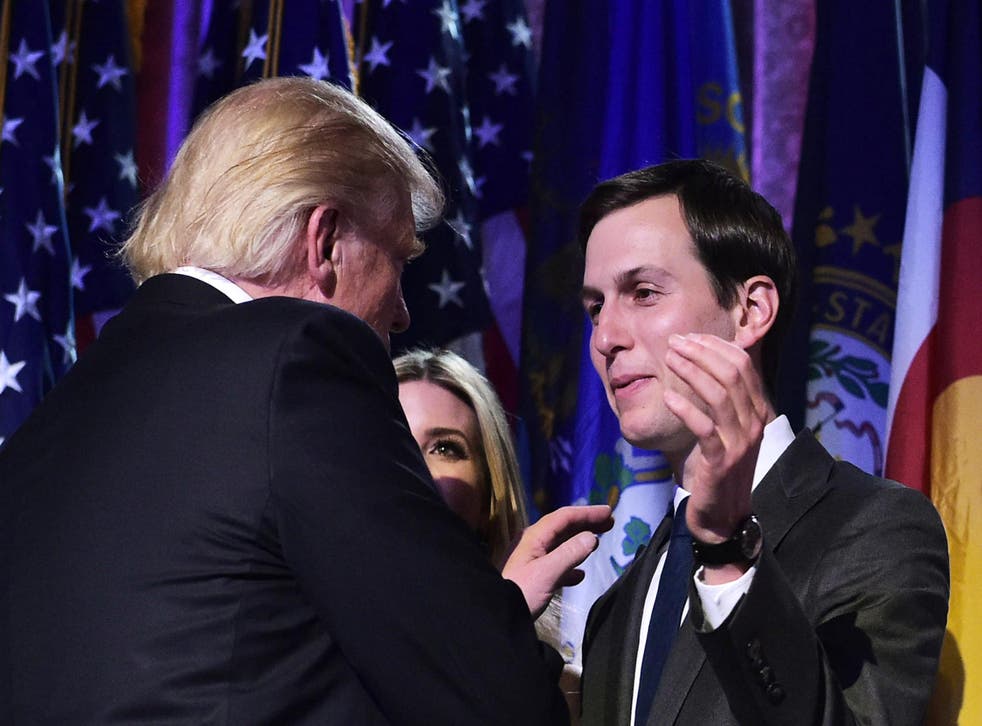 The dishonest rascals collectively known to all God-fearing folk as Fake News are at it again. Not content with the hoaxes about Donald Trump having dubious connections to Russia, farcically screwing up Obamacare repeal, generally having the political nous of a self-harming dumpster truck, and so on, they turn their odious attentions to Jared Kushner.
According to Fake News, Trump has heaped more on his son-in-law's plate than the average 36-year-old rich kid without a shred of political experience could be expected to digest.
As ever, they wickedly distort the facts. It is true that Kushner's trifling duties have been extended to include "fixing the government with business ideas". The Huckster-in-Chief has put Ivanka's husband in charge of the new "Office of American Innovation" – "a SWAT team of business executives" with "sweeping powers" to apply the commercial mores that have done so much for US wage growth and job security to "overhauling the federal bureaucracy"; "modernising the technology … of every department"; and developing "transformative projects" in accord with Trump's trillion dollar plan (whatever that might be) to rebuild US infrastructure.
This Fox News report on Hillary Clinton could have been about Donald Trump
Simple as all that sounds, you'd fret about Kushner being overstretched if his main task were more demanding. But phew, it's the biggest doddle on the geopolitical spectrum. All he has to do is devise "the ultimate plan" to bestow everlasting peace on Israel and the Palestinians. Who would want more than the odd lunch break to do that?
It is at moments of low comedy like this that you wonder if Trump is a sleeper controlled by America's snarkerati; a double agent implanted in the Oval Office by Stephen Colbert and the other talk show hosts with a brief to supply an endless stream of easy laughs.
These simpering fools no longer have to forage for their gags. They need only wander into the local McSatire's, where the President is standing behind the counter in his paper hat doling out the Double Whoppers with extra lies.
As if making Stephen Bannon the Right Hand of the King (ultra-right, given the white supremacist taint) wasn't enough, the laureate of nepotism has appointed a relative by marriage to the constitutional post of "Alternate de facto President while I tweet crazy stuff and fine-tune my sand wedge game at Mar-a-Lago on weekends".
It is too early to predict how well Bannon and Kushner will cooperate in the cause of Making America Great Again. My guess is that they will work as amicably as any other power-hungry pairing of an allegedly rabid anti-Semite and an orthodox Jew. When Abraham Lincoln talked about a "cabinet of rivals", this must be what he had in mind.
So far as Trump being a sleeper, of course, the conventional theory sources his puppet master not to Comedy Central but the Kremlin. Kushner will have no trouble carving time from his light schedule to answer a Senate committee's questions about his own part in the drive to improve relations with Moscow.
World news in pictures

Show all 50
It was known for a while that he was one of many Trump associates who met Russian ambassador Sergey Kislyak (at Trump Tower in December). The fresher news is that, during the transition period, he also met Sergey Gorkov, head of the mellifluous-sounding Vnesheconombank. This state-owned Russian bank, which handles foreign development on behalf of its former chairman Vladimir Putin, is believed to have hosted a spy ring in New York. The Obama administration placed it under sanctions in 2014 after the annexation of Crimea.
Kushner will no doubt join Michael Flynn, Paul Manafort, Carter Page and the other Keystoneski Kopovics in claiming he attended these meetings in a purely private capacity (in his case, on behalf of the Kushner clan's property empire; you can't have too many of those in a family).
The Republican Senators will swallow that, but then they'd buy it wholesale if he claimed he had been kidnapped by hostile aliens and beamed into those meetings from the bridge of a Klingon Bird of Prey. Here's touching wood the Democrats also ignore this Fake News hoax. It would be awful if Kushner's time as Left Hand of the King (he was a Democrat until recently) was besmirched from the start, because the precedent for how it might end isn't great.
The dictator to whom Trump is most thoughtfully compared is not Hitler, but Mussolini. The first political application of that old Hollywood adage "the son-in-law also rises" followed Mussolini's 1936 appointment of his daughter's husband, Count Galeazzo Ciano – younger than Kushner at 33, but every inch as experienced – as Italy's foreign minister.
The son-in-law also falls. His love-in with Benito did not survive Italy's painful stint as an Axis power. In January 1944, deposed but running a shadow government, Mussolini had Ciano tried for treason, tied to a chair, and shot in the back by firing squad.
The reassuring news for Trump, if he has to echo Il Duce with a more metaphorical "You're fired", is that a homemade replacement is very nearly ready to sort out the Middle East, the federal government and everything else. By this time next year, if Kushner can hang on, Barron Trump will just have turned 12.
Register for free to continue reading
Registration is a free and easy way to support our truly independent journalism
By registering, you will also enjoy limited access to Premium articles, exclusive newsletters, commenting, and virtual events with our leading journalists
Already have an account? sign in
Register for free to continue reading
Registration is a free and easy way to support our truly independent journalism
By registering, you will also enjoy limited access to Premium articles, exclusive newsletters, commenting, and virtual events with our leading journalists
Already have an account? sign in
Join our new commenting forum
Join thought-provoking conversations, follow other Independent readers and see their replies