Trump's Attorney General, Jeff Sessions, claims to support minority rights, but his Senate hearing proves otherwise
Sessions has referred to the Voting Rights Act – which places areas of the country with a record of racially motivated voter suppression under federal oversight – as 'intrusive'.  At the hearing he said that controversial voter ID laws, which critics claim adversely effect minority communities, are 'okay'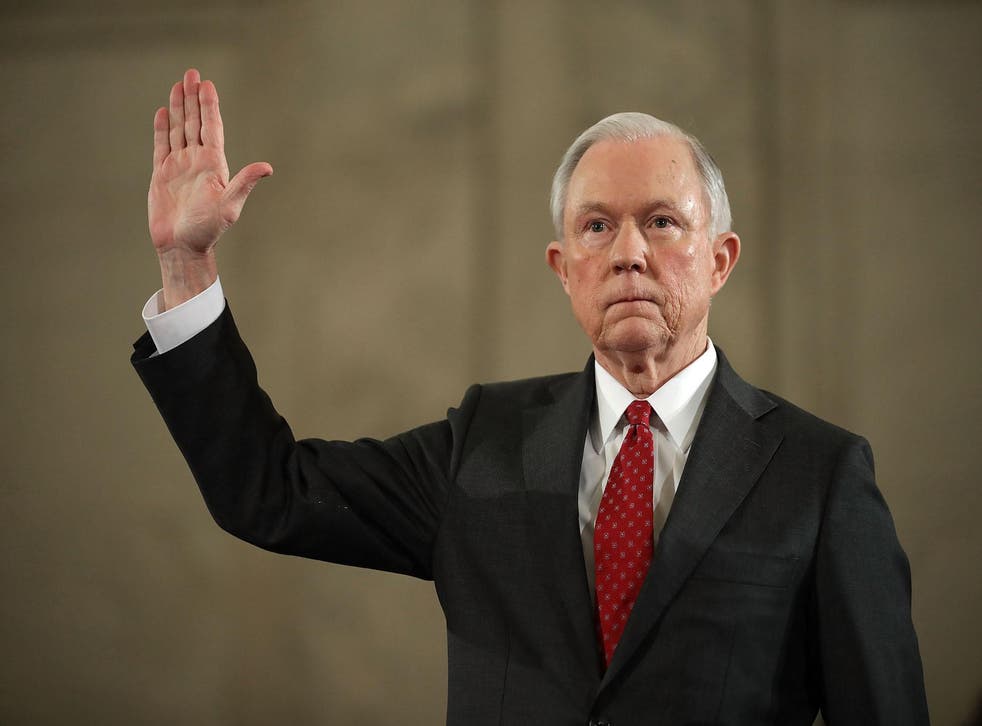 In 2010, Senator Jeff Sessions, then a member of the Senate Judiciary Committee, accused one of President Barack Obama's judicial nominees of submitting incomplete information about his background in order to hide controversial work from the Senate Judiciary Committee. Seven years later, Democratic senators are casting the very same charge against the Alabama senator as he stands before the very same committee, seeking its approval to become the nation's chief law enforcement officer as US Attorney General.
Critics contend that Sessions' omissions – which range from failing to disclose financial investments to his work during his first term as senator – reinforce their view of Sessions as a southern good ol' boy: a man who rhetorically claims to hold no animus for people of colour and other minority groups, but who throughout his career has championed policies that have had a devastating impact on the lives of immigrants and African Americans.
If Tuesday's hearing is any indication, the critics are right.
Jeff Sessions holds baby on lap as Senate hearing begins
In an exchange with Senator Al Franken, for instance, Sessions was forced to admit that while he claimed to have championed "20 or 30 civil rights cases to desegregate schools and political organisations and county commissions" as a United States attorney and listed civil rights cases as among the ten most significant cases he personally handled, he was never actually involved in working on those cases himself.
And how could he be? Nearly every school in Alabama was already desegregated years before Sessions became the US attorney.
Sessions also told senators that he understood "the history of civil rights and the horrendous impact that relentless and systemic discrimination and the denial of voting rights has had on our African-American brothers and sisters." But just minutes later, when pressed on his voting rights record, Sessions referred to the Voting Rights Act – which, until recently, places areas of the country with a record of racially motivated voter suppression under federal oversight – as "intrusive". At the hearing he said that controversial voter ID laws, which critics claim adversely effect minority communities, are "okay" if properly drafted.
The Alabama senator also sought to paint over his life-long opposition to immigration reform. "I would try to be supportive to end the illegality and put us in a position where we can wrestle with how to handle these difficult, compassionate decisions," he told the Committee. But that compassion didn't even last the length of the hearing.
Asked how he would treat the nearly 800,000 children of undocumented immigrants who have spent their entire lives in the United States and came out of the shadows to sign up for President Obama's Deferred for Childhood Arrivals (DACA) executive order program, Sessions quipped that he "could have no objection to abandon that order." He then proceeded to dodge a series of questions from various senators about what he would recommend the new president do about the children who have already come forward.
"That does not answer the question about 800,000 that would be left in the lurch, whose lives would be ruined while you're waiting on Congress for a bill that you opposed," Senator Dick Durbin pointedly remarked at one of Sessions' answers. The Alabama senator smiled. "I understand your concerns," he replied.
But no matter how hard Sessions works to dress his answers in flowery rhetoric or, as he accused others of doing, hide his most controversial beliefs, it's clear to the millions of Americans who will be negatively impacted by Sessions that he neither understands their concerns nor does he hear them.
Join our new commenting forum
Join thought-provoking conversations, follow other Independent readers and see their replies