Jeremy Corbyn needs to give the speech of his life if he ever hopes to become prime minister
Corbyn's messianic status will survive the antisemitism furore, but to win a parliamentary majority he'll have to appeal to the broader electorate, which needs reassuring that he has the instincts and temperament to be trusted with power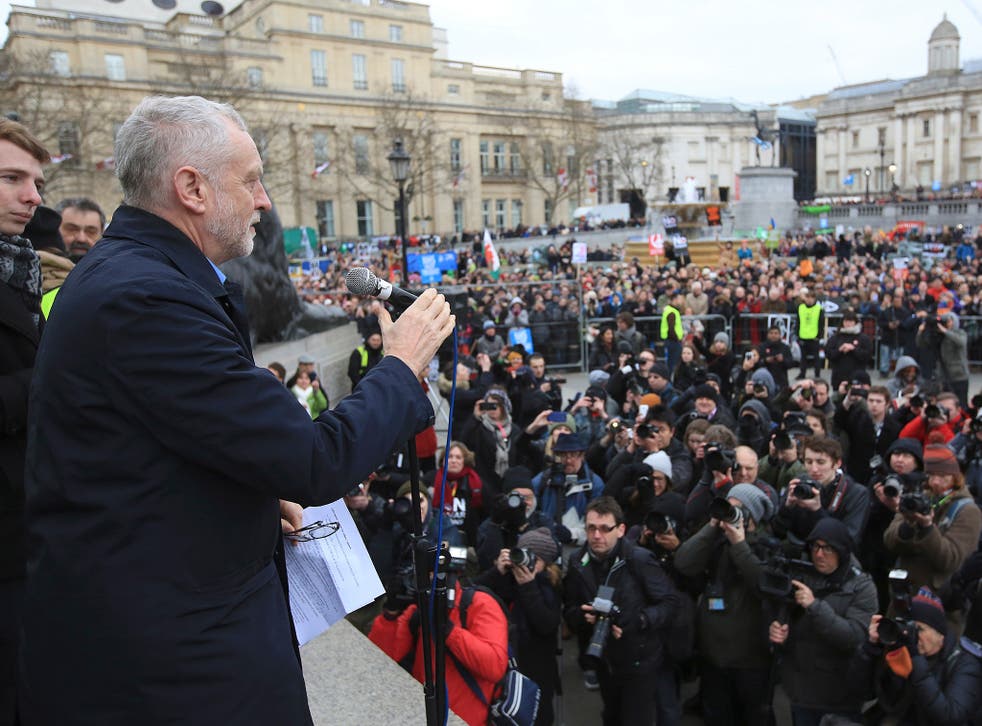 When you're in a political hole, it isn't always enough to just stop digging. With a hole is as deep as Jeremy Corbyn's, you need to climb out and fill it in.
For two years, Corbyn has tried to obey Denis Healey's first law of politics ("stop digging") by taking the ostrich position towards the antisemitism of a relatively small but disproportionately loud minority of Labour Party members.
This Arsenal fan's guiding light is the convenient myopia of Arsene Wenger:
"Now I must ask what you made of the incident that got Patrick Vieira sent off," a Sky Sports pinhead would ask the Alsatian manager in the tunnel.
"Which incident?" Wenger replied.
"The one on 57 minutes when Vieira pulled the missile launcher out of his pants, and fired at Roy Keane."
"I didn't see that."
"But Arsene, the missile took out your dug-out. It missed you by three inches."
"I saw nothing."
Tony Blair says the people around Jeremy Corbyn don't take antisemitism seriously
Although Wenger's decline has nothing to do with his notorious selective blindness, his career trajectory offers a warning. He was the messiah in the time of Vieira and The Invincibles. Now he's just a very naughty boy, overstaying his welcome and clinging to his job.
Corbyn's messianic status among the faithful will survive the antisemitism furore. His approval ratings with Labour members seem undamaged. But you don't win a parliamentary majority by appealing to the faithful, you win by building a broad coalition that includes those who lean towards your political world view, and prefer your policies, but need reassuring that you have the instincts and temperament to be trusted with power.
In March 2008, Barack Obama faced a crisis over race. His progress to the presidential nomination was in doubt after footage emerged of his pastor, the Reverend Jeremiah Wright, ranting about US imperialism: "No, no, no, not God bless America. God damn America … for killing innocent people."
Obama was in the congregation at the time. Being smeared by association, as Corbyn would argue he is now, presented a moment of maximum danger. If the racist meme – that he was an outsider, un-American and a cuckoo in Uncle Sam's godfearing nest – spread beyond the white supremacist media, it might well have killed his candidacy.
Obama didn't do a Wenger. On March 18 2008 in Philadelphia, he addressed the problem head on in the speech he called A More Perfect Union.
It was the finest political speech of my lifetime, as much for its courage as forensic brilliance. Obama sugar-coated nothing. He acknowledged black anger and its roots. He also admitted that his grandmother felt scared if she heard footsteps and looked round to see young black men.
Should I vote Labour? Corbyn's biggest policies explained

Show all 9
Only by confronting the mutual distrust, he said, could America move past its appalling racial history.
All right, all right, 10 years on that soaring message of hope seems to have fallen on deaf ears, including two in the White House and countless more in various US police departments. One speech, however sublime, cannot change the world. But it can change the course of political history, as that one did by ending race as an electoral issue.
Corbyn is no Obama, bless him, when it comes to the oratory. Even if he were, the ideal moment to give his grand speech on antisemitism passed two years ago, when Ken Livingstone was suspended for his tonally distasteful remarks about Hitler the proto-Zionist.
But better late than never. Corbyn should make the speech now, stating with crystal clarity that he holds the Jewish people in exactly the same regard as every other racial minority on the planet. That he abhors antisemitism as absolutely as all forms of racism, and regrets not examining that viciously unpleasant mural more closely before mistakenly endorsing it. That henceforth any antisemitic sentiment posted on a social network will be punished with a lifelong ban from the Labour Party.
He also needs to talk about Israel. To equate criticism of the Israeli state's treatment of the Palestinians with antisemitism, he needs to say, is every bit as absurd and offensive as equating criticism of Islamic State with hatred of Muslims.
He needs to add that Israel is a friend, but that when it veers dramatically from the values on which it was founded, people of conscience must be free to be candid friends without being slandered as Jew-haters.
And he needs to say sorry for taking his eye off the ball, Wenger style, and enabling what should have been a brief embarrassment to snowball into a persistent crisis.
For now, he is safe. Like the Arsenal coach, who has the board of directors in his pocket, he controls the levers of power. And he is blessed in some of his enemies. Alan Sugar's (hurriedly deleted) tweet of a photo-shopped picture of Corbyn sat beside the Fuhrer on their merry way to Nuremberg was a boon. If all his opponents were as reliably imbecilic as the platform-shoed little lordship, the ostrich position might even work.
But they aren't. Good people, many but by no means all of whom may be Jewish, are angry, hurt and even fearful due to a monumental failure of leadership.
I do not believe, for what it's worth, that Jeremy Corbyn is an antisemite. I do believe that, as with the misjudged tone of his reaction to events in Salisbury, he feels too shackled by decades-old emotional affiliations to speak freely for fear of offending his friends.
But it isn't his friends who will put him in Downing Street. He needs to loosen those chains and address his doubters in the speech of his life. If he doesn't climb out and fill it soon, that hole could be his political grave.
Register for free to continue reading
Registration is a free and easy way to support our truly independent journalism
By registering, you will also enjoy limited access to Premium articles, exclusive newsletters, commenting, and virtual events with our leading journalists
Already have an account? sign in
Join our new commenting forum
Join thought-provoking conversations, follow other Independent readers and see their replies