Jeremy Corbyn confronted the Tories with the poverty they're creating at PMQs - and all they could do was laugh
The Tories seem to forget that they were the last government - at some point they will have to take responsibility for their handling of the nation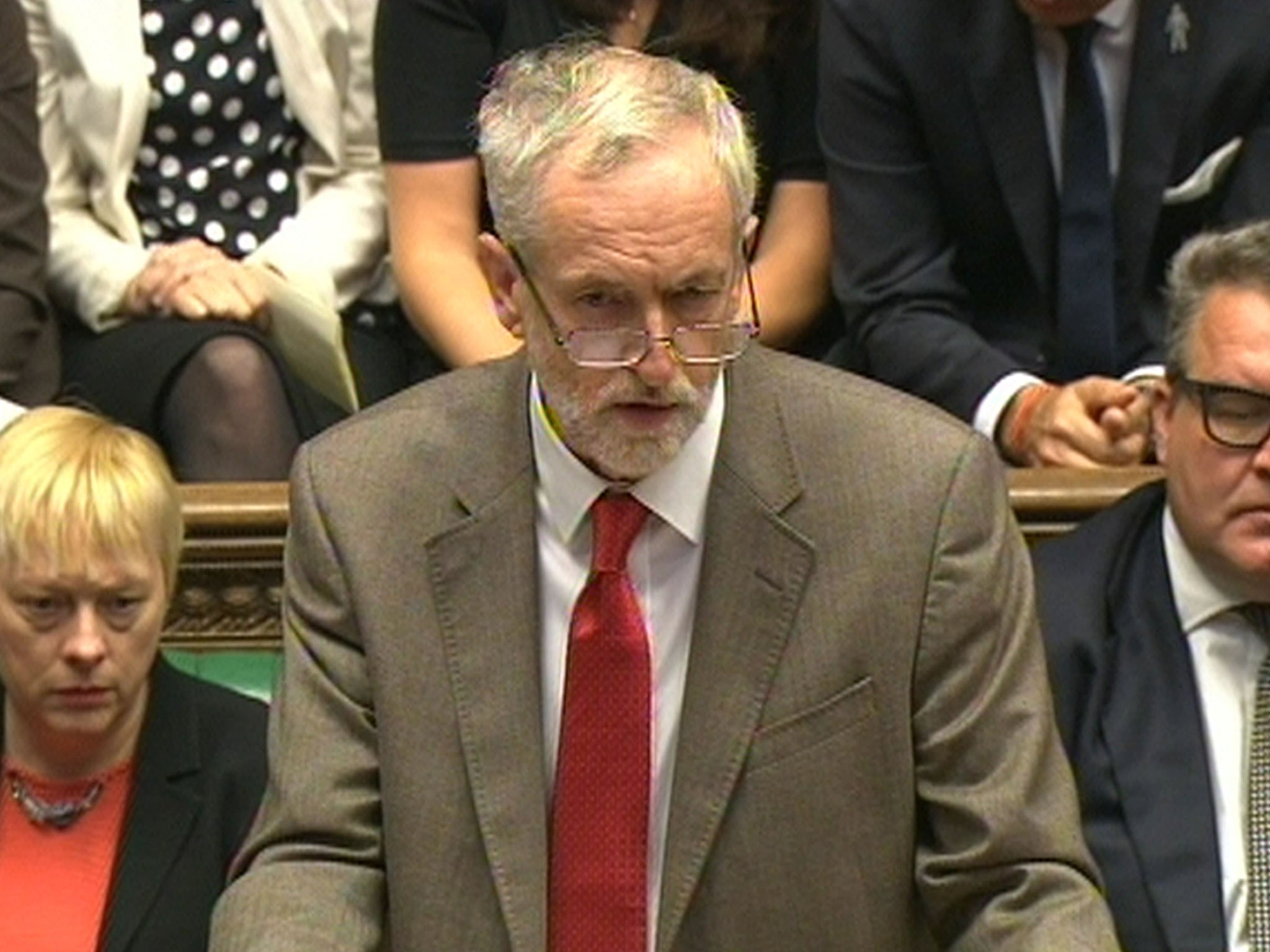 As Jeremy Corbyn stood for his second PMQs today, the mocking Tory laughs told us everything we need to know about their enduring Bullingdon Club-style politics. Old habits die hard, it seems. But Corbyn opened strongly, with an issue that unites the Labour party: the cuts to working tax credits which penalise the lowest earners, known colloquially as the Tory work penalty.
Again, the Tories laughed at the name 'Kelly', so apparently unbelievable do they find the first names of Corbyn's constituents; they soon fell silent, however, as they heard of her struggle as the mother of a disabled child earning minimum wage in a 40.5-hour-per-week job. Corbyn tackled the bullyboys by pausing at their laughter this time. 'Some may find this funny,' he said, as he continued to talk about mass inequality and the housing problem in London. It was a subtle highlight of something glaringly obvious: for millionaires protected by Tory policies, inequality bolstered by unfair taxes and buy-to-let properties really is hilarious.
Corbyn Stare after Conservatives laugh at PMQs
Cameron's reply to the work penalty issue was the same old line: apparently a £20-a-week increase in wages will magically solve the problem. This is not true, of course, as Corbyn promptly replied: working families are set to be £1,300 a year worse off as the Conservative government hammers the working and middle classes so as to give to the super rich.
Cameron claimed that Corbyn's figures on poverty were wrong, but perhaps that is something to do with the fact that the Work and Pensions Secretary fixed the definition of 'poverty' recently. You don't feed and clothe homeless children by changing a definition, and the government should be ashamed. The fact that 50 per cent of wealth is in 1 per cent of hands globally is shambolic, and reports today that inequality is growing in the UK even as our country now has the third most 'ultra-high net worth individuals' in the world put paid to Cameron's claims to have driven opportunity. There could be no bigger proof that his policies continue to squeeze the middle and punish the poor.
Jeremy Corbyn probably had a headache even before PMQs started. George Osborne's proposal of a 'fiscal charter' has been causing problems for Labour over the last few days, not least because it was once a Labour policy rubbished by Cameron himself. It seems strange, then, that Tories are so desperate to implement it now, considering that the Governor of the Bank of England has not endorsed its proposal and no economist has come out in support of it. Most commentary has focused on how it is unrealistic to try and tie the hands of future governments – almost as though Osborne is trying to make an ideological (and erroneous) point about how Labour 'caused the recession by their overspending', rather than the truth about rich bankers running wild without regulation. Of course, it also gave Osborne an excellent opportunity to personally ask Labour MPs to rebel – little more than a cynical attempt to ruffle some feathers.
In June, over 70 economists published a letter that clearly noted that the charter has 'no basis in economics' and that permanent surplus would increase the debt of households and businesses. The policy is not about protecting the British economy; it is an attempt to bury the Labour party under the same message of the last government. The Tories seem to forget that they were the last government - they have been in power now for almost six years, and at some point they will have to take responsibility for their handling of the nation.
Despite all this, PMQs today were the best moment of Corbyn's leadership of the Labour party so far. Osborne's attempt to destabilise the Labour party and force Labour MPs to rebel spectacularly failed, while Corbyn asked if he could bring the Prime Minister back to reality as Tory rhetoric failed against his grassroots facts.
David Cameron's biggest controversies
Show all 8
Cameron wants to get Britain building houses, he wants to alleviate poverty, and he wants to rebuild the economy – or so he'd have you believe. In the last five years, house-building has stalled, poverty has increased, inequality appears to be rising and the national debt has doubled. At some point, the Tories have to stop blaming Labour for their own disastrous record. Corbyn is now attacking their mythology head-on – and he might just be getting somewhere.
Liam Young is a freelance political journalist studying international relations at the LSE
Join our commenting forum
Join thought-provoking conversations, follow other Independent readers and see their replies