Jeremy Corbyn could decide the EU referendum – so why isn't he trying?
With Conservative voters divided, both sides in the referendum agree that Labour supporters could swing it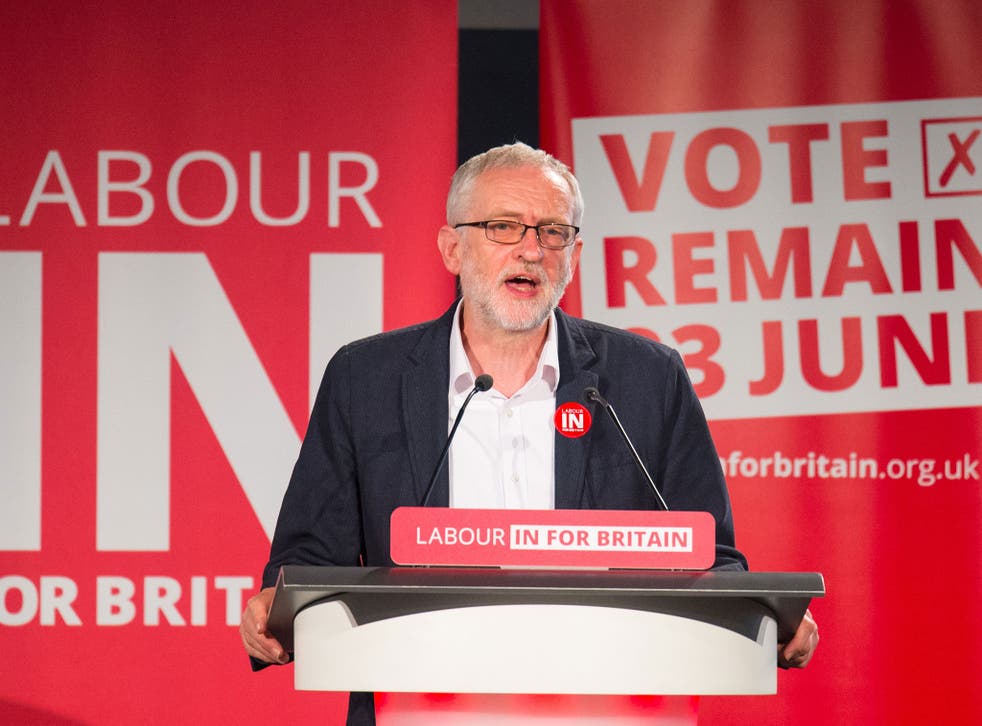 When David Cameron telephoned Sadiq Khan to congratulate him on winning the London mayoral election, his call was not without self-interest. The Prime Minister pleaded with Khan to get out the Labour vote in London in next month's EU referendum. Khan will play his part from next week and is expected to represent the Remain campaign in one of the TV debates.
Cameron's request reveals anxiety in the In camp that Jeremy Corbyn is making only a half-hearted attempt to persuade Labour voters to back Remain. The Labour leader usually couples his "vote In" message with strong attacks on the Tories and refuses to share a platform with them. Allies explain that Corbyn has been scarred by Labour joining the Tories in a cross-party campaign to keep Scotland in the UK in 2014. "His attitude to the EU referendum is all about the Scottish one," one Corbynista MP admitted. "It was the final nail in our coffin in Scotland."
Although the latest opinion polls on Europe suggest a clear lead for Remain, it knows it can take nothing for granted. The Leave campaign will not go down without a fight and is now playing the immigration card for all its worth.
Brexit campaigns in full swing
With Conservative voters divided, both sides in the referendum agree that Labour supporters could decide it. Corbyn, an instinctive Outer who voted to leave in the 1975 referendum, went with the pro-EU flow of his party when he became leader last September, saving his energy for battles on Trident and air strikes in Syria. His head over heart decision angered some hard-left allies. They have launched a Lexit (Left Exit) campaign, which argues that Brexit could bring down Cameron and the Tory government – even though most Labour MPs are not exactly clamouring for a snap general election. Some left wingers believe Brexit would be good for the EU as it would break up the neo-liberal club and put the single currency out of its misery. A separate Labour Leave group includes eight MPs such as Frank Field, who warns that by backing Remain, Labour is driving working class voters into Ukip's arms. Pat Glass, Labour's spokeswoman on Europe, did a pretty good job of that on Thursday when she was caught on microphone describing a voter as a "horrible racist" and had to apologise.
As Corbyn regularly discovers, being leader of his party means he can't please either his friends (as he could easily do as a rebel backbencher) or his enemies within. Labour's pro-EU wing is worried that what it calls his lukewarm support could yet lose the referendum. Polls suggest that one in four Labour voters backs withdrawal; if they turn out in much greater numbers than Labour's "soft" Remainers, the result could be close.
The In campaign is frustrated by the less than reliable backing from the Labour leadership. Cameron aides insist he is relaxed about Corbyn sending different messages from him in order to reach a different audience. Critics accept that Team Corbyn has stepped up a gear since this month's local elections, but wonder whether this will be maintained until 23 June. There was frustration that when the decks were cleared on Tuesday for a big speech by John McDonnell, the shadow Chancellor attacked the "very negative" tactics of both sides and accused Remain of running Project Fear. "We didn't expect him to shoot at his own side," sighed one exasperated In campaigner. Some Labour MPs even claim Corbyn could face a leadership contest if the public vote for Brexit. "Anything he does is being taken down and may be used in evidence against him," snarled one. Despite that, a challenge to Corbyn looks more likely next year than this.
The most scaremongering arguments for Brexit

Show all 7
His allies insist that Corbyn is not a secret Outer and is convinced that, on balance, it is right for Britain to remain in the EU for now. He believes that Brexit would allow Tory Europhobes to scrap workers' rights guaranteed by the EU and to pursue their real Thatcherite agenda. McDonnell is backing Another Europe is Possible, an anti-austerity group which wants to change the EU from within. It includes Yanis Varoufakis, despite his bruising experience at the EU's hands when he was Greece's finance minister. He believes Brexit could trigger the EU's implosion, which would be bad for the UK economy as well as a disaster for its neighbours.
There is another reason why progressive voters tempted by Brexit should hold their nose and vote to remain – this time, at least. Outers like Gove and Boris Johnson claim the EU has fuelled the rise of populist, extremist parties on the left and right across the continent.
What the Outers don't say is that this process would get a whole lot worse if Britain votes to leave. The biggest winner might be Marine Le Pen's National Front in France's presidential election next year. There could be demands for In/Out referendums in countries including the Netherlands, Denmark and the Czech Republic. To try to prevent such contagion, EU leaders would give Britain rotten exit terms. As the Greek crisis showed, we shouldn't underestimate their determination to keep the EU project alive. That is why, if we leave, even Germany would not do us any favours.
Register for free to continue reading
Registration is a free and easy way to support our truly independent journalism
By registering, you will also enjoy limited access to Premium articles, exclusive newsletters, commenting, and virtual events with our leading journalists
Already have an account? sign in
Join our new commenting forum
Join thought-provoking conversations, follow other Independent readers and see their replies