Jeremy Corbyn has a toxic relationship with the media – but he's the one to blame
Corbyn's camp consistently rejects the olive branches extended by broadcasters, and advice in general on media management – and now he's suffering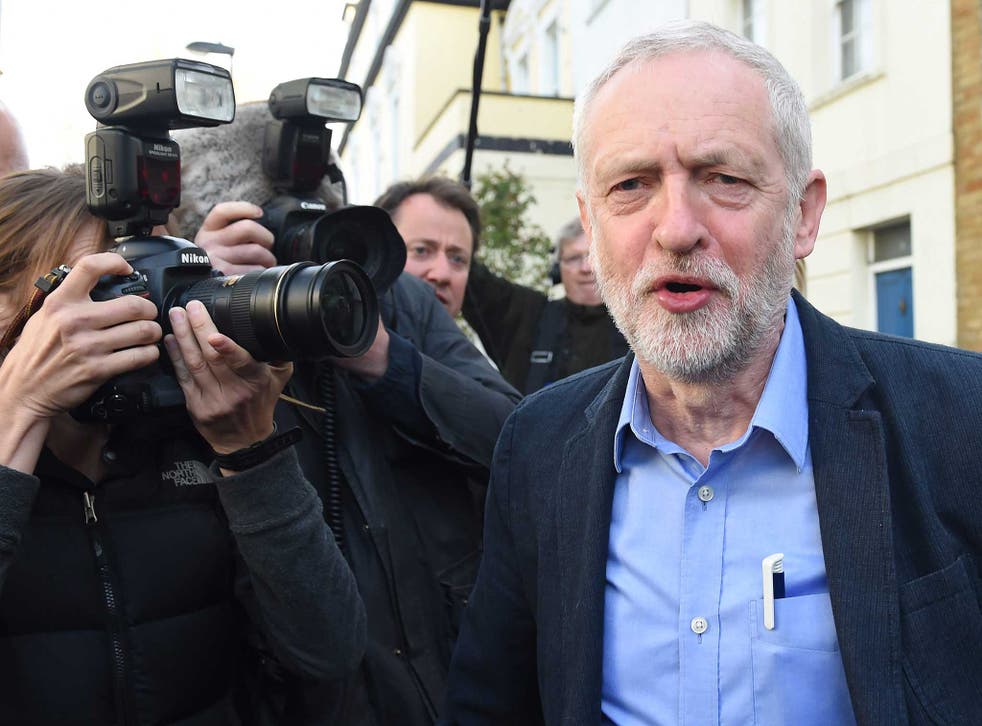 Only Jeremy Corbyn's operation could bury good news. It does it regularly. In contrast, Downing Street cynically copies an episode of TV's The West Wing called "Take Out the Trash Day", when the White House releases a string of bad news stories late on a Friday to dilute damaging headlines the following morning.
It was no coincidence that the Government dropped plans to force all schools to become academies on a Friday – the best day to bury embarrassing news because newspapers have early deadlines. George Osborne's retreats over pension reforms and disability benefit cuts also happened on a Friday.
Jeremy Corbyn attacks David Cameron's statement in Parliament
Corbyn somehow managed to announce Labour's inquiry into anti-Semitism at 8.07pm on a Friday. As a result, most of the next day's papers had negative headlines on the issue. They would have been neutralised if journalists been briefed a few hours earlier.
Last autumn, I complained when a Saturday speech by Corbyn was released far too late on a Friday to secure much space in the next day's Independent. "It won't happen again," Corbyn's office assured me. Seven days on, another Saturday speech arrived – an hour later than the previous one. I know this sounds like trivial gossip from the Westminster village but on each occasion, incompetence prevented Corbyn from getting positive media coverage.
It happens daily.
I understand why Team Corbyn do not exactly love the media. Most newspapers are hostile and his early coverage as leader – fictitious "snubs" to the Queen, untrue policy stories ("Corbyn to abolish the Army") – reinforced a bunker mentality. Corbyn had won an incredible victory in the Labour leadership election on a wave of support through social media, so it was natural to treat the mainstream media with a long spoon. He also recoiled from the media spin to which New Labour was addicted.
But it is now clear that Labour under Corbyn is cutting off its nose to spite its face. Under him, Labour's relations with the media are as bad as I have seen for any party in 34 years as a Westminster journalist. Treating virtually all the media as the enemy-- including broadcasters who have a duty to be impartial – is counterproductive. Last week, broadcasters held peace talks with Corbyn aides but left the meeting frustrated and with little hope of improved co-operation. Corbyn is tetchy when he is door-stepped at his Islington home, sometimes putting his hand over a TV camera. It looks awful to viewers. For his own and his party's sake, he has got to learn to smile when he doesn't feel like it. That's leadership.
Corbyn allies claim a hostile "media narrative" against their man sets him up to fail and gives him no credit when he does not. They argue that the "right-wing media" is in denial about the shifting centre of gravity in British politics shown by Corbyn's election, portraying him as an insurgent rather than the leader of a new politics.
They have a point. And yet the Corbynistas' tactics appear very old politics. They launched an online petition calling for Laura Kuenssberg, the BBC's Political Editor, to be sacked for her coverage of last week's election results. It was taken down by the campaign group 38 Degrees after abusive misogynist comments were added, some calling her a "whore" and a "bitch." For me, her election reports were accurate and balanced, as they always are.
The council results in England showed that Labour is not appealing to the voters it must win round, including Conservative voters at last year's general election. To his credit, Corbyn acknowledged the results were "mixed" when he addressed Labour MPs on Monday, and that his party it would need to attract voters from all other parties to win the 2020 election.
Dave Brown on Jeremy Corbyn

Show all 12
But Corbyn could learn a lot from Sadiq Khan, who marked his election as Mayor of London with a call for Labour to be a "big tent that appeals to everyone – not just its activists", a dig at Corbynistas keener to win power in the party than the country. Khan ran a professional election operation and has made a very good start at City Hall. He was sworn in at a multi-faith ceremony at Southwark Cathedral and his first engagement as mayor was to attend a Holocaust Remembrance event – a symbolic statement that he will rebuild bridges with the Jewish community, who once regarded Labour as their natural home. Where was Corbyn?
Khan kept remarkably cool under fire during a nasty campaign by the Tories and their newspaper allies which accused him of giving cover to Islamic extremists. Khan won the media's respect as a result: Corbyn should take note.
There is another reason why the Labour leader should sharpen up his act. True, he is never going to win round the Labour MPs determined to oust him before the 2020 election. But to see off the inevitable attempted coup, he must retain his support among Labour members and supporters. To do that, Corbyn needs to run a more professional and competent operation. Labour members will not turn against him because of his policies, but they might do if they think he is not capable of winning power.
Register for free to continue reading
Registration is a free and easy way to support our truly independent journalism
By registering, you will also enjoy limited access to Premium articles, exclusive newsletters, commenting, and virtual events with our leading journalists
Already have an account? sign in
Join our new commenting forum
Join thought-provoking conversations, follow other Independent readers and see their replies