Pacifist or not, Jeremy Corbyn is not fit to be labelled the heir to Robin Cook
How exactly, without countenancing any conceivable use of force, would the Labour leader plan to arrest Bashar al-Assad or any of his henchmen?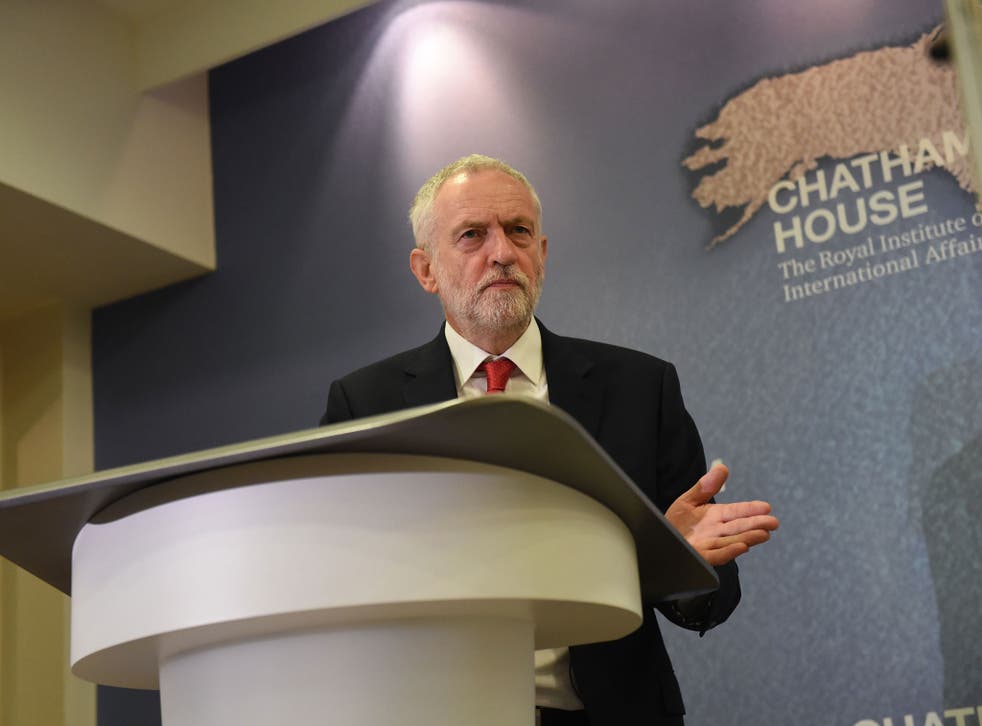 Today, Labour leader Jeremy Corbyn tried to present himself as the heir to Robin Cook's "ethical foreign policy". In reality, his foreign policy smacks of a hollow inertia that would neither uphold the international rule of law, nor keep Britons safe.
I was reminded of Robin Cook last week, while handing out election leaflets at Cobham train station. I served as a Foreign and Commonwealth Office lawyer when Mr Cook was Foreign Secretary, just after Britain joined Nato's bombing of Serbia to protect Kosovan civilians from mass slaughter and ethnic cleansing. Predictably, any military intervention elicits claims of war crimes, however unfounded.
Sure enough, when I was posted to The Hague, I was tasked to respond to Slobodan Milosevic's attempt to subpoena Mr Cook before the Yugoslavia Tribunal for his role in the Kosovo conflict. Milosevic's legal support was the erudite UK barrister, Stephen Kay QC. What do you know, he now turns out to be a constituent, commuting to the London bar from Cobham. We briefly reminisced. The subpoena came to nothing. Mr Cook passed away shortly afterwards. But the chance encounter reminded me that, whatever else I feel about his politics, he had moral courage.
It is easy to forget how controversial the humanitarian intervention in Kosovo was at that time. Without approval from the UN Security Council, the legal basis was tenable, but hotly contested. After the hornets' nest of the previous Balkan wars, Kosovo was feared as a morass. Targeting was fraught with the inherent challenges of hitting military targets and minimising civilian risk.
UK General Election 2017

Show all 47
Still, after carnage in Bosnia, Mr Cook was not willing to stand idly by and watch another avoidable humanitarian disaster unfold in Europe. Asked today specifically on whether Britain was right to intervene in Kosovo, Mr Corbyn said a different way should have been found. In fact, the only UK military operations he could bring himself to endorse since the Second World War were the limited UN peacekeeping operations in East Timor and Cyprus.
I respect Mr Corbyn's pacifistic idealism, however much he shuns the label, but it's no way to defend Britain or international law.
Mr Corbyn talked about how human rights must drive foreign policy. Yet his insistence that it must always be done by committee at the UN just looks naive. Asked what you do if unsavoury regimes veto action, the Labour leader mouthed platitudes about engaging more with Russia and China. Questioned on Syria, Mr Corbyn said he wanted to see the Assad regime prosecuted for war crimes. How exactly, without countenancing any conceivable use of force, would he plan to arrest Bashar al-Assad or any of his henchmen?
Mr Corbyn said he was haunted by US intervention in Vietnam, and would not hold hands with Donald Trump. And yet, this is the Labour leader who sets such a high prize on international co-operation, and is willing to collaborate with Russia and China – let alone some of the Latin American tyrants he has praised in the past.
After the second Iraq war, which Mr Cook resigned over, Britain has no appetite for open-ended or hubristic military interventions. Equally, punting every international threat off to the UN, inviting grinding global indecision, is not moral let alone political leadership. It means sitting on your hands, a green light to despots and dictators to savage their own citizens, and exposing Britain to greater risk from the likes of Isis and other international terrorist groups.
General Election polls and projections: May 12
Anti-Americanism isn't a foreign policy. And Jeremy Corbyn is no Robin Cook. Mr Cook understood that sometimes military force is required to defend the vulnerable. He would have shuddered at Mr Corbyn's recent questioning of UK military support for our Nato ally, plucky Estonia, faced with the real menace of Vladimir Putin on its doorstep.
Add to this his history of apologism for the IRA and Hamas, along with kooky past comments about abolishing the army and closing down Nato, and Mr Corbyn is not fit to lead the UK. His principled pacifism would make for an intriguing academic symposium, but in a prime minister it is positively dangerous.
Dominic Raab is the Conservative Parliamentary Candidate for Esher & Walton
Register for free to continue reading
Registration is a free and easy way to support our truly independent journalism
By registering, you will also enjoy limited access to Premium articles, exclusive newsletters, commenting, and virtual events with our leading journalists
Already have an account? sign in
Register for free to continue reading
Registration is a free and easy way to support our truly independent journalism
By registering, you will also enjoy limited access to Premium articles, exclusive newsletters, commenting, and virtual events with our leading journalists
Already have an account? sign in
Join our new commenting forum
Join thought-provoking conversations, follow other Independent readers and see their replies