While Jeremy Hunt threatens UK doctors to keep them in the country, Theresa May pushes the foreign ones out the door
If keeping foreigners out was the limit of their fantasy, Jeremy Hunt's plan to keep Brits in must be quite a bonus. But a quarter of the NHS is made up of foreign workers – and if we lose them, we lose our national health system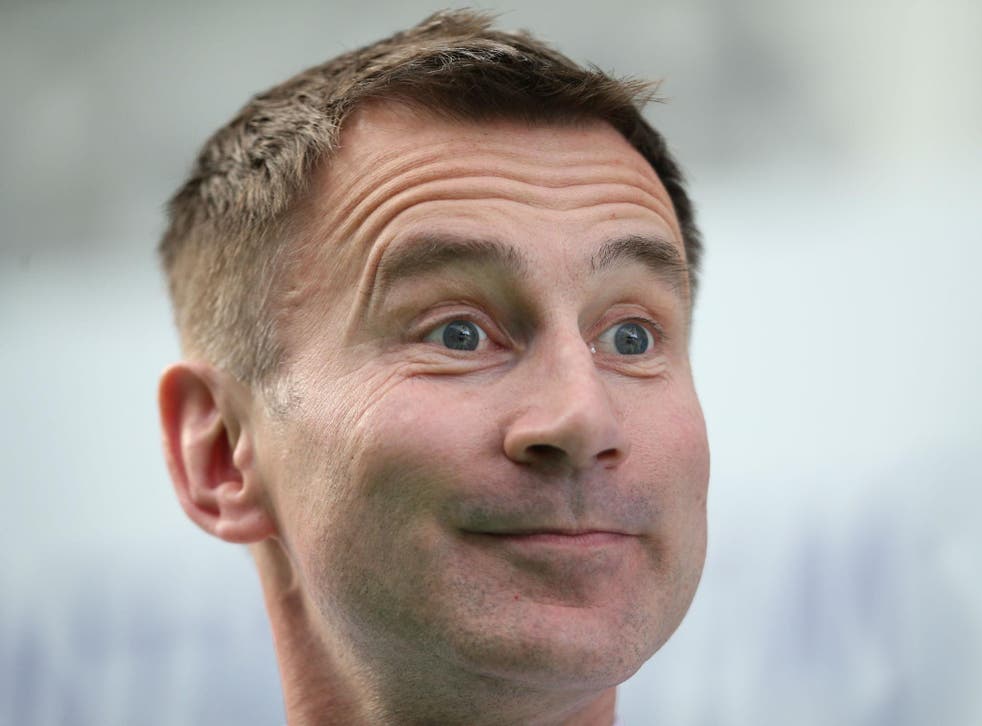 Those foreign doctors, aren't you just sick to death of them? Coming over here, working brutal hours under grotesque pressure in A&E and oversubscribed GP practices, saving our lives. And for this they expect to be treated as honoured guests? The sheer gall of them.
Well, the Prime Minister, Gawd bless 'er, isn't having it. No one's perfect, and regrettably Theresa May has given them a reprieve. They can stay, she graciously implies, for 10 years. But then, out.
Jeremy Hunt affects to believe that by 2025, the NHS will have trained enough home-grown doctors to compensate for the exodus, so we can be "self-sufficient". So not until 2025 can those ticks be ripped from the national flesh like the blood-sucking parasites they are, and sent back to India, Greece, Italy, Pakistan, or from wherever else they had the impudence to come from in the first place.
Madly misplaced English arrogance manifests in various forms, from the lager-fuelled chant of the football hooligan to the transcendent idiocy of Nigel Farage's post-Brexit footwear. In May and Hunt's magisterial insult to people without whom the NHS would disintegrate, we find a novel expression.
Admittedly, this is not May's most curious act as PM. That honour belongs to her retention of Hunt. How he clung to his job when she succeeded David Cameron may remain a 243-pipe mystery unless and until one of them reveals all in a memoir.
On the late morning of 14 July, as a morose Hunt shuffled along Downing Street bereft of his NHS badge, it was certain he was about to be sacked. But the SuperPortillo Moment never materialised. The sound of champagne corks being squeezed back into bottlenecks was deafening a little later as the greaser's greaser emerged, badge restored to lapel, with a grin that combined relief with trademark smugness.
Whatever changed May's mind that day, Hunt franked his form as the leading Cabinet survivalist of modern times, and lived to fight the medical profession another day.
Now, building on a pyrrhic public relations victory over the junior doctors, he opens a new front in the war to degrade those who dare to confuse a career in medicine with a noble vocation.
Hunt's latest masterstoke is to use a monetary threat to yoke junior doctors to the NHS. Any doctor who moves abroad within four years of qualifying, he says, must repay the cost of his or her training, estimated at £220,000.
When Brexit fans were wet-dreaming about an end to freedom of movement, they may not have foreseen it working both ways. If keeping foreigners out was the limit of their fantasy, this plan to keep Brits in must be quite a bonus.
Sky News reporter calls Jeremy Hunt the c-word
The obvious question is why Britain has been obliged to import some 30,000 medics (about a quarter of the NHS total). And the obvious answer is that being an NHS doctor, particularly a GP, has become a bleeding awful job.
As if this isn't demoralising enough, the Government continues to stigmatise their motives and treat them as the enemy within. Small surprise that so many scarper to countries like Australia, where the working conditions are decent and doctors tend not to be used as political punchbags.
There are different approaches to staunching this doctorly diaspora. One, as Hunt appreciates, is to blackmail them with a crippling financial penalty – a proposal intended to increase the stigmatisation by implicitly suggesting they undergo the training primarily to acquire skills they can flog on the open market. The filthy spongers.
The other is to break this addiction to goading doctors into pitched battles, which the Government can only win by relying on a malevolent distrust of all public service pushed by the more reactionary areas of the press.
Theresa May accuses junior doctors of 'playing politics'
The second way involves bold investment. Understaffing is a primary cause of doctors' dissatisfaction, and maintaining current numbers by training up enough extra doctors to balance the numbers removed in 2025 won't change this. Given the projected population rise, in fact, it will be worse in 10 years than it is now.
But as much as increased investment, this way demands a change of perspective. Only very bright young people are accepted as medical students. They are clever enough to see that there are easier paths to more lucrative and enjoyable careers. Watching Jeremy Hunt portraying them as grasping mercenaries may persuade them to take one of those.
NHS doctors do not become NHS doctors for the money. They are not necessarily demigods of altruism, but they are devoted professionals who make sacrifices of time and effort beyond the capacity of most of us. They deserve respect. Even the foreign ones.
Register for free to continue reading
Registration is a free and easy way to support our truly independent journalism
By registering, you will also enjoy limited access to Premium articles, exclusive newsletters, commenting, and virtual events with our leading journalists
Already have an account? sign in
Join our new commenting forum
Join thought-provoking conversations, follow other Independent readers and see their replies