Jeremy Hunt, the two most horrifying moments of my career as a doctor started with a child and a rash
Our Health Secretary has clearly never watched a child die as I did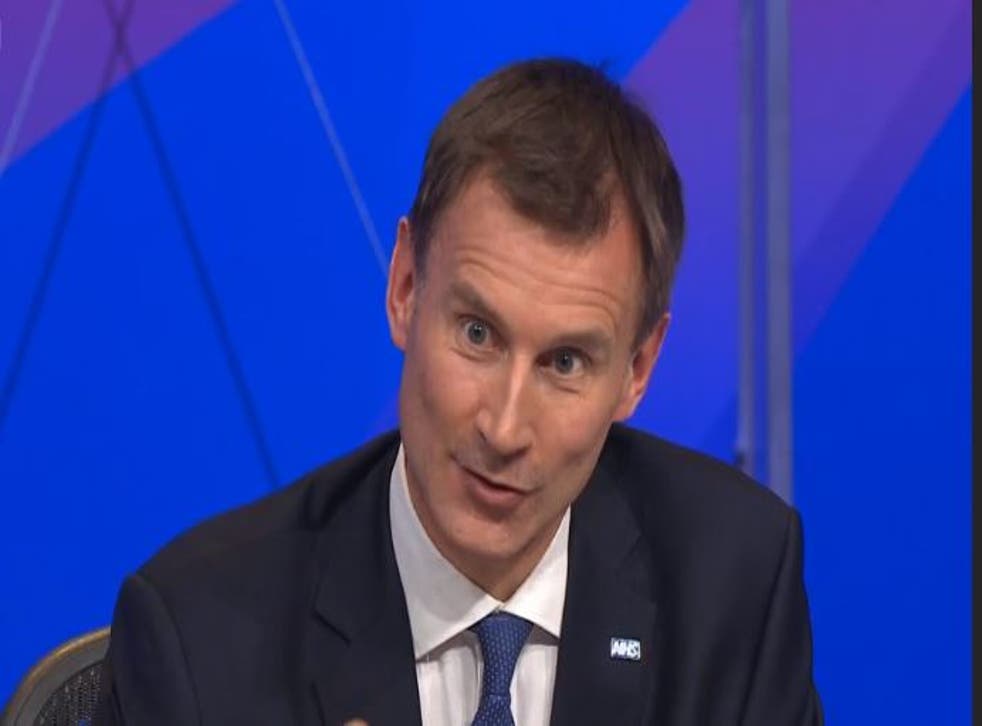 Every doctor has moments in their career that will haunt them forever. For me, there are two such moments etched into my memory, and they both involve children who suffered from meningococcal disease while I was working as a paediatric doctor.
The first involved a baby boy who had diarrhoea. His parents thought it might be a tummy bug but a subtle rash had appeared and they did the best possible thing for their son – they brought him straight to hospital.
Treatment was initiated immediately but within hours, in front of our eyes, the rash spread, covering large swathes of his small body. The situation became more critical. However, he received the intensive therapy necessary – and, thankfully, he survived.
As I then rotated to a different hospital, I never knew if this little boy suffered lasting effects from the illness but I will always remember him – and his parents, who had saved his life by taking prompt action and seeking medical help.
The other moment was not so positive. As a doctor in paediatric intensive care, I was involved with caring for a young girl with the same illness. In the middle of the night, the intensive care team worked tirelessly to try to save her but unfortunately it was not to be.
Her family's grief as the consultant broke the news to them that she had passed away echoes in my mind whenever I think of this horrendous condition.
Meningococcal disease is a bacterial infection, which can lead to either (or both) of two major illnesses: meningitis and septicaemia (blood poisoning). It's a condition that all medical students study, the true horror of which is only apparent when experienced first-hand.
I now specialise as a public health doctor and work in a field that invests significant resources into preventing the spread of this life-threatening disease.
So, for Jeremy Hunt, our own Secretary of State for Health, to put children's lives at risk with a throwaway comment suggesting parents should search the internet for images to diagnose their own child's rash before seeking medical care is beyond reckless.
The NHS is under pressure as never before. There is a crisis in general practice: doctors are leaving in their droves, and practices are closing. A&E departments are full to bursting with shortfalls in social care placing sustained pressure on the availability of hospital beds. The entire service is underfunded.
Yet simultaneously, ill-thought-out and under-resourced drives for change are being pushed through, demoralising and alienating the very frontline staff upon which the NHS depends. It is no wonder that junior doctors will be taking industrial action again next week.
So of course measures need to be taken to reduce the burden on emergency departments, which include helping people to recognise the appropriate place to go to seek care. In some circumstances, such as a simple cold or other minor self-limiting ailment, this may even involve people learning to better care for themselves.
However, despite all of this, not a single GP, A&E doctor, paediatric doctor or public health specialist would ever suggest taking a chance with a child with a rash.
Sadly, Mr Hunt's latest comment follows a worrying and highly dangerous pattern of scaremongering, driving vulnerable people away from seeking medical care urgently and when they need it most – people with suspected strokes, pregnant women, and now the parents of young children.
For all these reasons, please don't listen to our Health Secretary – because, put simply, he really doesn't know what he's talking about.
Register for free to continue reading
Registration is a free and easy way to support our truly independent journalism
By registering, you will also enjoy limited access to Premium articles, exclusive newsletters, commenting, and virtual events with our leading journalists
Already have an account? sign in
Join our new commenting forum
Join thought-provoking conversations, follow other Independent readers and see their replies