It is time Theresa May replaced Jeremy Hunt as Health Secretary – that is if she can find him
Have you seen Jeremy Hunt? Caucasian, lean, late 40s but looks younger, also answers to 'Health Secretary', and generally to be found (when he can be found at all) wearing a complacent grin?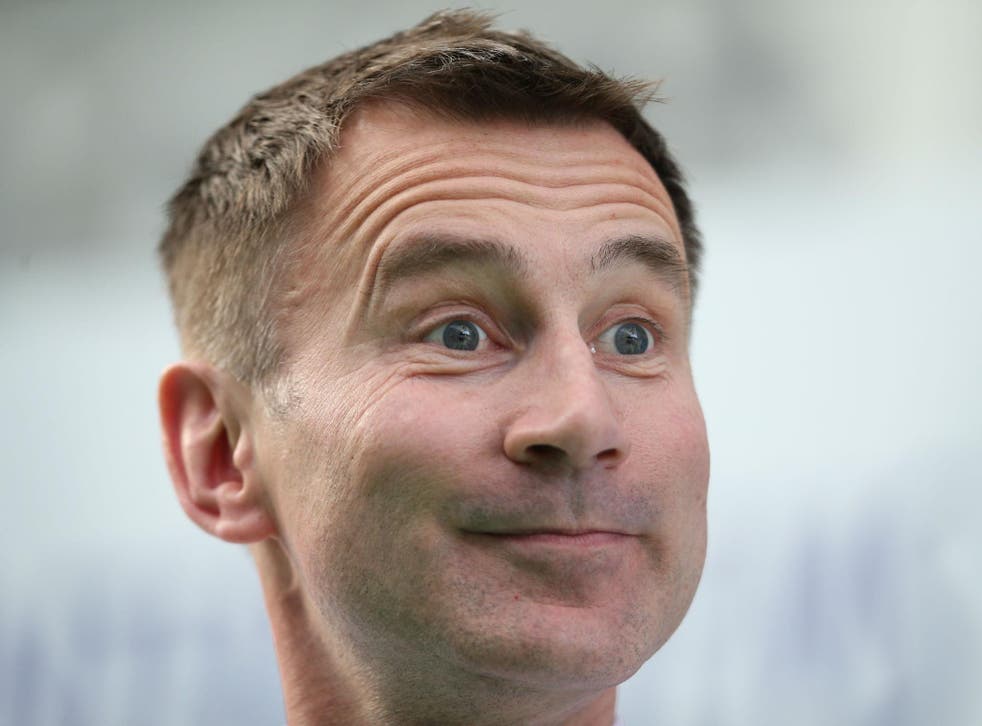 While others debate whether the term "humanitarian crisis" rightly applies to trolley-filled hospital corridors, I am asked to make this missing person's appeal.
Have you seen Jeremy Hunt? Caucasian, lean, late 40s but looks younger, also answers to "Health Secretary", and generally to be found (when he can be found at all) wearing a complacent grin?
If you do come across someone who answers that description, he may be approached. The threat Hunt poses is limited to his professional status. Personally, he is said to be soft-spoken and polite to the verge of ingratiating.
Obviously ignore this appeal if the minister has now been located. But at the time of writing, he remains missing in action while the NHS winter crisis continues to dominate the headlines.
Speculation is in poor taste while the dragnet searches go on, but why buck the form book by fretting about that? Hunt might have amnesia after banging his head on a red box, and be stumbling through a Surrey forest with no clue who he is. He may have suffered an Alan Partridge-style breakdown, and driven to Dundee, barefoot, while gorging on Toblerone. He could be hiding from the Prime Minister under his Whitehall desk, while she faces demands to do his job by appearing in the Commons to explain the chaos afflicting our hospitals.
UK news in pictures

Show all 50
It's all very peculiar, and possibly the strangest disappearance by a public figure since 1974 when John Stonehouse faked suicide by leaving his clothes on a Miami beach. If not, Agatha Christie's 11-day vanishing act in Harrogate back in 1926.
Those two eventually turned up, and so no doubt will his generation's second leading political survivalist (after only the great Keith Vaz). Hunt should have been sacked as Media Secretary for supporting Rupert Murdoch's acquisition of BSkyB. Instead, after taken a Uzi-full of bullets for David Cameron, he was promoted to Health.
When Theresa May took over in July, Hunt's wilful mishandling of the junior doctors' dispute appeared to have done for him when he ambled forlornly into No 10 bereft of his NHS badge. What he said to persuade her to spare him is another three-pipe mystery. But if it was "You can trust me, Theresa, I'm a safe pair of hands," she bought a right pup there.
Hunt should go now, not because he is directly responsible for the horrendous conditions in hospitals such as the Worcestershire, where two people have died from apparent want of treatment, and an elderly stroke victim (among others) spent well over a day in a corridor.
The only thing ever directly responsible for failure on this scale is catastrophic underfunding. No doubt a minister – perhaps Hunt, if he's been recovered and passed fit to resume his duties – will soon tell us that more money is not the answer. But, in the short term at least, it is. Of course it is.
Perhaps the cash will come from abroad. If a widely accepted definition of humanitarian crisis begins "a singular event or a series of events that are threatening in terms of health…", Aleppo's answer to Bill Nighy could front a TV campaign asking remaining inhabitants to donate three Syrian pounds by texting "Worcestershire".
Theresa May avoids directly answering four questions in a row on Brexit
This crisis, humanitarian or otherwise, will pass. No Conservative PM – even one who couldn't lose an election if the Kremlin released hacked email footage of her pleasuring Abu Hamza – would pay the political price of octogenarians routinely dying on trolleys. However little cash will staunch the blood, that exact amount will be spent. That's how things work here in the developed world's capital of sticking-plaster politics.
The reason Hunt should be removed goes beyond his absenteeism, though that ought to suffice. He should go because the salvation of the NHS is a long-term challenge, and he shows no serious commitment to finding long-term solutions.
This is no job from someone whose talents, when not Awol, start with sounding ameliorative on the Today programme, and end with projecting affability on the Today programme. It's a job for someone who understands that the survival of the NHS as a trusted institution depends on such essentials as teaching kids, from primary school on, about the supreme importance to health of nutrition; recruiting untold thousands of social care volunteers to enable the infirm elderly to go home and stop blocking the beds; using prohibitive taxation to limit abuse of alcohol and refined sugar products; educating us that a pharmacist is qualified to diagnose and prescribe for minor ailments; and other measures that would liberate GPs and hospital doctors to do the demanding work for which they were trained.
The NHS is sick, but it isn't in immediate danger. Like the battalions of type 2 diabetics it has to treat, it has a chronic condition which needs careful management if bits of it aren't (via privatisation) to be amputated. At its helm, it doesn't want a glorified public relations executive like Hunt. It needs someone who appreciates that the government must be the medical profession's respectful partner, and not its bullying overlord. It needs Sarah Woolaston, GP, MP, and such an authoritative chair of the Commons' select committee on health.
Only a bold, imaginative PM would promote someone without a shred of ministerial experience to such a difficult post. Sadly, the form book suggests this one is too brittle to tolerate as independent a voice as Dr Woolaston's. But at a time when the NHS palpably needs an expert and champion at the Cabinet table, how long can May risk leaving it in the hands of a lily-livered deserter?
Register for free to continue reading
Registration is a free and easy way to support our truly independent journalism
By registering, you will also enjoy limited access to Premium articles, exclusive newsletters, commenting, and virtual events with our leading journalists
Already have an account? sign in
Join our new commenting forum
Join thought-provoking conversations, follow other Independent readers and see their replies