Julian Assange is no hero of the left – after years evading justice, he's now buddying up with Donald Trump
As he faces questioning in London, the liberal left must accept the significant role the WikiLeaks founder is playing in Trump's presidential campaign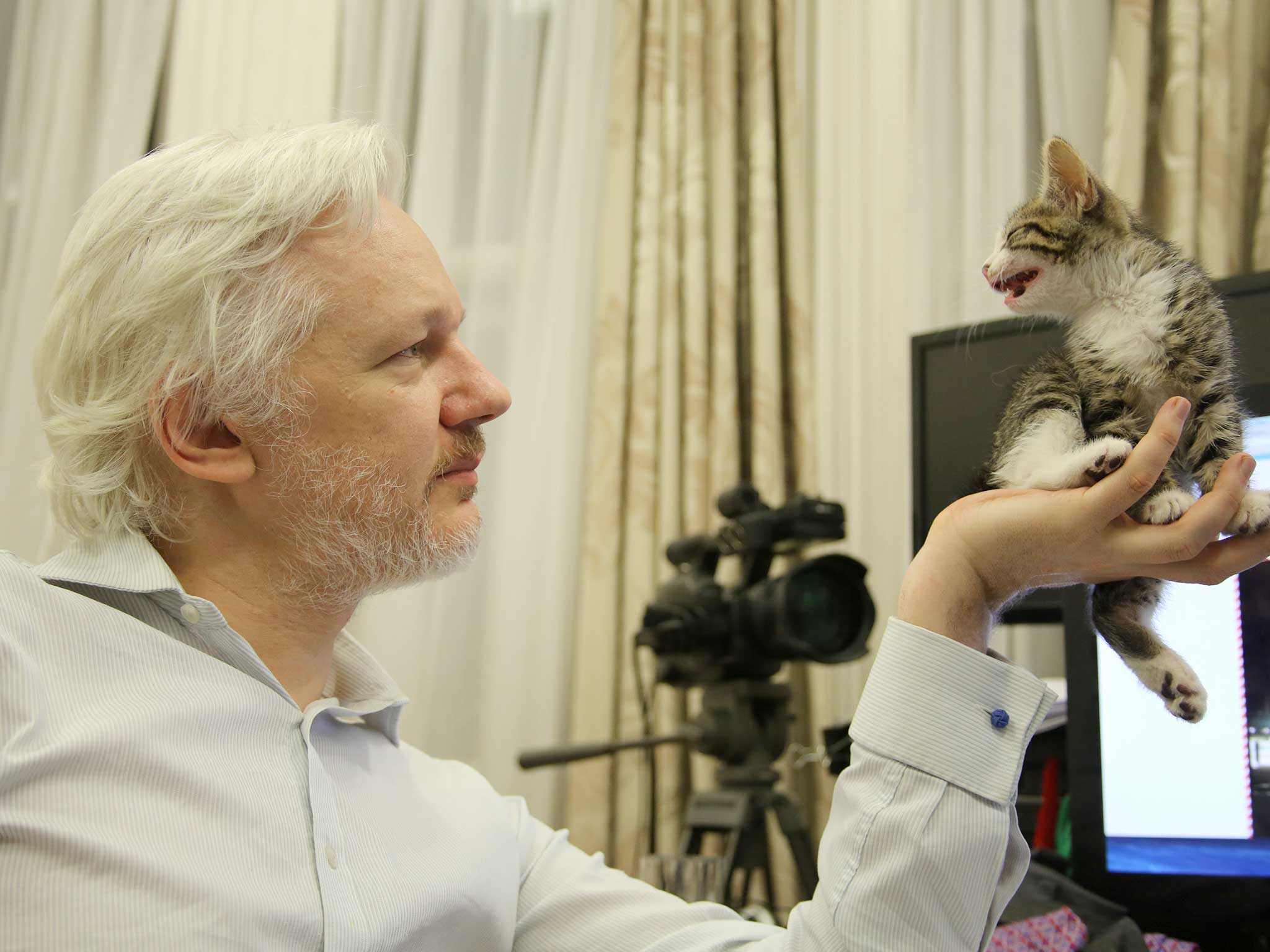 Donald Trump is the greatest threat to Western civilisation we have faced since the fall of the Berlin Wall. If elected, he threatens to jail his opponent, Hillary Clinton. He is emboldening the cranks and racists of the alt-right and destabilising the American people's faith in their democratic institutions with his loose talk that the system is "rigged". And, even though Trump represents a virulent strain of hard-right populism, he is being helped along by a hero of the libertarian left – Julian Assange.
Assange's alliance with Donald Trump looks, on the face of it, like one of the most unusual political alliances in recent history. The players in this dangerous alliance may share a fondness for the conservative patriarchy of Vladimir Putin's Russia but, for Assange, Trump is part of his calculations to escape his room in the Ecuadorian Embassy in Knightsbridge. A presidential pardon may stop him facing jail in the US (though no charges have been brought against him there so far), but it won't stop his extradition to Sweden to face sexual assault allegations.
Assange's political influence only remains because too many on the left have made half a decade's worth of excuses for him.
For a brief moment, Julian Assange looked like the future. The hacker-turned-activist had the vision to co-found WikiLeaks and turn it into the world's number one whistleblowing platform. He was hailed as the spirit incarnate of the internet; a man willing to face prison to let people know the truth about corruption in their governments and corporations. It is easy to forget how influential WikiLeaks once was.
Trump vs Clinton Like 'Cholera vs Gonorrhoea' - Assange at Green Party Convention
The organisation had an inner circle of highly skilled data analysts and journalists working across the globe on leaked documents. When WikiLeaks published US embassy cables on President Ben Ali's pilfering of state assets for shopping trips in Paris, it helped trigger the uprising in Tunisia.
Assange inspired an era of whistleblowing, from Edward Snowden exposing illegal US and UK surveillance, to the Panama Papers that showed the extent of global tax avoidance. Assange was powerful, seemingly above the law, and attracting international attention. A minority of journalists dared ask the question: who can hold the whistleblowers to account?
On 20 August 2010, two women entered a Stockholm police station and asked police to ensure Assange took an HIV test. The women allege that Assange had committed rape and sexual assault, charges Assange denies. He was due to be interviewed by police on 14 October 2010, but instead fled Sweden for London in late September.
People around Assange began to trash the reputations of the two women involved saying they were motivated by "malice and money". Others said the allegations were part of a sinister CIA plot to destroy WikiLeaks. Few of Assange's celebrity friends were willing to ask the question, what if Assange had committed sexual assault.
The law in Sweden means the charge of sexual assault has already expired and the rape charge will expire in 2020. He is now due to be questioned again by Swedish prosecutors inside the Ecudorian Embassy.
By now, you may have expected a chorus of voices from the liberal-left calling for Assange to return to Sweden to face questioning. If he was innocent, why could he not be questioned on these serious charges? Instead, people made excuses.
The excuses continued when months later, Padraig Reidy and I exposed damning evidence that suggested a close associate of Assange had given top secret US embassy cables to the dictator of Belarus, which may have landed brave democracy activists in prison. At first, we heard nothing. It took a former WikiLeaks staffer, James Ball, to blow the whistle for us to be taken seriously: ironically, now leaks were exposing an apparent cover-up culture at WikiLeaks.
It is because prominent people have made personal and professional excuses for Assange that he feels beyond reproach – even as he alienates those closest to him. Emboldened, Assange is going for his greatest ever prize: the US presidency.
WikiLeaks is leading the attack on Trump's rival, Hillary Clinton, with leaks that have so far cost the job of Debbie Wasserman-Schultz, the former Democrat party chair. Just last Thursday, another 2,000 internal emails from the Clinton campaign were released. And moments after the infamous video of Trump allegedly boasting about groping women was put online, Wikileaks responded with leaked emails of Hillary Clinton's speeches to Wall Street banks.
Robert Mackey of The Intercept, a site that has done much to give whistleblowers a global voice, says WikiLeaks has "started to look more like the stream of an opposition research firm working mainly to undermine Hillary Clinton than the updates of a non-partisan platform for whistleblowers."
It seems odd that the world's most prominent whistleblowing website has leaked nothing on Donald Trump and his mysterious tax records, yet is leaking the personal details of Democrat party donors. It seems highly likely that Wikileaks received these leaked emails from hackers working for the Russian Government.
What did Donald Trump say during the second presidential debate?
Show all 8
With ammunition from Wikileaks, Trump is hammering home his case that the first female nominee from a major party for the presidency is unfit for office. Trump has lavished WikiLeaks with praise, telling a rally in Pennsylvania, "I love Wikileaks".
It is claimed that support for Wikileaks is rising among US right-wingers. FoxNews TV shock jock Sean Hannity went as far telling Assange in a live interview, "I do hope you get free one day." This is perhaps Assange's strategy - damage Clinton (who ran the State Department when Assange leaked the embassy cables) to secure a Trump win and a presidential pardon.
I've written at length about Obama's war on whistleblowers and the appalling record of the Democrat party in prosecuting brave Americans who speak out about their government's human rights abuses. I would support any campaign to prevent Julian Assange's extradition to the US, where the law would prevent him from running a public interest defence for his disclosures and would likely see him placed in jail alongside Chelsea Manning, who has suffered disgracefully at the hands of the US government.
If Donald Trump becomes US President, it will be in no small way thanks to the efforts of Julian Assange. After they've defended Assange against allegations of rape and helping the dictator of Belarus, will the liberal left continue to defend him if he gets Trump elected?
Mike Harris is the founder and director of 89up and the publisher of Little Atoms magazine