Junior doctor rota gaps are putting NHS patients' lives at risk – I see the dangers every day
Yesterday, when I was due to take a precious day off, I worked to cover an extra shift. I am not a robot. Sooner or later, this way of working will cause harm to myself or others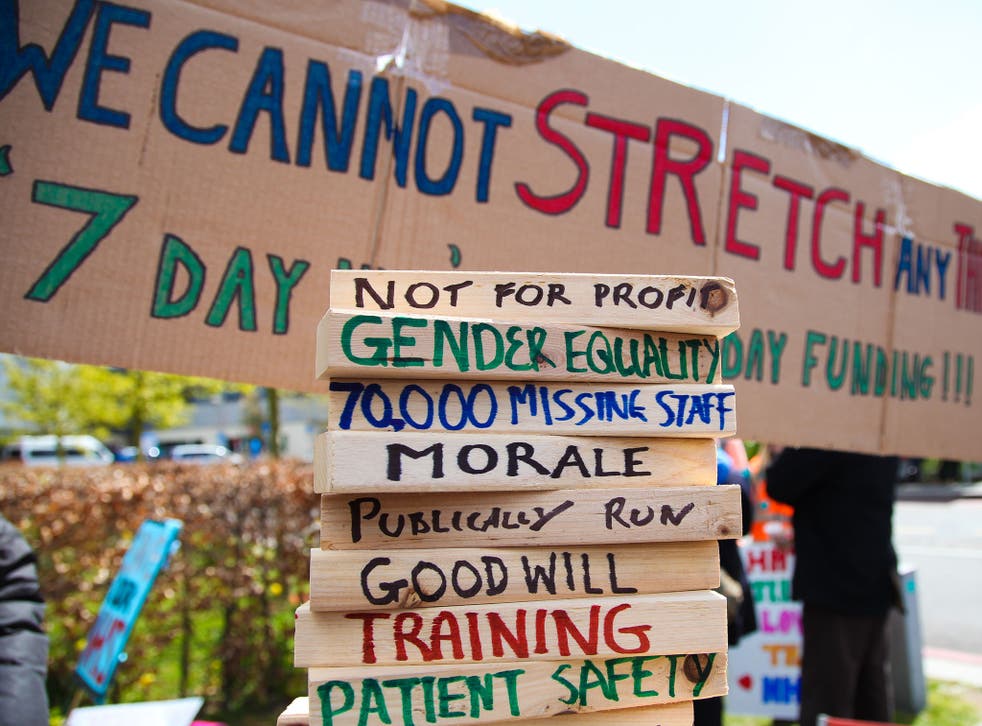 For a junior doctor, I am fairly senior. I qualified in 2007 and I work as an obstetrics and gynaecology registrar. I am used to the high octane environment of my speciality, where things change rapidly and situations become life-threatening within seconds. I have built up a certain resilience; mostly, I can handle the dealing with frightened, distressed and critically ill people and making quick decisions in extreme situations so mothers are protected and their babies are delivered safely.
Yet increasingly, after having worked weeks of shifts with huge gaps on the doctors' rota, a day's work is leaving me in tears, contemplating how I could possibly return the following morning (or night).
Rota gaps occur when a hospital or department is unable to cover the working shift pattern required to manage patients due to the lack of available doctors. Yesterday I covered a shift due to a rota gap in my hospital, one of the busiest delivery units in the country. In the last 15 days, I have had just two days off and worked nine shifts of 13 hours or more.
Research carried out by junior doctors, a snapshot survey of rota gaps published today, has revealed that one in four junior doctors is routinely working with shortages of more than four doctors on their shift. One in five gaps are being left empty – not covered at all – and, for almost eight in 10 of these gaps, there is no sustainable plan to address the problem of a junior doctor shortage.
None of this is news to health workers on the frontline of the NHS. Such gaps are commonplace, with doctors often being asked to work extra shifts or simply get used to working with long-term gaps.
I know of instances of junior doctors being "cold called" by managers in the middle of the night or on weekends to cover emergency shifts due to the utter urgency and potential patient safety issues of running departments without a full complement of staff.
In pictures: Junior doctors first all-out strike

Show all 10
In my own specialty we face 20 per cent attrition rates, with one in five doctors leaving training before they complete it. According to the Royal College of Paediatrics and Child Health, more than one in four senior paediatric trainee posts are unfilled and more than half of paediatric units are not meeting recommended staffing levels.
As a doctor working on short rotas, I have been pushed to my limit and I am on my knees. Last weekend, I had to do the job of two doctors on call in one of the busiest hospitals in the country. My consultants were supportive, and were also working throughout the whole day, but the workload was immense, on the margins of patient safety.
Patients are increasingly frustrated as they wait longer and longer times to be seen; nurses are frustrated as they are unable to get doctors to support them; investigations and discharges are delayed; doctors are pressed that they barely have a minute to eat, drink a glass of water or even go to the bathroom – let alone do their job well.
Yesterday, when I was due to take a precious day off, I worked an extra shift. Yet again, we had a rota gap.
I am not a robot. I am a human being as well as a junior doctor. Sooner or later, this way of working will either cause harm to myself or others.
The Department of Health says it has invested in 25,000 extra clinical staff for hospital wards since May 2010. This is simply not enough. Hospitals such as Chorley and Grantham have identified issues with opening hours of A&E units, and the recent downgrading of Horton Maternity Unit was due to the lack of doctors, rota gaps and unsafe staffing levels. This is not the "world class healthcare" the NHS is supposed to provide.
Yesterday I managed to find a bit of joy when I held a three day old baby of a mother whom I was treating. It was the silver lining of the very dark cloud of my last fortnight at work. But it may not be enough.
The staffing of the NHS is in crisis. We cannot continue to risk the wellbeing of our patients by allowing doctors to cover gaping holes in their rotas with sticking plaster. It is time to act.
Register for free to continue reading
Registration is a free and easy way to support our truly independent journalism
By registering, you will also enjoy limited access to Premium articles, exclusive newsletters, commenting, and virtual events with our leading journalists
Already have an account? sign in
Register for free to continue reading
Registration is a free and easy way to support our truly independent journalism
By registering, you will also enjoy limited access to Premium articles, exclusive newsletters, commenting, and virtual events with our leading journalists
Already have an account? sign in
Join our new commenting forum
Join thought-provoking conversations, follow other Independent readers and see their replies