Junior doctors' strike: Patients must take some responsibility to save the NHS
The strike showed what happens when people are forced to regard hospitals as a last resort, not the first port of call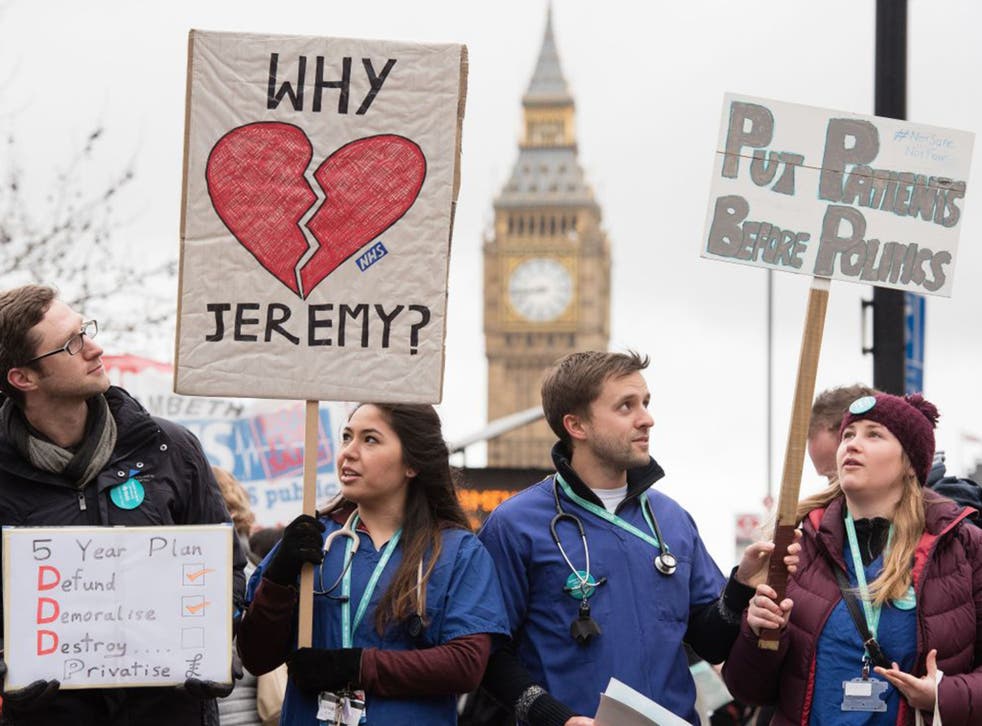 No one would choose to go to hospital on the day of a junior doctors' strike. Operations cancelled, all but emergency care shelved, even longer waiting times in A&E – of all the days to be a patient, it would seem this was not one of them. But last Wednesday I had no choice: I was referred by my doctor to hospital for a routine test that morning. "Surely there will be no one there?", I joked to my GP, who didn't see the funny side.
As it turned out, I was almost right. When I got to hospital, I had mixed feelings as I walked through the picket line of earnest-looking junior doctors handing out stickers. This long-running dispute is causing major disruption to the NHS, and agony to patients whose operations are postponed. It is disappointing that the Health Secretary, Jeremy Hunt, won't back down on the new contract that is opposed by the British Medical Association, but doctors have to acknowledge that patients need a seven-day NHS. For the sake of patients, both sides must be more flexible.
Once inside, as I made my way past A&E to the X-ray ward, I saw far fewer patients than on a normal day at this busy south London hospital. I bumped into a friend, who had been in for a check-up and, because there were no junior doctors, was seen by a senior consultant within five minutes. Me? I had my X-ray within 20 minutes of arriving. Of course, radiographers weren't on strike – but there were just a handful of patients in the waiting room, next door to casualty.
Junior doctors' plea to David Cameron
It has long been recognised that part of the problem with A&E waiting times is the unnecessary pressure from people who turn up when they could instead see their GP or go to a walk-in centre. And I have some sympathy – they're not all time-wasters but often worried parents who can't get a GP appointment for three weeks when their child has a fever and swollen glands.
But the 48-hour stoppage has highlighted what happens to the NHS when people are forced to regard hospitals as a last resort, not the first port of call. There's not much that we patients can do about a lack of GP appointments – surgeries need to be more efficient: if someone can't get a same-day or next-day appointment with a doctor, they should be found one with another surgery in the local area, like an Uber for primary care.
But we can be more responsible about using the precious resources of the NHS by using pharmacies and walk-in centres. I don't want to see another junior doctors' strike, but the stoppages show what is possible when the words "accident and emergency" are taken for what they are. Patients are not to blame for the strikes, but we have to take responsibility and accept that we are the third party in this dispute.
In pictures: Junior doctors protests in UK

Show all 10
Talk-talk better than walk-walk
On Friday, the Labour MP Paula Sherriff pulled out of a meeting featuring a radical imam, Shaikh Sulaiman Ghani, who has extremist views and refers to women as "subservient". Not only that, the rally will be segregated along gender lines – an unacceptable practice in the 21st century.
It would be easy to think that only political meetings that feature extremist speakers use sex segregation, but unfortunately it is also a regular occurrence in more moderate settings.
One Labour MP told me of her attempts to organise a meeting with members of the local Muslim community in her constituency to talk about tackling extremism. It took weeks of delicate organisation, but when this MP turned up she found the room split in half by a curtain, with women on one side and men on the other.
It would have been understandable if she had walked out – to stay would be sending a message that this was an acceptable practice. But she stayed because she wanted to talk to both the men and women about extremism – she judged that quitting the platform would have been worse. If intolerant views are to be overcome, then the best approach is to talk, not to walk away.
Why can't a caged bird sing?
Is it a coincidence that days after Prince William gave a speech hinting at support for Britain remaining as a member of the European Union he was criticised by Eurosceptic newspapers for being "work-shy" and a "part-time royal"? It is ludicrous to expect the second in line to the throne to do a normal week's work. It is true that he puts in a few shifts as an air ambulance pilot and has a sparse diary of engagements to fulfil, but we either have to demand that the entire royal family resigns or accept that they are not like the rest of us.
Like the Queen, whose views on Brexit can be twisted to suit either side, Prince William is trapped in aspic with no real freedom to quit his duties without causing a constitutional crisis. We should sympathise with, not criticise, these poor royals stuck in their gilded cage, whose ability to have a public point of view is limited by their gargantuan privilege.
It's time for Sir Ringo
The death of Sir George Martin is a reminder that the Fifth Beatle – as well as the Second, Sir Paul McCartney – both received knighthoods. But what about the Fourth and only other surviving Beatle, Ringo Starr? I know he only wrote one or two of the songs, but his contribution to music, as one of the Fab Four, is nevertheless legendary, particularly given the lesser stars who have received a big K.
We can assume Starr hasn't turned one down, because he accepted an MBE. Starr has also campaigned to save homes in his native Toxteth from demolition, which must surely count as a contribution to society. Why, then, has he been overlooked?
Twitter: @janemerrick23
Register for free to continue reading
Registration is a free and easy way to support our truly independent journalism
By registering, you will also enjoy limited access to Premium articles, exclusive newsletters, commenting, and virtual events with our leading journalists
Already have an account? sign in
Join our new commenting forum
Join thought-provoking conversations, follow other Independent readers and see their replies