Don't celebrate Justin Trudeau signing the Ceta deal with the EU – like TTIP, it is a ticking time bomb
This toxic trade deal has been subject to the same massive protest movement that greeted TTIP.  Nearly 3.5 million Europeans said they didn't want either deal and there are hundreds of TTIP and CETA-free local authorities across Europe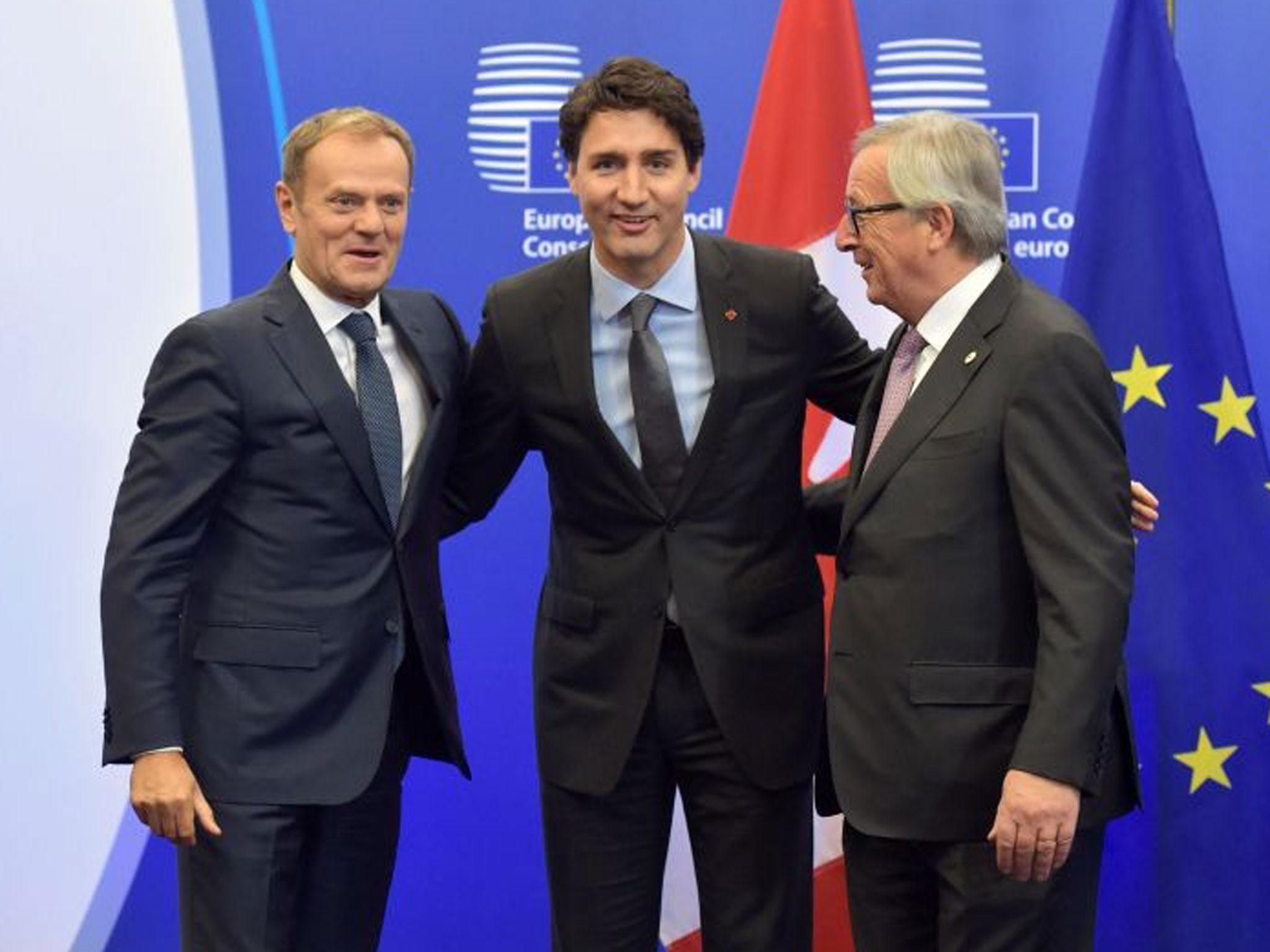 Don't be fooled by the triumphant rhetoric emanating from Brussels today – the controversial EU-Canada trade deal known as CETA might have returned from the dead in time for Halloween, but it's very much a zombie agreement. While CETA will now be approved by the European Council and head towards the Parliament, its future looks bleak.
And it gets worse for Brussels. Because Belgium's regional parliaments have, in the process of hobbling CETA, driven a stake into the heart of European trade policy. No wonder Financial Times columnist Wolfgang Munchau hailed the so-called 'breakthrough' as "a huge victory for Belgium's Ceta opponents".
CETA (the Comprehensive Economic & Trade Agreement) is the sister deal of the better known TTIP trade deal between the US and EU. Just like its sibling, it is essentially not about reducing tariffs, but deregulation, liberalisation, and the handing of further powers over law-making to big business. Despite some fancy footwork by the EU to reform the hated "corporate court" system, which gives foreign investors their own special legal process to sue governments, that system is very much still in place in CETA.
As such, this toxic trade deal has been subject to the same massive protest movement that greeted TTIP. Nearly 3.5 million Europeans said they didn't want either deal, in a huge 12 month petition campaign. There are hundreds of TTIP and CETA-free local authorities across Europe. And finally, in the last few weeks, Wallonia and other Belgian regions froze the whole process temporarily by refusing to allow Belgium to sign the deal.
Brexit Concerns
Show all 26
Trudeau and the EU did in fact sign the deal over the weekend.
This is ground-breaking stuff, testament to the waning power of the free market fundamentalist ideology. It's true that a deal has now been patched together to allow CETA to pass to the next stage. But the concessions which Wallonia has been given mean that CETA remains a ticking time bomb.
First, although the deal will now go into the EU parliament, it still needs to go back to most parliaments in Europe – including Wallonia – before it can be finally ratified. But Wallonia say they will not pass it in its current form. In particular they will not ratify the corporate court section of the deal. Unless changes are made, something regarded as near impossible, it's difficult to see how the whole deal won't be jettisoned further down the line.
What's more, Belgium has now promised to take the whole issue of the corporate court mechanism to the European Court of Justice, for a ruling on whether these special legal systems are really in line with the European constitution. This is tremendously risky. If the ECJ rules against these instruments, they will need to be renegotiated not only with Canada, but also with dozens of other countries with whom we already have trade deals. It throws all of the EU's trade policy into crisis.
Wallonia has also been promised an emergency exemption for its agricultural sector, an exclusion of the liberalisation of public services, and the upholding of the precautionary principle. For the most part, these are just nice words which won't necessarily change anything. But the fact that these sectors have been officially acknowledged as causes for concern – at long last – is very significant.
European trade policy can't continue along the path it is currently travelling. That is now clear. Some European leaders have called for "less democracy" to prevent such a disaster happening again. But that won't wash with a European public increasingly fed up with the broken promises of the free market.
Rather we need a fundamentally different trade policy. As a bare minimum, trade deals should be subject to environmental and human rights commitments. But we should go deeper and evaluate how well trade deals contribute to social goals – like equality and improved living standards for the poorest. Forms of protection do have a vital place in modern economics; the key is not to protect your own industry, agriculture or services in a way that sinks your neighbour's economy. Trade should also encourage the transfer of skills and technologies rather than monopolising these things through intellectual property frameworks.
Trade deal agreement signed between EU and Canada
Does this mean Britain is better off out of it? Hardly, if our International Trade Secretary Liam Fox gets his way. The British parliament has even less power than Brussels when it comes to scrutinising trade deals. Unlike Wallonia, Westminster has not even had the chance to debate CETA – a fact for which Fox had to apologise when he appeared before a parliamentary committee on Wednesday.
Fox claimed "there's been no time" for such a debate. This is clearly rubbish because the CETA negotiations were finalised two years ago, and the House of Commons asked for a debate 12 months ago.
Fox enthusiastically cheered on the Leave campaign, buoyed by the "rhetoric of taking back control." Yet even as he prepares to leave the EU, he is still using the British vote, without parliamentary approval, to back toxic trade deals like CETA. Fox hopes to get CETA onto the books before we leave, in the hope that it stays there after exit. He has far more in common with the leaders of the EU than he might like to admit.
For the rest of us, an alternative trade policy needs to be urgently developed – one that puts human needs, the battle against climate change ahead of the economic dogma of the global elite.
Join our commenting forum
Join thought-provoking conversations, follow other Independent readers and see their replies