Kanye West's rapping about Christianity should be celebrated not ridiculed
More and more musicians are singing openly about their faith. That's something not only rare today, but exciting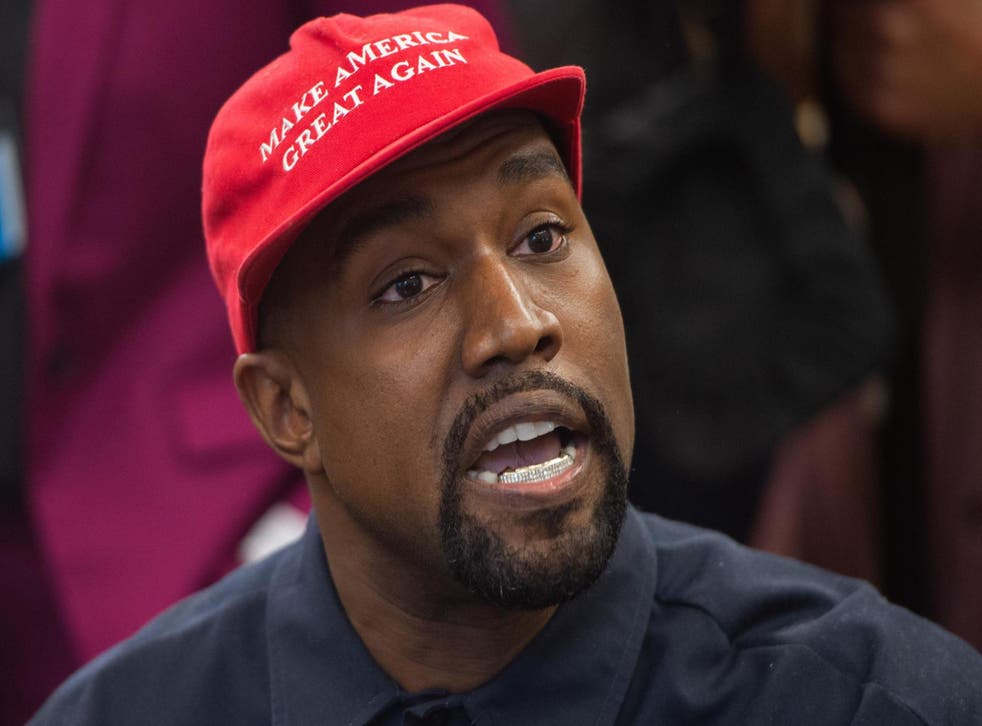 Everyone has an opinion on Kanye West. This is a man who has become as well known for his inflated ego as his songs. His music, which fellow rap artists have hailed as "genius", has often veered away from gangster posturing in favour of more thoughtful observations on family, sexuality, religion, education, prejudice and wealth.
This month, Kanye announced he has become a born-again Christian and this is the inspiration for his new gospel-influenced album and accompanying IMAX film, Jesus Is King.
The projects arrived after months of West travelling the country with his Sunday Service tour, where he announced: "I'm not here for your entertainment. We are here to spread the gospel." According to some reports, Kanye will no longer record secular music.
The invite-only events were described by his wife, Kim Kardashian West, as a "musical ministry" and featured faith-based re-workings of West's repertoire. "There's no praying, there's no sermon. There's no word," Kim proudly told Jimmy Kimmel. "It's just music and it's just a feeling."
Kanye West premieres The Life of Pablo

Show all 7
For those not on the guest lists, Sunday Service was experienced through Kardashian West's Instagram account or from those in attendance unbound by NDAs.
Kanye has also used his performances to proselytise fans. On his Yeezus tour he was presented as an apostle, with Jesus rising from the top a glowing pyramid. For The Life of Pablo album tour, he flew from the stage and floated miraculously over the crowds in the arena.
Perhaps this is all some sort of publicity stunt, journalists and fans alike wrote. Sceptics also pointed out that Kanye has a history of mental instability – in the past he has opened up about his struggle with bipolar disorder.
When I heard about the album, I too was sceptical. Then I watched Kanye's Airpool Karaoke with James Corden. I expected it to be fluffy, contradictory and for it to clash with my own Christian faith, but it was anything but. His Christian message was genuinely inspiring.
It goes beyond just Kanye of course. Justin Bieber is another high profile star who had been very open about his Christian faith, even telling the press that he was abstaining from sex with his partner Hailey Baldwin until their wedding day.
Support free-thinking journalism and attend Independent events
Whether you agree, disagree or simply feel indifferent about his views, there's something powerful and wonderful about someone stepping out and taking a stand rooted in their faith.
Modern Christianity is creeping back into pop culture and influencing society.This should be something that is celebrated.
For too long, a lot of the church have been quiet, tired, unforgiving, preachy and self-righteous, but here I see a man whose life has been turned upside down by his faith and who wants to share that with the world. And for that, I'm with him all the way.
Register for free to continue reading
Registration is a free and easy way to support our truly independent journalism
By registering, you will also enjoy limited access to Premium articles, exclusive newsletters, commenting, and virtual events with our leading journalists
Already have an account? sign in
Join our new commenting forum
Join thought-provoking conversations, follow other Independent readers and see their replies