An under-pressure Keir Starmer has plenty of questions to answer about what Labour stands for
Although the Labour leader won't admit it – he might have to take the support of left-wing voters for granted to appeal to a much bigger pool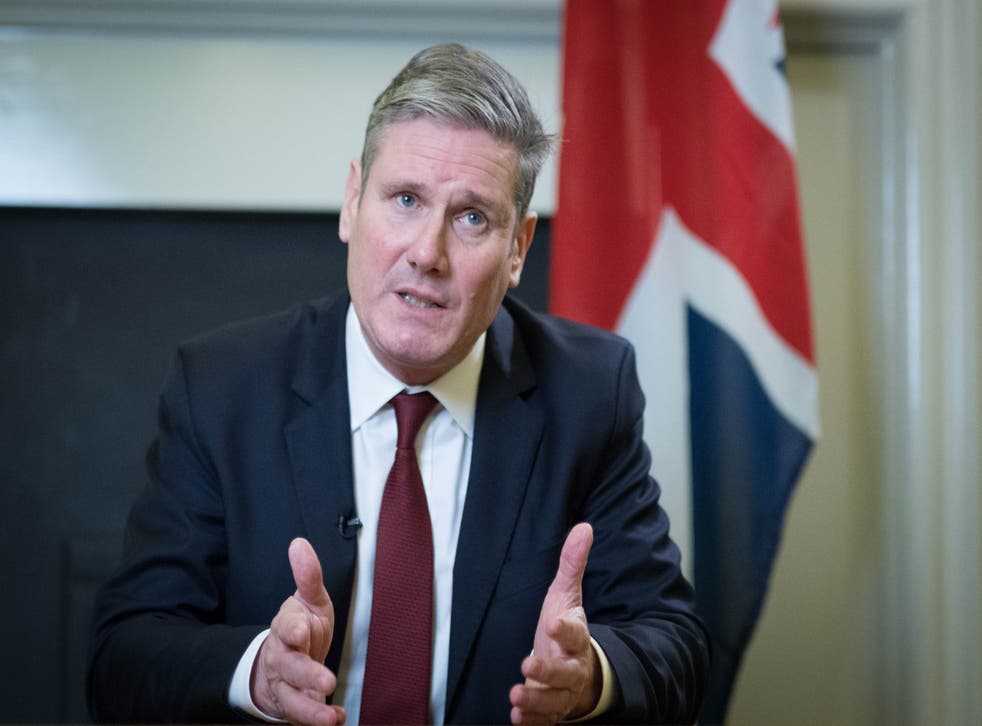 The UK's successful vaccine rollout is certainly putting more pressure on Keir Starmer.
Labour MPs, who fear it will provide a booster for Boris Johnson in the opinion polls, believe their party should be ahead at this stage after Johnson's mishandling of the coronavirus crisis. Yet the Conservatives (40 per cent) are two points ahead of Labour (38 per cent) when the 16 polls taken in January are averaged out. Labour's progress last year has stalled.
The politics of the pandemic is far from conventional. There is very little media space for the opposition to set out its stall. Despite Johnson's dither and delay, many voters give him the benefit of the doubt. It's likely that any government would have enjoyed such goodwill in such an unprecedented crisis. The "rally round the flag" instinct is still there.
No surprise, perhaps, that Starmer is aping Johnson by wrapping himself in it. The Labour leader stood upright next to a Union Jack in a party political broadcast this week. The only differentiation: Johnson usually displays two flags. Starmer associated Labour with the "national mission" of the vaccination programme; the party is running its own campaign to promote take-up. But his words reminded me of the relative impotence of opposition against the power of government, even an inefficient one.
Starmer has determined Labour is a pro-business, patriotic party which is tough on issues such as crime and borders – one reason why it wants all arrivals to the UK to go into hotel quarantine, an issue on which Labour has unsettled the government because the cabinet is split on it. But left-wing MPs felt uneasy about a Labour Facebook ad saying: "Britain is locked down. But the borders are open." It reminded some of Ed Miliband's infamous "controls on immigration" mugs.
Labour's push on patriotism is driven partly by its obvious need to win back the working-class voters in the red wall in the north and Midlands who went Tory in 2019. Today a leaked report by an ad agency which conducted focus groups recommended to Labour "the use of the flag, veterans, dressing smartly at the war memorial … give voters a sense of authentic values alignment". The most striking revelation was that one Labour official said the research showed voters were confused about "what we stand for, and what our purpose is, but also who we represent".
The answer to that, in Starmer's eyes, is the whole country. I have been shown Labour's battle plan for the next general election. It makes clear the party is not merely chasing the red wall voters but is also targeting Tory voters who probably haven't voted Labour since the Blair era. The plan, written by David Evans, the party's general secretary, divides voters into six "segments" based on the British Election Study and Labour's own research.
One target is what Labour calls "Tory326," a vital group Labour would need to attract in order to win 326 Commons seats and a majority. "These voters are also Labour-Tory switchers but unlike the Labour-Tory Brexit switch group, likely switched to the Conservatives in 2010 or 2015 and may not have voted Labour since 2005 or earlier and currently are relatively solid Tory voters," says the document.
Other groups include 2017 Labour voters who went Green or Liberal Democrat in 2019; Evans notes that in many seats there are "more voters in this group than the size of the Conservative majority". There is also a surprisingly large group of former Labour supporters who did not vote in 2017 or 2019 but, he warns, "that doesn't mean they will automatically come back to voting for Labour in a future election".
Starmer's left-wing critics will not like a strategy that reminds them of Tony Blair courting the Tory-voting middle classes. But Starmer's allies insist he is "not Blair mark two" but someone who will stick to his left of centre values as he appeals to both heart and head.
Labour's mountain is so high that it needs to make gains in the south as well as in the red wall. The party's perilous plight in Scotland, where it was dominant until the 2015 election but now has just one MP, reinforces it. Labour will need to win in Southampton Itchen, Reading West, Stevenage and Watford as well as in Bassetlaw, Sedgefield, Bolsover and Dudley North. Although Starmer won't admit it, he might have to take the support of left-wing voters for granted to appeal to a much bigger pool.
The welcome news that the Oxford/AstraZeneca vaccine will stem transmission of the virus will pave the way for a gradual lifting of the current restrictions. It will also provide more space for Starmer to map out not an encyclopaedia of policy but some coherent key themes which answer the "what do we stand for?" question. He will need to take it.
Join our new commenting forum
Join thought-provoking conversations, follow other Independent readers and see their replies