I'm not shocked by Kevin Myers' anti-Semitic comment – as a Jew I hear this type of remark all too often
On one occasion, an Ivy League alumnus justified his comments about Jews in the media by listing off all of the Jewish Hollywood directors and actors he could call to mind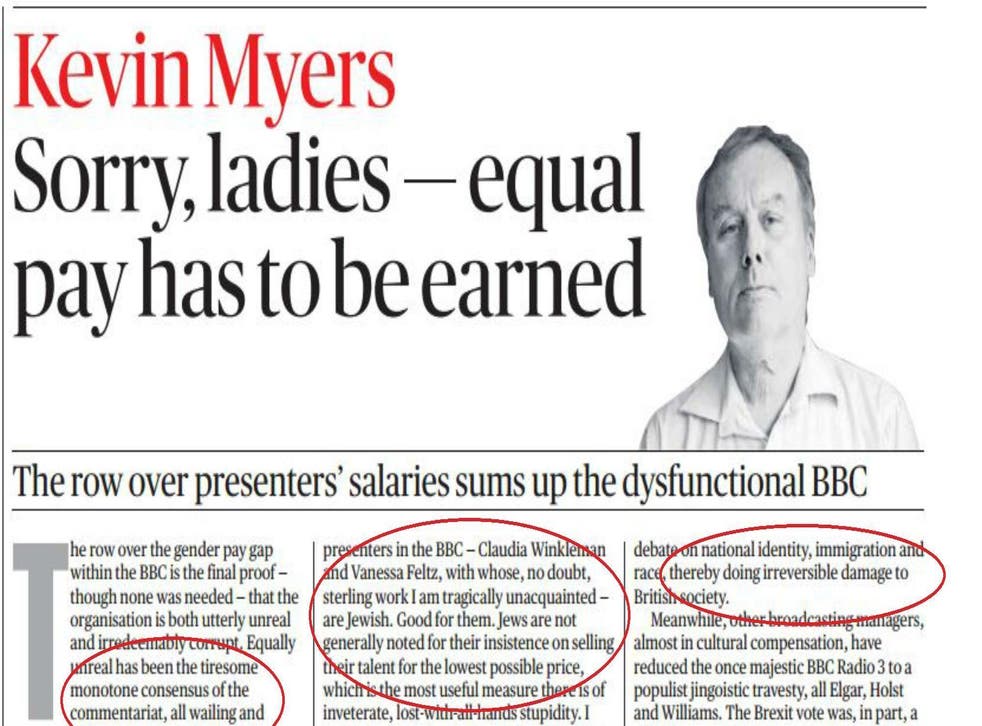 "Jews are not generally noted for their insistence on selling their talent for the lowest price possible" writes Kevin Myers for the Irish edition of the Sunday Times.
Shocked? Outraged that a comment like this could pass through the hands of editors and sub-editors to make it into a national newspaper? Well, I'm not. There's nothing remotely controversial about this statement to me, because as a Jew, I'm on the receiving end of this type of remark all the time.
Commenting on the BBC's on-going pay salary saga, the Irish journalist points out that two of the best-paid women presenters in the BBC – Claudia Winkleman and Vanessa Feltz – are Jewish. He then notes, "Jews are not generally noted for their insistence on selling their talent for the lowest possible price," which is an offhand use of an age-old anti-Semitic trope connecting Jews with money.
This isn't the first time Myers has got himself into trouble. He has previously written in the Irish Independent: "There was no holocaust (or Holocaust, as my computer software insists) and six million Jews were not murdered by the Third Reich. These two statements of mine are irrefutable truths."
UK news in pictures

Show all 50
When we think of racism, we think of thuggish attacks in the street and you'd be right. As I read through the dire article, I was reminded to check my emails to see if any progress had been made into the police investigation into the anti-Semitic hate crime I experienced last month when a young man yelled "Heil Hitler" at me on the street.
But, there is a more insidious racism at work in the UK as reflected in Myers' writing: even in the most well lettered circles, anti-Semitism is unquestioned and tacitly accepted. I have on more than one occasion nonchalantly been reminded that it makes sense that I'm a journalist because, you know, "the Jews run the media". It is often accompanied by a smirk and insistence that the individual is not anti-Semitic but, on one occasion, an Ivy League alumnus justified it by listing all of the Jewish Hollywood directors and actors he could call to mind.
There are real-life consequences of these comments; so many Jews I have spoken to are fearful to be open about their cultural and religious heritage because of the inevitable fear of anti-Semitic bigotry and, occasionally, violence.
It seems impossible nowadays to predict who might espouse bigoted views so, to prevent falling into a dangerous situation; it's often easier to avoid it all together. On many occasions, I would outright lie to avoid, in a best case scenario, casual anti-Semitic jokes being thrown around in conversation or, at worst, flagrant prejudice. Be it heartless comments about the concentration camps, hooked noses or money-hoarding, I've heard it all – and, unfortunately, I'm not the only one.
The article now may have been removed but until the true extent and severity of the anti-Semitic crisis in our country is recognised, anti-Jewish sentiment is here to stay.
Register for free to continue reading
Registration is a free and easy way to support our truly independent journalism
By registering, you will also enjoy limited access to Premium articles, exclusive newsletters, commenting, and virtual events with our leading journalists
Already have an account? sign in
Register for free to continue reading
Registration is a free and easy way to support our truly independent journalism
By registering, you will also enjoy limited access to Premium articles, exclusive newsletters, commenting, and virtual events with our leading journalists
Already have an account? sign in
Join our new commenting forum
Join thought-provoking conversations, follow other Independent readers and see their replies